Analysis
The global hair styling products market is expected to witness positive growth over the forecast time period. Hair styling products aid in styling hair. They have become an integral part of everyone's dressing table, as they help in regular hair-care, moisturizing, styling, and vitalizing hair growth.
The growing hair care and styling consciousness are expected to be the major factor driving the global hair styling products market development in the years ahead. Moreover, the rising awareness about various hair styling products coupled with easy availability on e-commerce websites has also been aiding the growth of the hair styling products market globally. The fashion industry is majorly fuelling this market. Increasing disposable income, emerging fashion trends, and growing scalp-related diseases are also supporting the global hair styling product market. However, the lack of standardization of products that can later cause side-effects, high demand for low priced products, and the intense competition from market local players that offer products at competitive prices to the customers may restrain the future growth of the global hair styling product market. Alternatively, technological advancements and ample room for innovation are expected to provide growth opportunities to the key players in the hair styling product market over the upcoming years.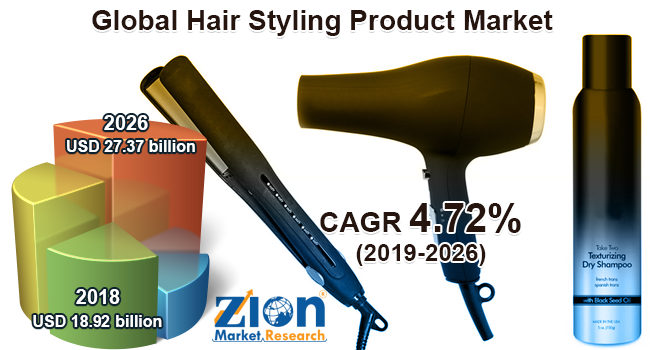 By product type, the global hair styling product market is segmented into shampoo, conditioner, gel/wax, spray, cream, dryer, straightener, and others. The gel/wax segment is expected to grow significantly over the forthcoming years, as more and more men are using gels/wax to style their hair and beards. Additionally, the use of gels/wax is likely to see notable growth in the future as well. On the basis of distribution channel, the market includes offline and online. While the existence of offline stores is the primary reason for the growth of hair styling product market, the influx of e-commerce websites has played a vital role in recent years. These online stores sell the latest products available in the market at competitive prices along with various offers and discounts. Thus, the online segment is likely to grow notably in the future.
North America is one of the leading regions for hair styling product market globally, due to high per capita income. The end-users in North America prefer quality hair styling products, which, in turn, increases the demand for premium-priced hair styling products in the region. Moreover, the technological developments in the region are expected to further drive the North American hair styling product market in the years ahead. The Asia Pacific hair styling market is expected to witness significant growth in the future, owing to the growing demand for hair styling products, particularly by the fashion-aware youth in the region.
Some key players operating in the global hair styling product market are Amway, Schwarzkopf Professional, Johnson & Johnson, Kao Corporation, L'OREAL, Oriflame Cosmetics, OLVEA Group, Procter & Gamble, Revlon, Shandong Baisheng Biotechnology, Shiseido Company, and Unilever.