Analysis
A biopsy is a tissue or cell sample taken from any part of the human body, which is sent to the lab for examining various disease types. A liquid biopsy is an advanced form of treatment procedure for cancer, wherein bodily fluids like blood or urine are collected for disease detection. National Cancer Institute (NCI) defines liquid biopsy as a test performed on a blood sample to identify cancer cells from a tumor circulating in blood or DNA via tumor cells in the blood. A liquid biopsy helps in planning treatment regime along with finding out effective treatment options for the patients. Through liquid biopsy, specialist physicians are able to track different molecular changes occurring within tumor cells and put forth appropriate treatment procedures.
The global liquid biopsy market growth can be attributed to the increasing incidences of cancer, growing demand for minimally invasive surgeries and personalized medicine, and rising healthcare expenditure. Stringent regulatory policies, lack of clarity in medical pricing, unclear reimbursement policies, and the presence of alternatives to liquid biopsies may restraint the liquid biopsy market growth over the forecast time period.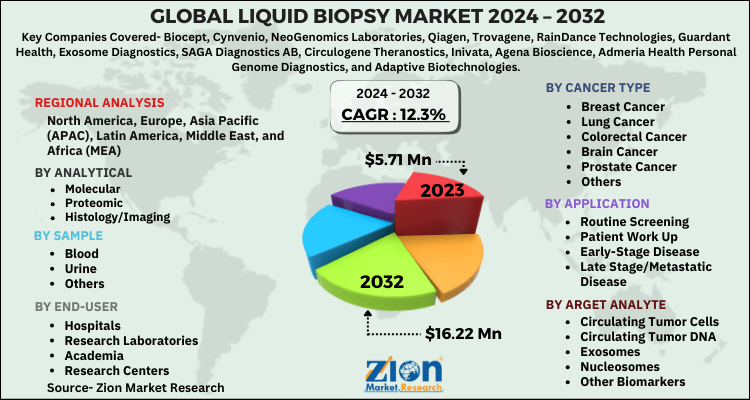 The global liquid biopsy market is fragmented on the basis of target analyte, analytical, cancer type, sample, and end-user. The target analyte segment includes circulating tumor cells, circulating tumor DNA, exosomes, nucleosomes, and other biomarkers. The analytical segment includes molecular, proteomic, and histology/imaging. By cancer type, the market includes breast cancer, lung cancer, prostate cancer, colorectal cancer, brain cancer, and others. The sample segment includes urine, blood, and others. The end-user segment includes hospital, research laboratories, academia, and research centers.
The liquid biopsy market in the Asia Pacific region is estimated to show the highest CAGR over the forecast time period, owing to the rising cancer incidences, growing aging population, increasing privatization and deregulation within the healthcare sector, and provisional financing of health services across the region. Japan, Singapore, Australia, and the Republic of Korea remain key regional investors for liquid biopsy. Additionally, the global market will witness significant demand from developing economies like India and China. North America and Europe are considered to be the foremost regions for liquid biopsy market in terms of revenue, due to the increasing R&D expenditure, clarity in the regulatory process, growing demand for minimally invasive surgeries, and high expenditure related to healthcare.
Some major players in the global liquid biopsy market include Biocept, Cynvenio, NeoGenomics Laboratories, Qiagen, Trovagene, RainDance Technologies, Guardant Health, Exosome Diagnostics, SAGA Diagnostics AB, Circulogene Theranostics, Inivata, Agena Bioscience, Admeria Health Personal Genome Diagnostics, and Adaptive Biotechnologies.