Analysis
Gas sensors or gas detectors are used to detect gaseous leakages in various sectors, such as oil and gas, medical, water and wastewater treatment, and metals and chemicals, among others. These sensors are fixed with the control system to detect a gaseous leak and trigger an alarm to alert the control room. These sensors impulsively react to the gases present, thereby keeping the system updated about any changes that occur in the concentration of molecules in the gaseous state. Several residential and industrial spaces are fitted with these gas sensors to detect gaseous leakages and alert people in the vicinity about the same. Different types of chemical sensors are used to measure the concentration of gas in the vicinity. Every gas has a unique breakdown voltage, and the concentration of gas is measured with current gaseous discharge into the device. Gas sensors are commonly used to detect toxic gases, such as chlorine, carbon monoxide, nitrogen oxide, etc.
The rising demand for smart and wireless gas sensing components is driving the gas sensors market globally. These sensing components can be deployed in various systems for monitoring air quality and detecting chemicals, etc., which is likely to accelerate the technical developments in this market. Smart sensing technologies provide better detection of chemicals and offer enhanced performance benefits in comparison to traditional sensors. Furthermore, the need for smart sensing components in the industrial, residential, and commercial sectors is projected to contribute substantially toward the global gas sensors market. For instance, AerNos, Inc., a health and wellness firm, declared the launch of its specified nano gas sensors for detecting hazardous gases and product integration with IoT devices in smart cities. Furthermore, stringent industrial and governmental regulations addressing worker safety due to the hazards of gaseous and chemical emissions in industries are likely to generate several opportunities for the gas sensors market over the forecast time period. However, high cost for the deployment of gas sensing components might hamper this market.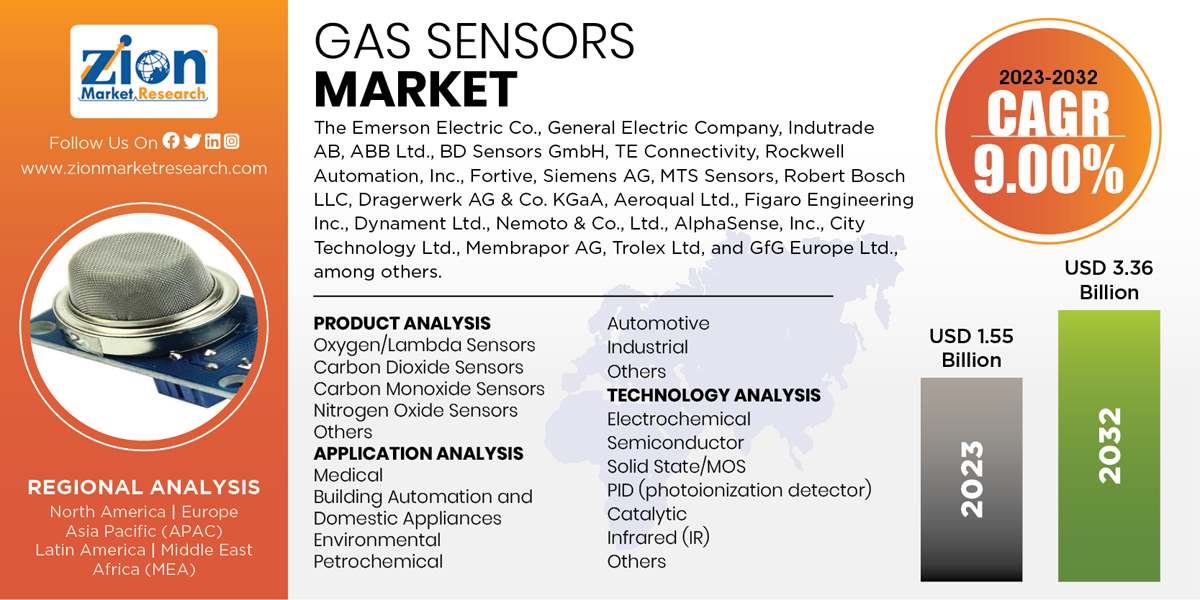 By technology, the gas sensors market is segmented into electrochemical, solid state/MOS, semiconductor, PID (photoionization detector), infrared (IR), catalytic, and others. By product, this market includes carbon dioxide sensors, lambda/oxygen sensors, carbon monoxide sensors, nitrogen oxide sensors, and others. Medical, environmental, building automation and domestic appliances, petrochemical, industrial, automotive, and others form the application segment of this market.
By region, Europe dominated the market in 2017 and is expected to continue its dominance in the upcoming years. This regional growth can be attributed to the region's growing sensor technologies and increasing IT investments. Moreover, the presence of several governmental regulations supporting the safety and protection of workers in manufacturing facilities of various industries is likely to further boost this regional market in the future.
Some key players of the global gas sensors market are The Emerson Electric Co., General Electric Company, Indutrade AB, ABB Ltd., BD Sensors GmbH, TE Connectivity, Rockwell Automation, Inc., Fortive, Siemens AG, MTS Sensors, Robert Bosch LLC, Dragerwerk AG & Co. KGaA, Aeroqual Ltd., Figaro Engineering Inc., Dynament Ltd., Nemoto & Co., Ltd., AlphaSense, Inc., City Technology Ltd., Membrapor AG, Trolex Ltd, and GfG Europe Ltd., among others.