Free Analysis
The fire pump is a component of a fire sprinkler system's water supply. The fire pump is usually powered by steam, diesel, or electric supply. The fire pump supplies water to the sprinkler system at a high pressure. Power for the fire pump is critical in designing the proper fire protection system. The fire pump is always listed and tested by a third-party testing agency before it is used in the fire service. Diesel-driven pumps require fuel storage tanks for storing combustible liquids. An electric-driven fire pump does not require a combustion-driven engine for its operation.
Fire pumps are widely used in manufacturing industries, commercial facilities, and residential buildings for controlling extreme fire situations. There are many different types of fire pumps available in the market, fabricated by numerous manufacturers. The common types include vertical turbine, horizontal split case, vertical split case, vertical in-line, and end-suction. The horizontal split case is the most commonly used fire pump. The pump requires a water source with positive suction pressure. The vertical split case pump contains a pump and motor in a vertical orientation. Vertical in-line fire pumps are compact and smaller, requiring less space than other type fire pumps. Vertical turbine pump can operate without priming. The water source for these fire pumps is underground tanks or wells. The end-suction fire pump is considered as a horizontal pump and it is similar to the vertical turbine pump.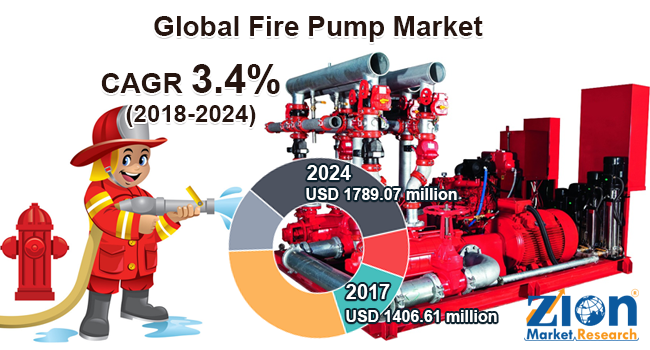 The global fire pump market is segmented on the basis of type, application, and region. Based on the type, the global market is fragmented into diesel engine power, gasoline engine power, electric motor power, and others. Among which, diesel engine segment held the dominant market share owing to the fact that the diesel internal combustion engine differs from the gasoline powered.
Based on the application, the global fire pump market is segmented into industry application, commercial application, field emergency, and others. Among which, the field emergency segment is expected to be the fastest growing segment during the forecast period. Rising fire incidences at a manufacturing facility and residential areas are the key factor driving the global market growth during the forecast period.
By geography, the global fire pump market finds its market scope in Europe, North America, Latin America, Asia Pacific, and the Middle East & Africa. North America is the fastest growing region in the market followed by Europe and the Asia Pacific.
The report also includes detailed profiles of key players such as Pentair, Grundfos, Flowserve, Sulzer, Rosenbauer, Idex, Shibaura, Darley, Liancheng Group, CNP, Pacific Pump, Shaanxi Aerospace Power, East Pump, Zhongquan Pump, Ebara, Waterous, ITT, and KSB. The detailed description of players includes parameters such as company overview, financial overview, business strategies, and recent developments of the company.