According to the report published by Zion Market Research, global demand for automatic fire sprinkler systems market was valued at approximately USD 623.2 Million in 2019, and is expected to generate revenue of around USD 1,339.8 Million by end of 2026, growing at a CAGR of around 10.7% between 2020 and 2026.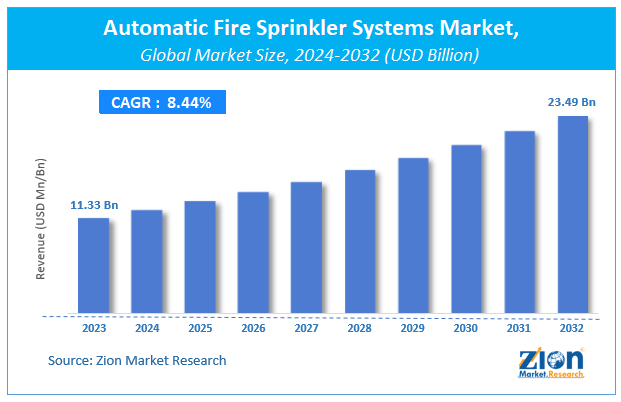 Request Free Sample
Global Automatic Fire Sprinkler Systems Market: Overview
A dynamic fire safety method that consists of a water supply system, which provides sufficient pressure and flow rate to a water distribution piping system, onto which fire sprinklers are connected is called as a fire sprinkler system. These systems are mainly installed in commercial and residential properties in order to avoid the financial and property damages. Earlier, these systems were installed only at places where there was huge amount of crowd, such as school, colleges, office, residential apartments, residing more than hundred residents. Nowadays, it has become a vital precautionary method to avoid unnecessary the mishaps.
Global Automatic Fire Sprinkler Systems Market: Growth Factors
Increasing number of deaths and damaged infrastructures caused due to fire boost the demand for automatic fire sprinklers systems. In addition, owing to rising awareness in organizations and mandatory regulations collaborated with insurance companies by government is also the major factor driving the growth of the automatic fire sprinkler systems market globally. Various niche technological advancements in order to make the devices precise and accurate, resulting in the system to be automated also spur the growth of the market. Advantages such as easy installation, operation and user-friendliness are also anticipated to impact the market growth in a positive way. Rising infrastructure activities, particularly in developing countries, is another driving factor enhancing the global market growth. On the other hand, stiff competition for manufacturing high-quality and cost-competitive products along with improved efficiency are anticipated to be the major constraint for the market growth.
Global Automatic Fire Sprinkler Systems Market: Segmentation
On the basis of type, the global automatic fire sprinklers systems market is segmented as wet sprinklers, dry Sprinklers, deluge sprinklers, and pre-action sprinklers. Based on the end-users, the global market is further segmented as hotels, nursing homes, dormitories, hospitals, and others.
Global Automatic Fire Sprinkler Systems Market: Regional Analysis
The global automatic fire sprinkler systems market has been fragmented into five main regions including Latin America, North America, Europe, Asia Pacific, and the Middle East and Africa. North America is anticipated to be the largest market for automatic fire sprinkler systems followed by Asia Pacific and Europe. It acquires almost one third of the global market. This trend is expected to continue in the market in the near future. Owing to its rising industrialization and infrastructure projects, India and China are also anticipated to experience considerable growth. In addition, upcoming projects of oil and gas initiated in Brazil and West Africa may augment the market globally.
Global Automatic Fire Sprinkler Systems Market: Competitive Players
Some of the major players dominating the global automatic fire sprinkler systems market are Signal Communications Corporation, Semco Maritime A/S, Consilium AB, Marioff Corporation, Johnson Controls, Knowsley SK Ltd., Space Age Electronics Inc., Robert Bosch GmbH, Halma PLC, Gentex Corporation, United Technologies Corporation, and Siemens AG. Other key players influencing the global market are VT MAK, Tyco, Bosch Security System Inc., Cooper Wheelock, Napco Security Company Inc., SimplexGrinnell LP, Spectronics Corporation, Fenwal Controls Japan Ltd., RSG/Aames Security Inc., Kalb Corp., Master Fire Prevention Systems, Inc., EMTEQ Inc., Modular Connections LLC, and Atomizing Systems, Inc.
Report Scope:
Global Automatic Fire Sprinkler Systems Market: Regional Segment Analysis
North America
Europe

France
The UK
Spain
Germany
Italy
Rest of Europe

Asia Pacific

China
Japan
India
South Korea
Southeast Asia
Rest of Asia Pacific

Latin America

Brazil
Mexico
Rest of Latin America

Middle East & Africa

GCC
South Africa
Rest of Middle East & Africa