Analysis
End-of-line packaging for various industries helps to automate the final packaging before the products are transported for delivery or storage. Automation of the processes within machineries helps to increase the throughput of end-user industries to serve rapidly the increasing demand. Various end-of-line packaging solution providers have integrated automation to increase the throughput and operations of machines. Furthermore, increasing modernization of manufacturing facilities is expected to drive the global end-of-line packaging market growth over the forecast period.

Growing manufacturing sector with precise, efficient, and safe processes coupled with the growing adoption of automation is increasing the demand for end-of-line packaging. Enterprises with a profitable business are strategizing to decrease cost and achieve better bottom line. End-of-line packaging solutions eliminate the necessity to constantly search and provide training for new employees and allow employers to distribute existing workforce in more value-adding tasks, which can also decrease labor turnover. Manufacturers are majorly focusing on novel methods in packaging format, which are also cost-effective solutions. This is one of the major factors which would positively impact demand for customized integrated solutions and offer cost-effective solutions by decreasing labor costs along with modern end-of-line packaging.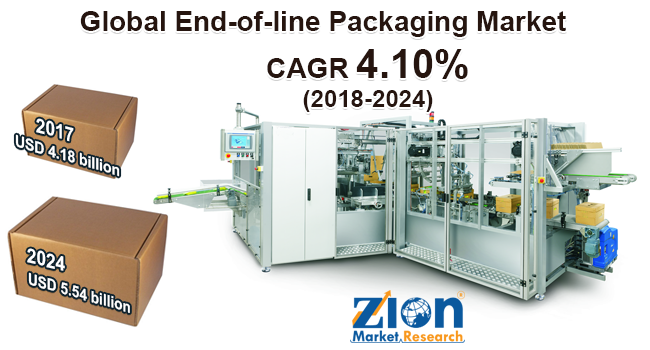 Based on technology, the end-of-line packaging market is segmented into automatic and semi-automatic. On the basis of function, the market is segmented into standalone and integrated. The standalone segment is further divided into palletizing, carton erector, packing and sealing, stretch wrapping, labeling, and others. Based on the end user, the market is segmented into pharmaceuticals, food and beverages, automotive, chemical, electronics, and semiconductor.
Europe end-of-line packaging market is predicted to hold the highest market size in the global end-of-line packaging market over the forecast period. This trend is followed by the Asia Pacific and North America. Asia Pacific end-of-line packaging market is likely to experience the highest growth rate over the forecast timeframe. In emerging countries, demand for end-of-line packaging solutions is expected to account for steady growth mainly due to increasing demand for a high degree of automation across various end-use industries. Latin America and the Middle East and Africa are expected to witness less growth rate as compared to other regions.

Some of the key players operating in end-of-line packaging market include Pro Mach, Inc., IMA S.p.A., Bosch Packaging Technology, Krones AG, Schneider Packaging Equipment Co. Inc., DS Smith Plc., Festo Corporation, Combi Packaging Systems LLC, and Gebo Cermex. Industry players are mostly focusing on pitching their products, with the automated systems and robotics, along with developing innovative products and packaging solutions to gain revenue share and maintain their foothold in the market.