Analysis
Electronic health records are electronic versions of patients' healthcare records. An electronic health record (EHR) is a repository of electronically maintained information about an individual's lifetime health care and health status. Electronic health records or "EHRs" make it possible for healthcare providers to better manage patients care through secure use and sharing of health information.
There have been a huge number of advances in information technology from the past two decades; especially in healthcare, a number of changes have been adopted considering the innovative and advanced technological approach. The electronic health records are developed and implemented in several forms. EHR systems can be used in an individual level and small organizations, as internal operating systems in affiliated healthcare units, or on a regional level. Some of the nations have implemented few forms of EHR while some are planning the introduction of a nationwide electronic health record systems.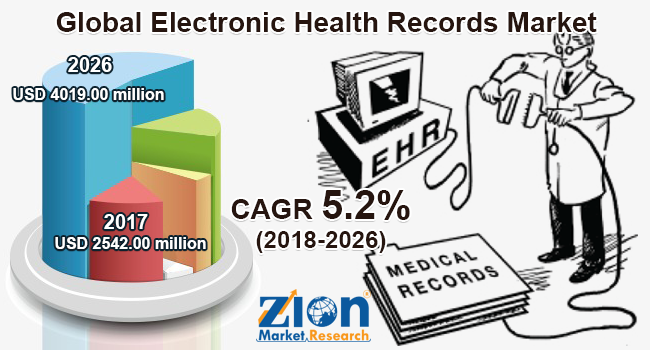 Nowadays, electronic health records are being implemented globally by an increasing number of hospitals. Time and again initiatives have been taken such as financial stimulations or government regulations in the US, Denmark, and the UK benefiting the growth of the market. EHR implementation program is determined by the assurance of improved integration and availability of patient data, by the need of cost-effectiveness and improve efficiency, by altering relationship of doctor and patient in the direction where care is shared by a team of healthcare professionals, and by the need to deal with a more complex and rapidly changing environment
The global electronic health records market is segmented on the basis of product, type, and end-users. Based on the product, the market is segmented into web-based electronic health records and client server-based electronic health records. Increasing adoption and need for integrated healthcare system boost the growth of the market during the forecast period. On the basis of type, the global electronic health records market is segmented into ambulatory electronic health records, acute electronic health records, and post-acute electronic health records. Based on end-users, the market is segmented into hospitals, physicians, pharmacies and ambulatory centers. Hospitals segment contributed for a significant share in the global electronic health records market owing to increasing adoption of the EHR systems in hospitals and improved quality assurance.
North America held a dominant share for electronic health records market in the 2017 and region is projected to continue with its regional supremacy over the forthcoming years as well. The growth of this regional market is attributed with the favorable government policies and increasing funding coupled with new technological advancements by the prominent market players. Europe holds the second largest position in global electronic health records market owing to rapidly increasing geriatric population in the region. Asia Pacific is projected to grow at a significant CAGR due to developing healthcare infrastructure and favorable government policies in this region.
Some of the key players in the electronic health records market are Allscripts, Cerner, MEDITECH, McKesson Corporation, NextGen Healthcare, and Epic Systems Corporation, which are some of the well-founded companies in the electronic health records market. In addition, some of the companies in the electronic health records market include Healthcare Management Systems, eClinicalWorks, CureMD Healthcare, and Healthland, among others.