Free Analysis
The electronic display acts as an output device which projects the data in visual form through electrical signal as an input. An advanced feature of the electronic display includes high definition resolution, brightness, good pixel pitch, energy efficiency, durability, and portability. Due to these advanced features, various corporate brands are adopting electronic displays to advertise their products.
Increasing adoption of energy efficient, attractive electronic displays with enhanced features in the corporate sector is expected to be the primary driver of the global electronic display market. High demand for OLED based devices, wearable devices, and flexible displays is further expected to fuel the growth of the electronic display market. Furthermore, growing adoption of high-speed internet owing to their affordability, and availability of WiFi in private as well as in commercial spaces for video streaming is also expected to increase the demand for electronic display globally. Also, the emergence of consumer electronics such as smartphones, laptops, and smart televisions is anticipated to fuel the growth of electronic display market across the globe within the forecast period. Moreover, development of high-resolution cutting-edge technology in electronic display architecture has also been propelling the growth of electronic display market. In terms of technological advancements, there is growing opportunity for manufacturers to explore in the field of developing unique designs, such as circular, curved, ultrathin, and flexible displays. However, adoption of such innovative technologies in product development involves high initial cost which results in an increase in device cost, and this is expected to be a major restraint for the growth of global electronic display market.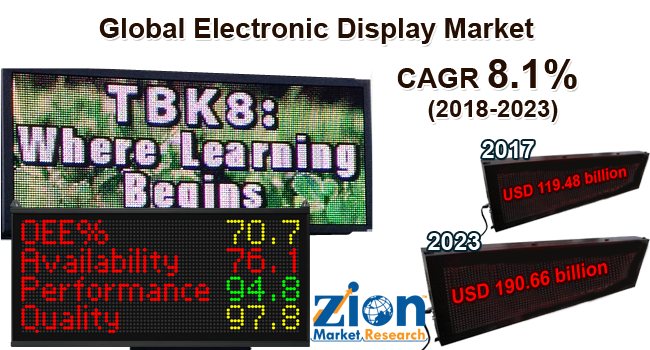 Electronic display market is segmented on the basis of technology, application, vertical, and region. Technology segments of electronic display market include LCD, LED, OLED, and others. LED displays are better than LCD displays because they do not use fluorescent bulbs and produce a brighter image. Due to this factor LED technology has been witnessing more demand in the global electronic display market. On the basis of application, electronic display market is divided into digital signage and TV, smartphone and tablet, PC monitor and laptop automotive display, and others. Digital signage and TV is leading segment in application due to high growth and development in the entertainment industry. Vertical segmentation of electronic display market includes consumer electronics, retail, entertainment, healthcare, government, and others. Consumer electronics is the leading vertical segment owing to the high adoption of various electronic devices and gadgets around the globe. The regional segmentation includes the current and forecast demand for North America, Europe, Asia Pacific, Latin America, and the Middle East and Africa with its further bifurcation into major countries including U.S., France, UK, Germany, China, India, Japan, and Brazil. Owing to innovation and technological advancements in China and Japan in consumer electronics industry, Asia Pacific region is expected to retain its top position in the global electronic display market.
Key players profiled in the global electronic display market include LG Electronics, ActiveLight Inc., AU Optronics, Cambridge Display Technology, Acer Inc., Zenith Electronics Corp., Sharp Corporation, Toshiba Corp., Sony Corp., Casio Computer Co. Ltd., and others.