Analysis
Diagnostic imaging is a technique and process of creating visual representations of the interior of a body for clinical analysis and medical intervention. Diagnostic imaging seeks to reveal internal structures covered below the skin and bones, as well as to diagnose and treat disease. Diagnostic imaging is part of biological imaging and incorporates radiology which uses the imaging technologies of X-ray radiography, magnetic resonance imaging, medical ultra sonography or ultrasound and others.
The market of global diagnostic imaging has been accelerated by rising geriatric population and growing occurrences of chronic diseases across the globe. Another major driver is growing pharmaceutical & biotechnology industries worldwide. Moreover, growth in the number of diagnostic imaging centers coupled with growing prevalence of cancer is expected to fuel the growth of global diagnostic imaging market. However, high cost related to the machinery and its implementation is a major restraint that may limit the growth of the market. Nonetheless, advancement in technology is likely to disclose the new avenues for diagnostic imaging market in the near future.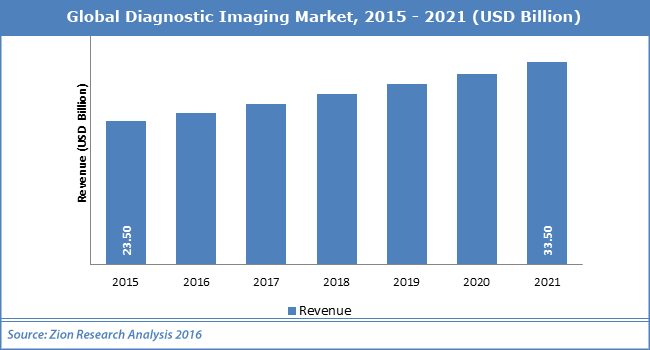 On the basis of product type, the global diagnostic imaging market is segmented an X-ray imaging systems, CT scanners, MRI systems, ultrasound imaging systems and nuclear imaging systems. X-ray imaging systems have the largest share in the global diagnostic imaging market and it accounted around 30% share of the total market in 2015 followed by CT scanner. MRI system and ultrasound imaging systems are the important outlets that are expected to grow at above average rate within the forecast period owing to the improvement of the regulatory framework in the emerging markets.
North America is expected to have the largest share in the global diagnostic imaging market in 2015. The region accounted for over 45% share of the entire market for diagnostic imaging in 2015 followed by Europe. The growth is attributed due to a number of factors, including increasing incidence of chronic diseases, rising awareness, etc. In addition, Asia Pacific is expected to register the fastest growth in terms of demand owing to the emerging economies such as China and India during the forecast period.
Some of the key participants operating in the global diagnostic imaging market include GE Healthcare, Siemens Healthcare GmBH, Koninklijke Philips N.V., Toshiba Medical Systems Corporation, Hitachi Medical Corporation, Carestream Health, Inc., Esaote S.p.A, Hologic, Inc., Fujifilm Corporation, Samsung Medison, and Shimadzu Corporation.