Free Analysis
Contract research organizations (CRO's) have changed the way research is conducted in companies. CROs offer a wide variety of services these days, such as clinical trials, biopharmaceutical development, service type commercialization, assay development, drug discovery activities, etc. The increased demand for innovative devices and new therapies has led to a rise in the R&D budgets of these organizations. Most CRO's are equipped with the required potential and skill to offer timely services for the completion of clinical trials.
Strict enforcement of legislation by regulators for better healthcare facilities and patent deaths are likely to fuel the global contract research organization market in the years ahead. As per the American pharmaceutical review, the CRO's engagement in every clinical phase has increased over the recent years. Nearly 60% of companies in the global contract research organization market are appointing CROs and hiring the services of contract development and manufacturing organizations for Phase II study, which is a big jump from 2017. Emerging firms are outsourcing more than 50% of their services during Phase I study, while 70% of mid-sized companies outsource during Phase II. This has led to the development of the contract research organization market globally. Other factors that are anticipated to drive the contract research organization market include increasing number of clinical trials and growing R&D expenditure.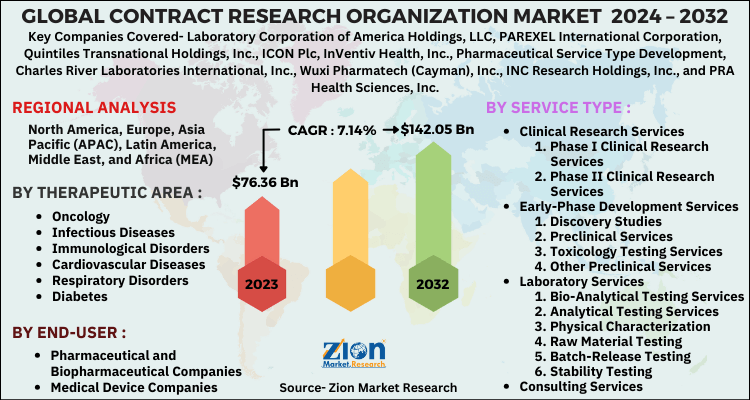 The global contract research organization market is segmented based on service type, therapeutic area, and end-user. By service type, the market is segmented into contact clinical research services, laboratory services, early-phase development services, and consulting services. The clinical research services segment is further divided into phase I, phase II, phase III, and phase IV clinical research services. The early-phase development services segment is further divided into discovery studies, chemistry, manufacturing, and control, preclinical services, pharmacokinetics/pharmacodynamics, toxicology testing services, and other preclinical services. The laboratory services market is divided into stability testing, analytical testing services, batch-release testing, physical characterization, bio-analytical testing services, raw material testing, and other analytical testing services. The therapeutic area segment includes infectious diseases, oncology, immunological disorders, cardiovascular diseases, central nervous system disorders, diabetes, respiratory disorders, and others. By end-user, this market includes medical device companies, pharmaceutical and biopharmaceutical companies, and others.
By region, North America dominated the contract research organization market in 2018, owing to the high standards of quality maintained by the pharmaceutical industry, the rapid growth of the biosimilars and biological market, increased government expenditure related to R&D expenses in healthcare, rising demand for outsourcing, and emerging biopharmaceutical industry. Europe is likely to be the second leading contract research organization market globally in the years ahead, owing to the increasing investments made by the key players in R&D activities and continuous innovation in medical technology. The Asia Pacific region has showcased significant growth potential in this market, due to the increasing prevalence of diseases and the high availability of subjects for preclinical and clinical trials.
Some leading players of the global contract research organization market include Laboratory Corporation of America Holdings, LLC, PAREXEL International Corporation, Quintiles Transnational Holdings, Inc., ICON Plc, InVentiv Health, Inc., Pharmaceutical Service Type Development, Charles River Laboratories International, Inc., Wuxi Pharmatech (Cayman), Inc., INC Research Holdings, Inc., and PRA Health Sciences, Inc.