Free Analysis
Chlorella is a single-celled alga that grows in fresh water. It contains a large amount of chlorophyll as compared to other plants. Moreover, it comprises multiple active ingredients, which includes fatty acids, dietary essential amino acids, RNA/DNA, beta-carotene, and more than 20 vitamins and minerals. Chlorella has extensive applications in food, feed, pharmaceutical, cosmetic, and biofuel industries. It is widely used in the treatment of constipation, high blood pressure, fibromyalgia, and high cholesterol. Additionally, it also helps in treating colitis, Crohn's disease, ulcers, and diverticulosis, by increasing the number of good bacteria in the stomach. Besides, chlorella is also used for human intake and is cultivated outdoor in freshwater ponds under direct sunlight. This cultivation process is monitored by biologists in order to ensure that value of nutrient value and product quality are optimum.
By source, the chlorella market includes chlorella vulgaris, chlorella pyrenoidosa, chlorella ellipsoidea, and other sources. Chlorella vulgaris is likely to attain a significant share in the chlorella market globally over the forecast time period. Chlorella vulgaris has extensive applications in food, health, and bioenergy. As per the World Health Organization and Food & Agriculture Organization, chlorella vulgaris has 42% to 58% of protein content from its biomass dry weight, which is considered as good nutritive quality compared to the standard human nutrition profile.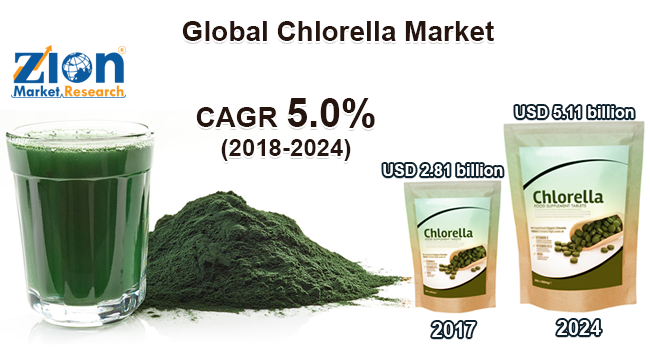 By application, the chlorella market includes food industry, the pharmaceutical industry, cosmetic industry, and other applications including the feed industry and biofuel. The food industry is projected to gain a significant share over the forecast time period. Chlorella is widely used in food supplements and consumed to stop cancer from spreading, lower blood cholesterol, increase immunity, and maintain a good balance of bacteria in the gastrointestinal tract (GIT).
By geography, global chlorella market is divided into North America, Europe, Asia Pacific, Latin America, and the Middle East and Africa. The Asia Pacific chlorella market estimated to grow at substantially over the estimated timeframe. The Asia Pacific region is the biggest producer and consumer of chlorella. Japan, Korea, China, and Taiwan are among the largest markets for chlorella. Among which, Japan is the leading chlorella consumer globally. European and North American chlorella markets are poised to witness exponential growth in the global chlorella market over the estimated timeframe.
The report includes detailed profiles of the key players in the chlorella market globally, such as FEMICO, Vedan, Febico, Taiwan Chlorella, Wilson, Sun Chlorella, King Dnarmsa, Lvanqi, Gong Bih, Yaeyama, Wuli Lvqi, and Tianjin.