Free Analysis
A bot corresponds to any software that accomplishes an automated task; bot categories that live in chat platform are called as chatbot. A chatbot is (also referred to as chatterbot, talkbot, Bot, IM bot, interactive agent, or Artificial Conversational conversational Entity entity, interactive agent, IM bot, or Bbot) is a computer program developed specially to carry out a that carries a conversation via by means of text or voice interactions. Chatbots have come a long way from being just a basic answering machine with scripted response to modern day's advanced and mature chatbots that are smart enough to effectively engage potential consumers. They are deployed mainly on company websites, social platforms, and in smartphones to assist customers in their interactions.
Humongous A huge development in the field of artificial intelligence during past few years has technologically improved chatbots. It requires a huge amount of data, as they are built on AI- based technologies, including natural language processing, deep learning, and machine learning algorithms. The technology is gaining popularity and their application is exponentially rising increasing both in the business and consumer markets. Siri, Alexa, Cortana, and Google Assistant are some of the AI -based chatbots that are being offered and used by various companies globally.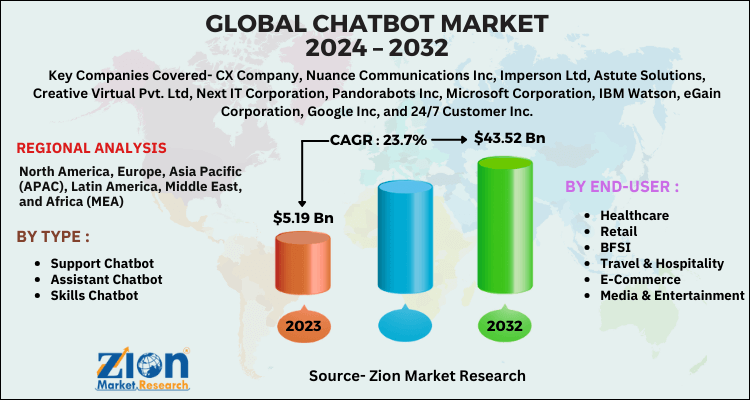 Increasing use of online messaging applications and implementation of chatbot in digital marketing strategies for customer engagement and lead generation is driving the chatbot market. Demand for automated patient management tools in the healthcare industry is also fueling the growth of chatbot adoption. Other advantages offered by chatbot are getting quick responses, guiding users for better results, provide after sales service, and getting get detailed explanations for any queries.
Researchers are taking several initiatives to improve the functionalities of the chatbot, that which has boosted the growth of the global chatbot market. Technical issues such as chatbot management, security, monitoring, and integration needs need to be resolved in order to efficiently cater the customer's requirements. Lack of awareness and slow development and up gradations of the services are the major factors hindering the growth of chatbot market. There exists immense potential in the chatbot market over the forecast period, owing to increasing mobile applications and evolution of cloud-based services and solutions. Rapidly expanding ICT infrastructure in leading economies is anticipated to propel the global chatbot market. The significant rise in adoption of chatbot by small and medium-sized enterprises across the verticals is expected to boost the growth of the market globally.
Chatbot market can be segmented as by in terms of types and end users. The type segment is divided into support, skills, and assistant chatbot. End-user industries using these types are healthcare, retail, BFSI, travel & hospitality, E-commerce, Media media & entertainment, and others. Regional segmentation of the chatbot market includes includes North America, Europe, Asia Pacific, Latin America, and the Middle East and Africa with further country wise bifurcation classification into major countries such as the U.S., the UK, France, Germany, China, Japan, India, and Brazil.
Prominent players in the global chatbot market are 24/7 Customer Inc., CX Company, Creative Virtual Pvt. Ltd., eGain Corporation, IBM Watson, Codebaby, Speaktoit Inc., Next IT Corporation, Artificial Solutions, and Nuance Communications Inc.