Industry Prospective:
The global smart material market size was worth around USD 62.31 Billion in 2022 and is estimated to grow to about USD 158.21 Billion by 2030, with a compound annual growth rate (CAGR) of approximately 14.42 percent over the forecast period. The report analyzes the smart material market's drivers, restraints/challenges, and the effect they have on the demands during the projection period. In addition, the report explores emerging opportunities in the smart material market.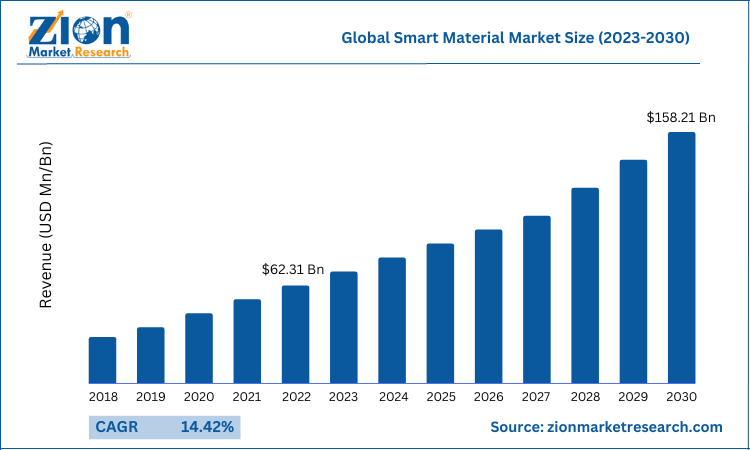 Request Free Sample
Smart Material Market: Overview
Smart materials, also known as intelligent or responsive materials, are materials that have one or more properties that may be influenced by external stimuli such as moisture, stress, light, electric or magnetic fields, pH, temperature, or chemical compounds. Several applications like sensors and actuators, or artificial muscles rely on smart materials, particularly electroactive polymers. The qualities of smart materials adapt to changes in their surroundings. This means that an external condition can modify one of their qualities. This alteration is reversible and repeatable. Smart materials come in a variety of shapes and sizes, each has its own set of attributes that may be tweaked.
Key Insights
As per the analysis shared by our research analyst, the global smart materials market is expected to grow annually at a promising CAGR of around 14.42% during the forecast period 2023-2030.
In terms of revenue, the global smart materials market size was valued at around USD 62.31 billion in 2022 and is estimated to grow to about USD 158.21 billion by 2030.
An increase in inclination towards the latest consumer electronics among people, rapid industrialization and urbanization, an increase in the use of smart materials and technologies in the automotive industry, and expanding use of smart materials in the aviation and defense industry propel the growth of the market during the forecast period.
Based on application, the actuator & motors segment held the dominating market share in 2022.
Based on end-use industry, the defense and aerospace industry held the largest market share in 2022.
Based on region, the North American region held the dominating market share in 2022.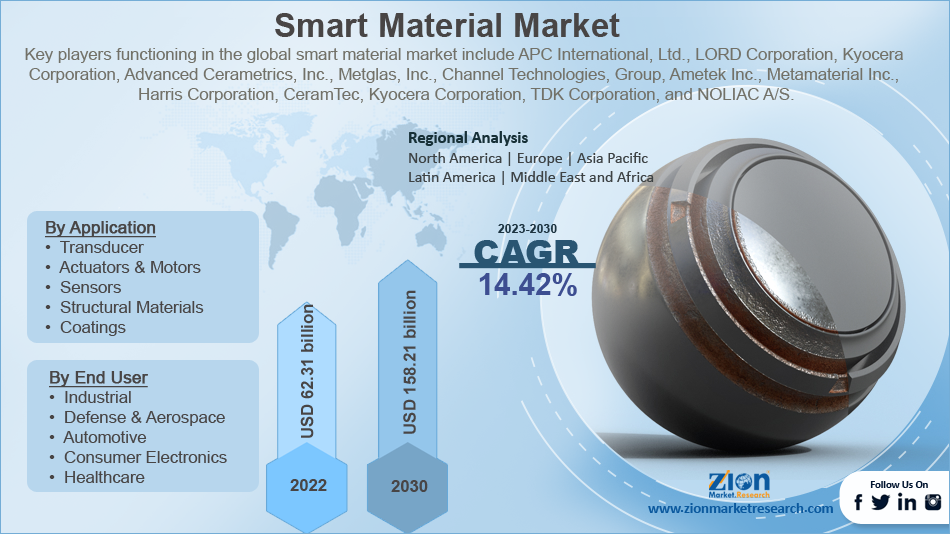 Request Free Sample
To know more about this report, Request a sample copy
COVID-19 Impact:
The COVID-19 pandemic severely impacted the global smart material market from FY 2020 to 2021. This is primarily due to a shortage of raw materials from major manufacturers. Most of the smart material manufacturers are concentrated in Asian Countries, especially China, which provides most of the raw materials required for manufacturing smart materials. However, most of the countries in Asia witnessed the devastating effects of a pandemic that shook the overall industry in China, Japan, and South Korea affecting the overall manufacturing of smart materials worldwide.
Smart Material Market: Growth Drivers
Increased demand from the aerospace industry is expected to propel market expansion.
Piezoelectric smart materials are used in the aerospace sector to help control and maintain airflow over a plane's wings throughout take-off and landing. Additionally, these materials have been shown to manage common aircraft challenges such as engine vibration, excessive cabin noise levels, ice formation on wings, turbulence-induced secondary flows, and surface controls in cold temperatures. Airlines are expected to replace older planes with more fuel-efficient models and expand their fleets to accommodate the continual expansion in air travel across new and existing nations.
Over the last decade, passenger air travel rose at a pace of 6.7 percent each year, greatly above the long-term average of 5 percent. To fulfill passenger demand, several airlines throughout the world added additional jets to their fleets while postponing jet retirements. These factors increased the demand for smart materials.
Smart Material Market: Restraints
The market's growth is hampered by high production costs and expensive R&D expenditure
Smart materials are extremely efficient materials. However, because of the high degree of R&D needed, its performance comes at a hefty price. End-users are looking for materials that are more economical and efficient. As customers want more economical solutions, the value of smart materials falls. Smart labels and tags used in the Smart Packaging industry are costly; as a consequence, the challenge for food and agricultural providers is to reduce the cost of smart labels and expand their range so that they have the same disability as bar codes.
Even the construction industry is cost-intensive, and when choosing building materials, builders strive for both efficient and low-cost solutions. Active suspension systems using smart materials are becoming increasingly popular in the automotive industry. Cost and availability, on the other hand, are stifling demand scenarios. Manufacturers are anticipated to continue to innovate in order to make the technology more widely available.
Smart Material Market: Opportunities
Increasing applicability of smart materials is likely to offer great opportunities for market expansion.
As manufacturing systems have advanced and better materials have been employed, the demand for smart materials has risen across a range of end-user sectors. Smart materials are predicted to increase their applications significantly, and they will play a critical role in the market's growth. As a result, during the forecasted time, the impact is likely to be considerable. Shape memory, piezoelectric, electrostrictive, phase change, magnetostrictive, and electrochromic materials have all seen considerable industrial applications in recent years. In addition, electroactive polymers, ferromagnetic shape memory alloys, carbon nanotube actuators, and conductive polymers are just a few of the emerging materials with a lot of global smart materials market potential.
Smart Material Market: Challenges.
Dearth of experience for developing system-based materials may hinder market growth.
The smart material sector is still developing and newer possibilities are opening with an increase in research activities. However, the synthesis of smart material is complex and requires a skilled workforce to make the product more cost-effective. Moreover, with the increase in complexities of machinery and devices, demand for system-based smart materials is increasing to improve overall productivity. But only few manufacturers operating in the market are capable to produce system-based materials; further, end-user ignorance has hampered the product's economic potential. These factors are acting like smart materials market growth barriers.
Smart Material Market: Segmentation
The global smart material market is bifurcated based on application, end-user, and region.
Based on application, the market is bifurcated into transducers, actuators & motors, sensors, structural materials, and coatings. The actuators & motors segment held the dominating market share in 2022 and is expected to cite a significant CAGR during the forecast period. The major reason for the growth of the segment is that actuators are notably capable of revamping and upgrading fuel economy (mileage) and vehicle execution to ensure comfort and convenience. These days, actuators have become an inseparable chunk of robotics where deployment motors, sampling tool motors, pedal motors, manipulator joint motors, and steering/drive motors are essentially utilized.
Based on end-user industry, the market is segmented into industrial, defense & aerospace, automotive, consumer electronics, healthcare, and others. The defense & aerospace industry held the largest market share in 2022 and is further projected to occupy a dominant status and simultaneously grow at a rapid CAGR during the forecast period. The growth of this segment is mainly due to an increase in investment and budget for the defense & aerospace sector among various countries across the globe as there has been an exponential rise in terrorist activities and war situations around the world. Thus, various countries are rapidly increasing their military capabilities to expansively portray their defensive prowess and also to protect their own countries. Therefore, the extensive utilization of smart materials in the aviation and defense industry in numerous countries drives the growth of the segment during the forecast period.
Recent Developments
In December 2021, KYOCERA Corporation revealed its HAPTIVITY®i human-machine interface (HMI) technology, a hybrid invention that combines the company's proprietary HAPTIVITY® touch technology with TactoTek Oy's IMSETM, a patented 3D injection-molded structural electronics technology.
In March 2021, TDK Ventures, a subsidiary of TDK Corporation, invested in Span, a developer of revolutionary smart electrical panels that seek to provide consumers with the opportunity to manage and monitor their home energy use in real-time via a mobile app. When combined with sustainable energy upgrades like solar panels, house batteries, and EV charging, the Span Smart Panel is very beneficial.
Smart Material Market: Report Scope
Report Attributes
Report Details
Report Name
Smart Material Market Research Report
Market Size in 2022
USD 62.31 Billion
Market Forecast in 2030
USD 158.21 Billion
Compound Annual Growth Rate
CAGR of 14.42%
Number of Pages
205
Forecast Units
Value (USD Billion), and Volume (Units)
Key Companies Covered
APC International, Ltd., LORD Corporation, Kyocera Corporation, Advanced Cerametrics, Inc., Metglas, Inc., Channel Technologies, Group, Ametek Inc., Metamaterial Inc., Harris Corporation, CeramTec, Kyocera Corporation, TDK Corporation, and NOLIAC A/S.
Segments Covered
By Application, By End User, And By Region
Regions Covered
North America, Europe, Asia Pacific (APAC), Latin America, Middle East and Africa (MEA)
Countries Covered
North America: U.S and Canada
Europe: Germany, Italy, Russia, U.K, Spain, France, Rest of Europe
APAC: China, Australia, Japan, India, South Korea, South East Asia, Rest of Asia Pacific
Latin America: Brazil, Argentina, Chile
The Middle East And Africa: South Africa, GCC, Rest of MEA
Base Year
2022
Historical Year
2017 to 2021
Forecast Year
2023 - 2030
Customization Scope
Avail customized purchase options to meet your exact research needs. Request For Customization
Smart Material Market: Regional Landscape
The global market is expected to be ruled by North America during the forecast period
North America led the global smart material market in 2021, accounting for 38% of total sales. The region's product demand has been bolstered by expanding the application breadth of items in the aerospace and military industries. The budget of the United States Department of Defense (DoD) has risen from USD 560 billion in 2015 to USD 636.4 billion in 2021. Due to expanding demand for the product in defense and military applications, increased defense spending is expected to generate attractive prospects in the market. In 2021, Europe accounted for the second-largest proportion of worldwide smart material market revenues, because of strong demand in developed nations including the United Kingdom, Germany, France, the Netherlands, and Switzerland. Many European institutions, including the Netherlands Agency, the
German Foundation for Industrial Research, and the Agence Nationale de la Recherche have contributed considerable money to smart materials research. Due to rising demand from end-use industries in countries such as Japan and China, the Asia-Pacific market is likely to rise at a rapid pace throughout the forecast period. The Chinese government has enacted favorable incentive policies, increasing the country's number of research institutions. China and the United Kingdom formed a partnership in 2015 to encourage the industrial development of smart materials.
Smart Material Market: Competitive Landscape
Key players functioning in the global smart material market include:
APC International Ltd.
LORD Corporation
Kyocera Corporation
Advanced Cerametrics Inc.
Metglas Inc.
Channel Technologies
Group
Ametek Inc.
Metamaterial Inc.
Harris Corporation
CeramTec
Kyocera Corporation
TDK Corporation
NOLIAC A/S.
Global smart material market is segmented as follows:
By Application
Transducer
Actuators & Motors
Sensors
Structural Materials
Coatings
By End User
Industrial
Defense & Aerospace
Automotive
Consumer Electronics
Healthcare
Other
By Region
North America
Europe

France
The UK
Spain
Germany
Italy
Rest of Europe

Asia Pacific

China
Japan
India
South Korea
Southeast Asia
Rest of Asia Pacific

Latin America

Brazil
Mexico
Rest of Latin America

Middle East & Africa

GCC
South Africa
Rest of Middle East & Africa