Solar Panel Market: Overview
The Global Solar Panel Market accounted for USD 109.33 billion in 2020 and is expected to reach USD 205.31 billion by 2028, growing at a CAGR of 8.7% from 2021 to 2028.
Solar energy is a clean source of energy and is present in abundant quantity available to our planet. Solar energy is radiated energy by the sun. It is an unconventional and convenient source of energy. Solar energy is also a solution to global warming and greenhouse gases effect. Solar energy is an alternative to fissile fuel which harms our environment Developed and developing economies around the globe are promoting solar energy as a main alternative source of energy. Governments are launching various schemes to promote the use of solar panels. Governments have set clean energy targets to which they are committed. Paris agreement is one such example and its member nations are committed to fulfilling its target and helping decarbonize the economy. In order to harness this energy different technology are used such as Mono-Crystalline, Poly-Crystalline, and Thin-Film Solar panels.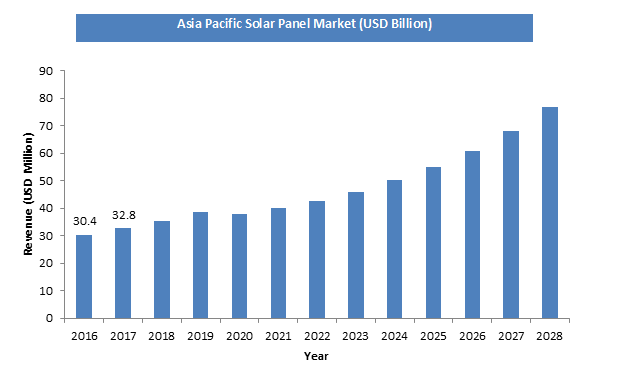 Request Free Sample
COVID-19 Impact Analysis
The global solar panel market has witnessed a downturn in sales for the short term owing to the lockdown enforcement places and restrictions on places of movement of public due to COVID. This lockdown crippled the manufacturing industry as they were short of labor forces. The restrictions imposed by various nations to contain COVID had stopped production resulting in disruption across the whole supply chain. Thaw the manufacturing was hampered during the early lockdown phase but was later allowed due to its growing demand and ease in lockdown restriction. However, the world markets are slowly opening to their full potential, and theirs a surge in demand for Solar Panel Market. The market would remain bullish in the upcoming year.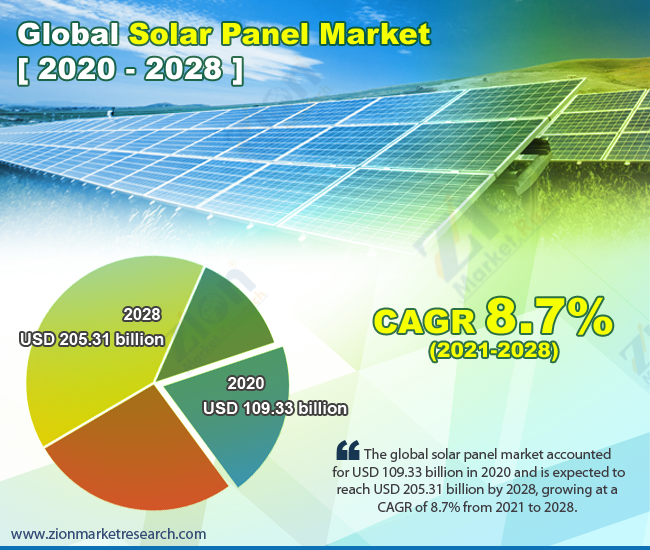 Request Free Sample
Solar Panel Market: Growth Factors
Various agreements signed by governments in order to save the environment has made global energy producer shift their focus to clean energy sources across the globe. The government is providing Incentives and tax rebates are given to install solar panels to decrease environmental pollution. Rooftop solar installation is one of the most common uses of solar panels. The decrees in solar panel prices due to various innovations and research have moved the focus to solar usage. Europe and china are leading the way in solar technology and have stabilized the solar panel prices to a lower rate than earlier. Investors are seeing this as an opportunity to set up solar projects at commercial levels. Governments are promoting rural use of solar power plants. In total, about 630 KW of clean energy was produced using solar installations around the globe, of which more than 50 % was harnessed in the Asia Pacific region. Europe is one of the largest energy producers using solar panels.
Report Scope: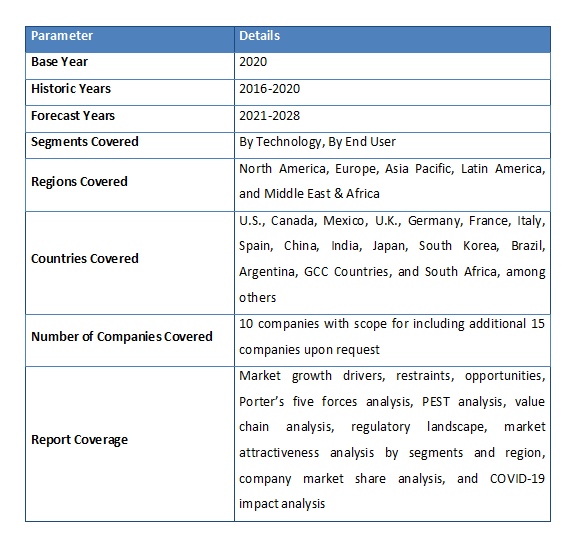 Request Free Sample
Technology Segment Analysis Preview
The mono-Crystalline solar panel segment held a share of around 40.51% in 2020. Mono-Crystalline solar panels are made using silicon. Silicon bars are made using the single crystal growth method and put on wafers and placed in the right direction. Mono refers to a single-bar silicon structure. It's a premium solar product as it has higher efficiency compared to Polycrystalline solar panels. Some of the major companies producing Mono-Crystalline solar panels are Canadian Solar, Sunpower, LG, Hyundai, Trina Solar, etc.
Polycrystalline solar panels are made using silica but instead of using single silica crystal manufacturers melt silica fragments and form a wafer on the panel. It is cost-efficient compared to Mono-Crystalline solar panels but is less efficient. They are used more commonly for residential purposes. It is found on rooftop solar panels.
A thin-film solar cell is a device that converts light energy into electrical energy by the photovoltaic effect. It is made of micron thick photon absorbing material deposited over the structure
End User Segment Analysis Preview
The utility segment held a share of around 45.24% in 2020. This is attributed to a large number of projects in the pipeline across the globe. Government and private company projects are lined up which will be all for utility purposes. The commercial sector is also set to boom as many private companies are setting up a solar power plant to harness solar energy to reduce their liability in long run.
The residential segment is steady rise as off-grid solar panels with energy storage system proves to be alternative source of energy. Large batteries are required to save more power.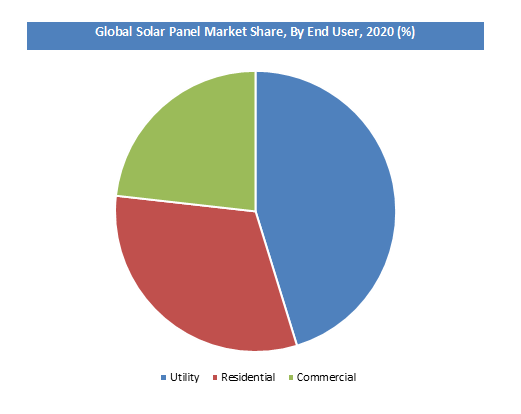 Request Free Sample
Solar Panel Market: Regional Analysis Preview
The Asia Pacific region held a share of about 34.56% in 2020. This is attributable to the presence of top companies such as Trina Solar, JinkoSolar, Hanwha Q Cells, Microtek, Tesla, SolarWorld JA Solar, Longi Solar, etc among others. Moreover, the increasing usage of the solar panel market is expected to generate huge demand for the market in this region. China is the largest solar energy producer in the region. China also has the world's largest floating solar field which generates about 40 MW of electricity. The Indian government is ambitious to achieve its 175 GW of renewable energy as a commitment to Paris Agreement by 2022.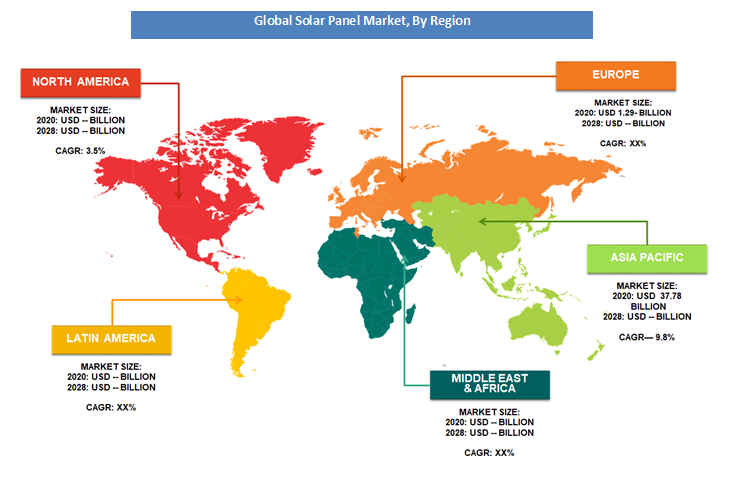 Request Free Sample
The European region is projected to grow at a considerable CAGR over the forecast period. This surge is due to the increasing awareness of using clean sources of energy. Germany is the largest producer of electricity using solar panels in this region followed by Spain. Cost reduction, user-friendly, efficiency, wide applications, convenience, etc. are some of the reasons why the solar panel market is booming market in this region. The North American region had seen a surge in solar panel usage as their residents were aware of the new utility project across the country in the coming years.
Solar Panel Market: Key Players & Competitive Landscape
Some of the key players in the solar panel market are Canadian Solar, Sunpower, LG, Hyundai, Trina Solar, JinkoSolar, Hanwha Q Cells, Microtek, Tesla, SolarWorld, JA Solar, Longi Solar, and Adani, among others.
The global solar panel market is segmented as follows:
By Technology
Mono-Crystalline
Poly-Crystalline
Thin-Film Solar Panel
By End User Industry
By Region
North America
Europe

France
The UK
Spain
Germany
Italy
Rest of Europe

Asia Pacific

China
Japan
India
South Korea
Southeast Asia
Rest of Asia Pacific

Latin America

Brazil
Mexico
Rest of Latin America

Middle East & Africa

GCC
South Africa
Rest of The Middle East & Africa