Analysis
Cable television network is a system in which television programming services are delivered to its subscribers via signals transmitted through coaxial cables or RF (Radio Frequency) signals. Radio frequency signals are transferred by light pulses through fiber optic cables. Nowadays, satellite television or DBS (Direct Broadcast Satellite) technology is majorly used, which transmits the signal from an overhead satellite to the receiver and then it is connected to the television through a cable. Whereas in broadcast television, transmission is done through radio waves and received by a TV antenna attached to the television.
The increasing demand for distribution infrastructure and digitization for delivering high-quality content is expected to drive the growth of cable television network market during the forecast period. The increase in television broadcasting and satellite TV broadcasting, which also includes paid TV channels, are anticipated to witness rapid growth in cable television network market globally. Increase in a number of cable television consumers for entertainment and information has been driving the consumers to spend on packages of their choice. The cable television network provides a source of entertainment that is easily available to everyone at an affordable cost and it is possible because the cable operators play a vital role in between the customers and the television companies. Cable operators provide services such as broadcasting popular TV shows, sports, movies, news, and movies-on-demand feature among others. Some of the major factors that are transforming this market are continuously increasing customer base, direct-to-home service provided by cable television networks with high-quality content, and demand for digitization among others. Rising living standards of people have led to the emergence of new and improved electronic gadgets such as smart TVs which are slimmer, have features such as web browsing, YouTube, social networking websites etc., and they provide ultra high-definition viewing with real-time recording. The high adoption of cable, satellite, and internet TVs has consequently increased the demand for cable television network. The cable network gets affected by rain and bad weather as it struggles to receive signals, thus disrupting the viewing experience. Moreover, demand for high-definition channels, increasing investments and rise in TV advertisements are expected to create ample growth opportunities for the key players in the cable television network market in the coming years.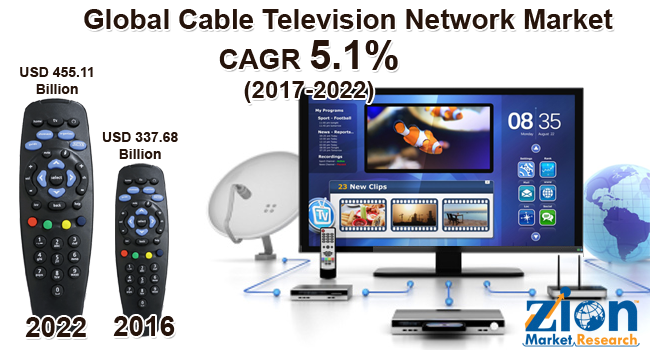 Cable television network market can be segmented based on Direct Broadcast Satellite Services (DBS), Satellite Master Antenna Systems Services (SMATV), Multipoint Distribution Systems Services (MDS), cable and other pay services, closed-circuit television circuits and subscription television services. Regional segmentation includes North America, Europe, Asia Pacific, Latin America and the Middle East and Africa.
The major players operating in the cable television network market are Time Warner Cable Inc., Discovery channel, ESPN, CNN, Cox Enterprises, Comcast Corp., and Viacom Inc. among others.