Analysis
A liquid biopsy is an important diagnostic tool for diseases such as cancer and it uses non-solid biological tissue for sampling and analysis. As liquid biopsy is a noninvasive alternative procedure that makes use of blood as a sample, it is preferred more than surgical tissue biopsy. The procedure has various advantages over traditional surgical biopsy. It is quicker and tolerable in patients as it is noninvasive. Cancer can be detected well before the onset of clinical symptoms which would help restrict disease progression and monitor treatment efficacy using liquid biopsy.
Cancer is caused due to single or multiple genetic mutations. Many tumor cells release their constituents in the blood. These constituents act as a biomarker and are used in the detection of the presence of tumor cells. Various biomarkers that are used as a tool for detection of cancer are circulating tumor cells (CTC), cell-free DNA (cfDNA) derived from tumor cells, and extracellular vesicles. RNA based biomarkers and other proteins originated from tumor cells are also used for diagnosis. Liquid biopsy detects the presence of such biomarkers in the blood sample. Thus these biomarkers offer a valuable tool for detection of mutations in cancerous cells.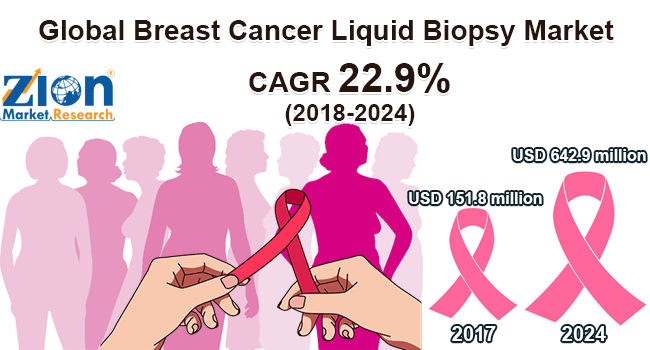 Though liquid biopsy offers advantages over surgical biopsy, the research is still ongoing. Amount of cell-free DNA greatly varies in healthy individuals and cancer patients. Thus measuring the amount of cfDNA helps to detect the presence of tumor cells. But certain conditions like autoimmune disorders, chronic inflammation exhibit higher levels of cfDNA, which may cause ambiguity. Thus in such cases use of cancer-specific biomarkers such as CTC and EV is more important. Thus liquid biopsy is a valuable means for the early detection of cancer. Liquid biopsy also helps to monitor disease progression based on heterogeneity of tumor cells in advanced stages of cancer. Globally, breast cancer is one of the major malignancies and liquid biopsy acts as an immensely important early cancer diagnosis tool.
Breast cancer is the most common type of cancer among women and is the second most common type of cancer worldwide. As per the World Cancer Research Fund International data, about 1.7 million new cases of breast cancer were diagnosed in 2012 which accounts almost 11.9% of all cancers. As per GLOBOCAN 2012 estimates for breast cancer, worldwide the incidence rates vary greatly, as 27 per 100,000 in Eastern Asia and Middle Africa, 92 in Northern America and 89.7 in Western Europe as per World Health Organization (WHO) estimates. Compared to the incidence rate, the mortality rate is less with 6 per 100,000 in Eastern Asia to 20 in Western Africa.
The rise in the prevalence of breast cancer worldwide drives the growth of breast cancer liquid biopsy market. Additionally increased awareness about cancer and preference for noninvasive test procedures help in the growth of breast cancer liquid biopsy market. Developed healthcare infrastructure and government funding for research and development are factors that boost the growth of this market in developed countries. Whereas increased disposable income and healthcare expenditure are also some of the factors driving the market growth in developing nations. Also initiatives by governments and other organizations working in the healthcare sector to curb cancer act as a golden opportunity for the key players in this market. Nevertheless, the high cost of test and lack of trained professionals can restrict the growth of global breast cancer liquid biopsy market.
The global breast cancer liquid biopsy market is segmented into biomarkers, end-user, and region. The biomarker segment has been classified into cell-free DNA (cfDNA), circulating tumor cells (CTCs), extracellular vesicles (EVs), and others. Other segment includes circulating biomarkers such as cell-free protein biomarkers and circulating RNA (ctRNA and cfRNA). Cell-free DNA segment holds a maximum share of the biomarker segment. End users of breast cancer liquid biopsy market are physician laboratories and hospitals, reference laboratories and other. Other end users include research institutes, pathology laboratories, academic research centers, etc.
North America will be the dominant region during the forecast period. Developed healthcare infrastructure, the high prevalence of breast cancer, the presence of major key players in the region, and the availability of skilled manpower will boost the market in this region. Europe anticipates being the second largest market. The Asia Pacific will grow at the fastest rate over the forecast period. Increasing healthcare expenditure, awareness about cancer, and increased disposable income are the driving factors for the growth of the breast cancer liquid biopsy market in this region. Latin America market is projected to grow at a moderate rate during the forecast period. The Middle East and Africa are expected to experience noticeable growth in the years to come.
Some of the key players in breast cancer liquid biopsy market include QIAGEN N.V., Roche Diagnostics, Bio-Rad Laboratories, Myriad Genetics, Menarini Silicon Biosystems, Illumina, Cynvenio Biosystems, Inc., Genomic Health, Inc., Thermo Fisher Scientific Inc., Fluxion Biosciences, Inc., Biodesix, Inc., Guardant Health, Inc., and Isogen Life Science B.V., among others.