Global Lung Cancer Surgery Market Size And Industry Analysis
The global lung cancer surgery market accounted for USD 5.63 Billion in 2020 and is expected to reach USD 7.59 Billion by 2028, growing at a CAGR of 4.2% from 2021 to 2028.
Surgery for Lung cancer for some patients is an option depending on the location, stage, and type of lung cancer considering other medical conditions. Efforts to fix lung cancer with surgery can remove tumor with some of the surrounding lung tissue. Tumor removal with lung cancer surgery is treated as the best option if the cancer is unlikely to spread and is localized.
People with a high risk of lung cancer can consider lung cancer screening annually using low-dose CT scans. Screening of Lung cancer is generally suggested to old adults who smoked heavily in their past years or who quit smoking in the past 10-15 years.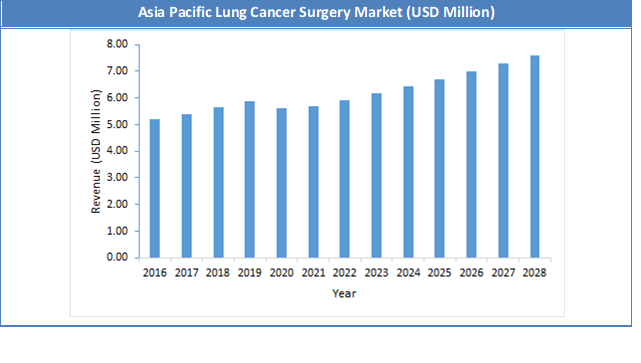 Request Free Sample
COVID-19 Impact Analysis
COVID-19 has affected several sectors including Lung cancer surgery market. One of the main concerns impending is lack of optimal manufacturing capacity across lung cancer surgery market. Due to deviation of medical field towards curing COVID-19, funding to Research & Development activities associated to lung cancer surgery market have declined and this industry have to face negligence afterwards causing unfavorable impact on the market
The number of diagnostic procedures and cancer screening declined rashly, with nations affected by the virus.
Growth Factors
Introduction of AI in healthcare sector has been driving adoption ratio of RATSS (robotic-assisted thoracic surgery systems). The segment is anticipated to contribute substantially to lung cancer surgery industry globally, in terms of revenue. Up gradation in treatment of lung cancer and growing technological advancement is the essential factor expanding the growth of the market, also awareness levels are high among the people about treatment of cancer, an increase in the retiree population, rise in pollution levels due to cigarette smokers across the globe and increase in government funding for R&D of new treatment procedures and drugs are the key factors propelling lung cancer surgery market.
Report Scope:
Product Analysis Preview
In 2020, surgical instruments segment estimated for the biggest market share due to increasing incidence and prevalence of lung cancer, increasing government funding and support, and the rising adoption of surgical procedures for treating lung cancer are the key factors propelling the market growth. Surgical Instruments, Monitoring & Visualizing Systems, Endosurgical Equipment form Type segment of Lung Cancer Surgery Market.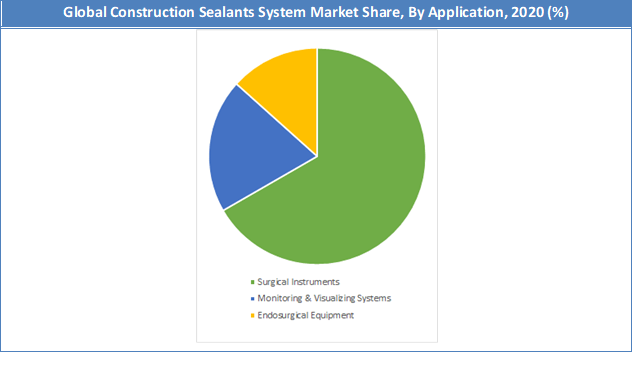 Request Free Sample
Flavor Segment Analysis Preview
Thoracotomy segment held the largest share in the lung cancer surgery industry. However, minimally invasive surgeries segment is anticipated to rise at the topmost during the coming years. The increasing acceptance of minimally invasive surgery techniques, presence of reimbursement policies, rising technological advancements and the rising trend of robotic surgeries are some of the key factors fueling the growth of minimally invasive surgeries segment. Robotic Surgery, Lobectomy, Thoracotomy, Endobronchial Surgery, Sleeve Resection, Percutaneous Surgery, Pneumonectomy, Minimally Invasive Surgeries, and Segmentectomy form the Procedure Segment of Lung Cancer Surgery Market.
Regional Analysis Preview
The North American region held a share of over 33% in 2020. The region dominates lung cancer surgery market owing to an increase in the level of awareness among the common population about treatment of cancer, and senior citizen population in the region.
Asia Pacific is anticipated to grow at a CAGR of 7.6% over the forecast period. Asia Pacific Lung surgery market is expected to rise on account of increasing favorable initiatives by government, increasing occurrence of lung cancer, and growing healthcare expenditure.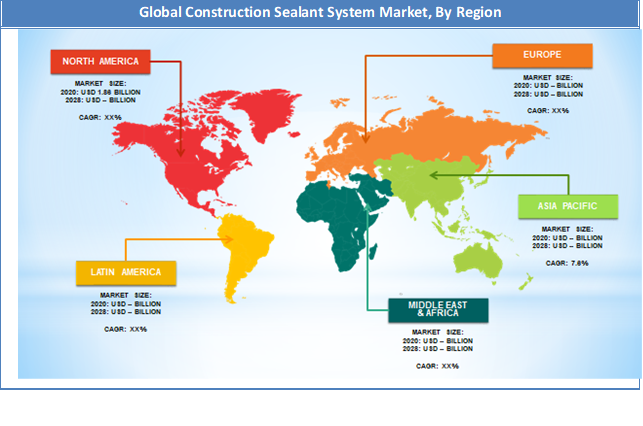 Request Free Sample
Key Market Players & Competitive Landscape
Some of key players in Lung Cancer Surgery Market are Intuitive Surgical, Medical Devices Business Services, Inc., Olympus Corporation, AngioDynamics, Scanlan International, KARL STORZ SE & Co. KG, TROKAMED GmbH, F.Hoffmann-La Roche Ltd., Pfizer Inc., Abbott, Boehringer Ingelheim International GmbH, Genentech Inc., Boston Scientific Corporation, among others.
The Global Lung Cancer Surgery Market is segmented as follows:
By Type
Surgical Instruments
Monitoring & Visualizing Systems
Endosurgical Equipment
By Procedure
Robotic Surgery
Thoracotomy
Lobectomy
Sleeve Resection
Endobronchial Surgery
Pneumonectomy
Percutaneous Surgery
Segmentectomy
Minimally Invasive Surgeries
By Treatment
Hospitals
Clinics
Ambulatory Surgical Centers
Research Laboratories
By Region
North America
Europe

France
The UK
Spain
Germany
Italy
Rest of Europe

Asia Pacific

China
Japan
India
South Korea
Southeast Asia
Rest of Asia Pacific

Latin America

Brazil
Mexico
Rest of Latin America

Middle East & Africa

GCC
South Africa
Rest of Middle East & Africa