Analysis
Bioinformatics is an integrative field that develops systems and software tools for comprehending biological data. Bioinformatics combines computer science, biology, information engineering, statistics, and mathematics to examine and understand biological data. Single nucleotide polymorphisms (SNPs) and recognition of candidate genes are the most common uses of bioinformatics. In recent years, the scope of bioinformatics has expanded considerably. Bioinformatics also attempts to comprehend the structural principles within the protein and nucleic acid sequences, which are referred to as proteomics.
The growing demand for protein and nucleic acid sequencing, rapid growth in the fields of genomics and proteomics, increasing research and development activities in drug discovery and molecular biology, rising initiatives from public and private organizations, escalating applications of bioinformatics, growing requirement for integrated bioinformatics structures, and rising bioinformatics support in advance of clinical diagnostics and personalized medications are driving the global bioinformatics market. The increasing trend of collaborations between research institutes and companies and the rising popularity of personalized medicine will bring new opportunities for the players in the bioinformatics market. Nonetheless, the dearth of skilled professionals, high cost, lack of awareness, and absence of interoperability between data formats may restrict the global bioinformatics market.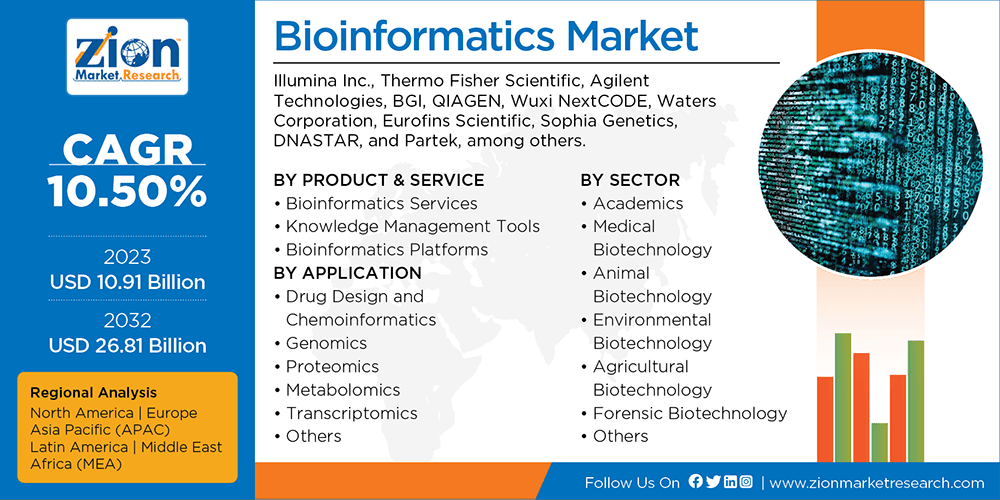 The global bioinformatics market is been split into product and service, application, and sector. Based on product & service, the bioinformatics market includes bioinformatics services, knowledge management tools, and bioinformatics platforms. The bioinformatics platforms segment is expected to show the highest CAGR over the estimated timeline, due to the rising use of diverse bioinformatics platforms in proteomics and genomic applications. The application segment includes drug design and chemoinformatics, genomics, proteomics, metabolomics, transcriptomics, and others. The genomics segment dominated the global market in 2018, due to the growing application of genomics in tailored and precautionary medicine. The sector segment includes academics, medical biotechnology, animal biotechnology, environmental biotechnology, agricultural biotechnology, forensic biotechnology, and others. The medical biotechnology segment is expected to dominate the market in the future, owing to the growing acceptance of bioinformatics tools in clinical and pharmaceutical applications.
By region, North America represents an established regional bioinformatics market. This growth can be attributed to the continued funding of life sciences research activities from private organizations and government institutions, growing implementation of tailored medicine, etc. The Asia Pacific bioinformatics market is anticipated to advance at the highest CAGR over the projected time period. India, China, and Japan are expected to take forward the growth of the region's bioinformatics market. The Middle Eastern and African region is predicted to witness restricted market growth in the future, due to the dearth of skilled professionals and the absence of advanced healthcare set-up.
Some key players of the global bioinformatics market include Illumina Inc., Thermo Fisher Scientific, Agilent Technologies, BGI, QIAGEN, Wuxi NextCODE, Waters Corporation, Eurofins Scientific, Sophia Genetics, DNASTAR, and Partek.