Analysis
Anemia is caused by the lack of red blood cells or hemoglobin in the human body. Red blood cells are responsible for carrying oxygen from lungs to rest of the body. Anemia symptoms include weakness, feeling tired, shortness of breath, and restrictions in physical activities, which may vary according to age, altitude, smoking habits, sex, and pregnancy status. Anemia, if left untreated, may even cause death. The main cause of anemia is various nutritional and non-nutritional factors, such as infectious diseases like malaria and tuberculosis.
According to the WHO, in 2018, about 56% of people globally were affected by anemia. Anemia can be effectively treated with a proper treatment method. The high rate of nutritional deficiency is among the most important driving factors of the anemia treatment market. According to the WHO, 50% of anemic cases are caused by iron deficiency due to low iron intake. Growing baby booming population and increasing chronic diseases and disorders are fuelling the anemia treatment market. Improper nutritional diet in underdeveloped countries also contributes to this market. According to the World Bank, anemia is the 8th major disease among young girls and women. Various government initiatives for improving the healthcare facilities in developing countries are also estimated to drive the anemia treatment market in the future. The continuous research and development activities related to anemia drugs and increasing anemia awareness in developing and undeveloped countries are estimated to create new growth opportunities in the anemia treatment market over the forecast period. However, medications of anemia drugs have adverse effects on the human body, which may hamper this market. For instance, patients with diabetes consuming iron for anemia may increase heart diseases among patients.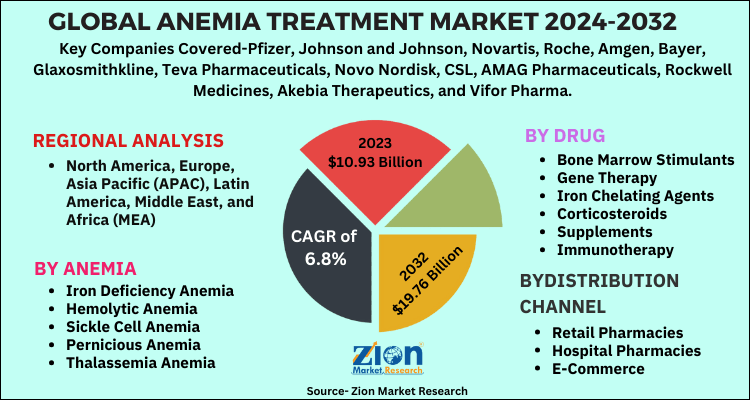 The anemia treatment market is fragmented on the basis of anemia, drug, and distribution channel. By anemia, the anemia treatment market includes iron deficiency, sickle cell, pernicious, thalassemia, and hemolytic. By drug, the market is divided into corticosteroids, gene therapy, bone marrow stimulants, iron chelating agents, immunotherapy, and supplements. On the basis of distribution channel, the anemia treatment market comprises e-commerce, hospital pharmacies, and retail pharmacies.
North America is projected to dominate the anemia treatment market globally, owing to the early introduction of highly developed treatment options, increasing nutritional deficiency due to changing lifestyle, and constant introduction of favorable reimbursement policies. The Asia Pacific anemia treatment market is anticipated to show a notable growth rate over the forecast time period.
Some key players of global anemia treatment market are Pfizer, Johnson and Johnson, Novartis, Roche, Amgen, Bayer, GlaxoSmithKline, Teva Pharmaceuticals, Novo Nordisk, CSL, AMAG Pharmaceuticals, Rockwell Medicines, Akebia Therapeutics, and Vifor Pharma.