Analysis
An air compressor is a machine that is competent of converting electrical power into kinetic energy, especially by utilizing compressed air. When air is released in a quick burst, it releases an amount of kinetic energy that can be harnessed for various purposes, including pneumatic device activation, air transfer, and cleaning operations.Air compressors work into two stages such release operation and compression operation. There are multiple methods of compressing air, including centrifugal compression, rotary screws, and reciprocating pistons.
The advent of energy efficient air compressors which are available in the portable model is the major factor expected to boost the demand of air compressor market in coming years. The emergence of next-generation compressed air systems with low maintenance and eco-friendly features is foreseen to push shift demand from traditional equipment to recent technology. In addition, the constant advent of the new product with innovative technology, significant demands from oil & gas and home appliances industries are the factors projected to promote the growth of air compressor market. However, escalating prices of raw material may limit the growth of air compressor market.Nonetheless, surging demand from construction industry is expected to open up alluring opportunities for air compressor market in the analysis period.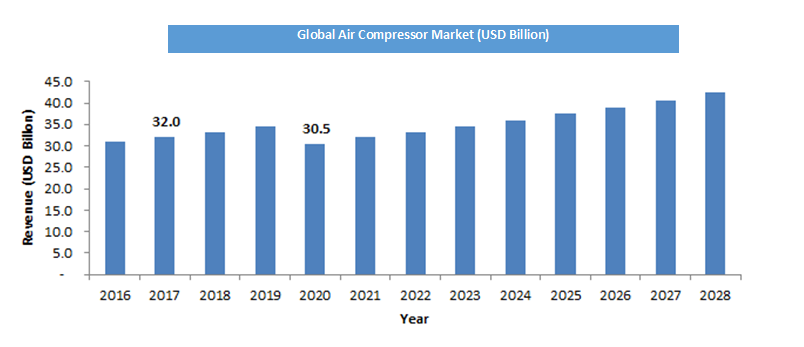 Based on technology, the global air compressor market is bifurcated into reciprocating, rotary type and centrifugal compressors. Rotary technology segment emerged as a leading segment of the global air compressor market in terms of demand 2016. This segment is expected to retain its dominance for analysis period due to rising demand from the ventilation, heating, and air conditioning industry.Oil filled and oil free is the lubrication method segment of air compressor market. Application segment categorized into food & beverage, healthcare, home appliances, energy, oil & gas, electronics, manufacturing, and others.
Asia Pacific air compressor market is expected to show robust growth on account of growing infrastructure spending and manufacturing facilities. Latin America along with the Middle East & Africa is expected to witness significant growth over the analysis period owing to an upcoming construction project in BRIC nation, growing awareness towards eco-friendly products and changing regulatory scenario.
Many companies are adopting product launch, expansion, and acquisition as key strategies to excel in the market. The key dominant player's operative in global air compressor market includesAtlas Copco, Ingersoll Rand, Chicago Pneumatic, GE Energy, Bauer Group, BelAire, Sulzer Ltd., Mitsubishi Heavy Industries, Sullair, Ebara Corp., KPCL, Elgi Equipment Ltd., Kobe Steel and VMAC amongst others.