Free Analysis
Active pharmaceutical ingredient (API) is used in the manufacturing of a pharmaceutical drug as a biologically active compound. API is an organic compound which has unique chemical structure and stereochemistry. Any medication is made up of two portions. The first is the active pharmaceutical ingredients, which is the essential element of the drug. The second is known as an excipient which is an inner part of the drug. The active pharmaceutical ingredient is the chemically active substance, which is intended to deliver the desirable impact in the body.
The market for API is driven by a number of factors, such as increasing prevalence of chronic diseases, technological advancements in the API manufacturing, and growing incidences of age-related diseases. Furthermore, patent expiration of major drugs that increased generic drug sales, government initiatives flourishing the market growth. However, stringent regulatory requirement and decline in global economics may curb the worldwide active pharmaceutical ingredient market.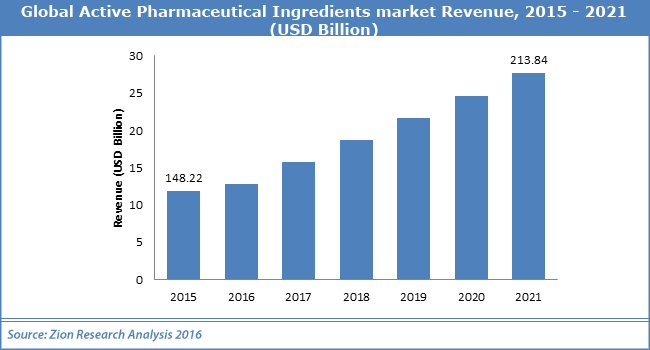 The global active pharmaceutical ingredient market is broadly segmented based on API synthesis, type of manufacturing, type of API, and type of drug, application and by region. On the basis of API, synthesis market is segmented into biotech API, synthetic chemical API, and HPAPI (Highly Potent Active Pharmaceutical Ingredient). The biotech API is the leading segment and acquired a significant share in overall API market in 2015. On the basis of the type of manufacturing, the market is segmented into API contract manufacturing and in-house API manufacturing. The contract manufacturing emerged as major segment due to lower cost and higher quality of production of the API. Type segment of API includes synthetic API and biological API.
By type of drug, the market is segmented into branded drugs, generic drugs, and OTC (Over the Counter) drugs. The generic prescription drugs segment is expected to witness the highest growth in the upcoming years due to their low cost compared to branded drugs. Cardiology, oncology, anti-inflammatory, gastrointestinal and others are the key therapeutic application segmentation of API market. According to World Health Organization (WHO), cancer was one of the major causes of mortality across the globe. Thus, the oncology segment is expected to be the fastest-growing segment of the global API market.
North America dominated the global API market in 2015 followed by Europe due to development in the pharmaceutical industry, and technological advancement in API. Asia-Pacific is considered as a fastest growing market for active pharmaceutical ingredient due to increasing new drug application in this region.
Major players in active pharmaceutical ingredient market are Sun Pharmaceuticals Industries Limited, Novartis International AG, BASF SE, Pfizer, Inc., Aurobindo, Albemarle Corporation, and Boehringer Ingelheim among others.