The global Whole Genome Amplification market, which accrued revenue worth 2.5 (USD Million) in 2019 and anticipated to garner earnings about 4.5 (USD Million) by 2025, is set to grow at a CAGR of nearly 7.9% during the period from 2019 to 2025. The report offers valuation and analysis of the Whole Genome Amplification market on a global as well as regional level. The study offers a comprehensive assessment of the industry competition, restraints, revenue estimates, avenues, current & emerging trends, and industry-validated market information. The report offers historical data from 2015 to 2018 along with a forecast from 2019 to 2025 based on value (USD Million).
Whole Genome Amplification Market: Outlook
Whole genome amplification is a methodology for amplifying complete genome commencing with nanogram DNA quantities and outputting microgram quantities of amplified products. It is a major tool for preservation of limited samples of DNA products and has been utilized for amplifying material from a single DNA cell. Many methods have been developed for whole genome amplification and this comprises of degenerate oligonucleotide PCR, primer extension preamplification, and multiple displacement amplification.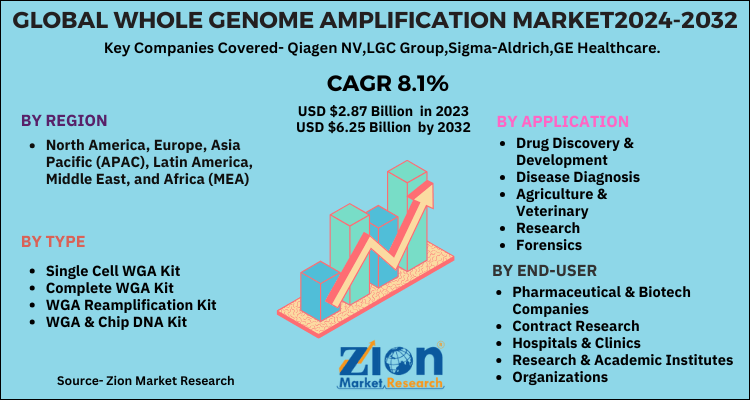 Whole Genome Amplification Market: Growth Drivers
Surge in the aging population along with increase in the cases of chronic diseases such as arthritis, heart disorders, and cancer will result in humungous growth of whole genome amplification industry over the forecast timeline. A massive rise in the allocation of funds for carrying out clinical trials is expected to offer new opportunities of growth for whole genome amplication industry over the assessment timeline. According to one such study carried out by NIH researchers w.r.t whole genome amplification made from as single cell and from the findings of the study, it has been concluded that whole genome amplification is useful for diagnosis of genetic disease & forensics as well as accurately analyzing old samples of DNA. This will help in increasing the significance of whole genome amplification and will result in manifold growth of the market in the coming decade.
Furthermore, NCBI has stated that the use of whole genome amplification has gained momentum since last few years and polymerase chain reaction is used for replicating genomes of biological interest. Moreover, whole genome amplification finds a slew of applications including determining embryonic disorders, bioterrorism through genome detection, microbe diversity, genotyping, and clinical sample immortalization. Moreover, whole genome amplication has opened new vistas of growth for molecular biology domain. All these aforementioned factors are anticipated to help whole genome amplication industry mark a remarkable surge over the forecast timeframe.
North American Market To Witness Acceleration In Growth By 2025
The expansion of whole genome amplification industry in North America over the forecast timespan is owing to massive allocation of funds by the U.S. government for carrying out research pertaining to genetic disorders as well as forensic science. Apart from this, rise in the number of pharma firms in the countries such as Canada and the U.S. focusing on whole genome amplification activities will further proliferate the expansion of whole genome amplification market in the sub-continent over the assessment period. In addition to this, thriving genetic engineering domain in the sub-continent will make remarkable contributions towards the whole genome amplification market size in the years ahead.
Key participants profiled in the study include Qiagen NV, LGC Group, Sigma-Aldrich, and GE Healthcare.
The global whole genome amplification market is segmented as follows:
By type:
Single Cell WGA Kit
Complete WGA Kit
WGA Reamplification Kit
WGA & Chip DNA Kit
Others
By application:
Drug Discovery & Development
Disease Diagnosis
Agriculture & Veterinary
Research
Forensics
Others
By end-user:
Pharmaceutical & Biotech Companies
Contract Research
Hospitals & Clinics
Research & Academic Institutes
Organizations
Others
By Region
North America
Europe

France
The UK
Spain
Germany
Italy
Rest of Europe

Asia Pacific

China
Japan
India
South Korea
Southeast Asia
Rest of Asia Pacific

Latin America

Brazil
Mexico
Rest of Latin America

Middle East & Africa

GCC
South Africa
Rest of Middle East & Africa