Wheat Flour Market Size And Industry Analysis
The global wheat flour market size was worth around USD 230.56 billion in 2021 and is predicted to grow to around USD 294 billion by 2028 with a compound annual growth rate (CAGR) of roughly 4% between 2022 and 2028. The report analyzes the global wheat flour market's drivers, restraints/challenges, and the effect they have on the demands during the projection period. In addition, the report explores emerging opportunities in the wheat flour market.
Wheat Flour Market: Overview
Wheat flour is produced from wheat which is a form of grass cultivated for its seeds. Wheat is an extremely popular cereal and is a part of the staple diet in many cultures across the globe. Wheat flour is created by grinding the cereal. The grinding methods may vary as also the final structure of the ground particle. For instance, in the Indian subcontinent, extremely fine stone-milled wheat flour is called Atta Flour and is used to cook different food items. Wheat can either be termed soft wheat or strong wheat depending on the gluten content level. In the case of soft wheat, the quantity is low, and in strong wheat, the gluten quantity is high. Bread flour generally has around 12 to 14% of gluten content, making the dough elastically tough, resulting in the baked goods holding their shape. On the contrary, soft wheat flour results in items that are finer and have a crumbling texture. Soft flour can further be divided into pastry and cake flour.
The cereal wheat is divided into 3 parts. The first is the endosperm which forms the starchy or the protein part. Second is the germ which is rich in fat, vitamins, and proteins. The last part is the extremely fibrous bran. Wheat flour is created from the endosperm. The process of creating wheat flour from wheat is called milling and involves tempering which is adding moisture to the grain beforehand to get the best results post milling. With the addition of moisture, the starch-rich endosperm is softened and later separated during the milling process. The separated part is what is called wheat flour. Whole wheat flour is a more favored form of wheat flour because it has more nutritious value than its counterparts since it is manufactured using all the parts of the cereal. To produce whole wheat flour, germ and the bran are added in the milling process.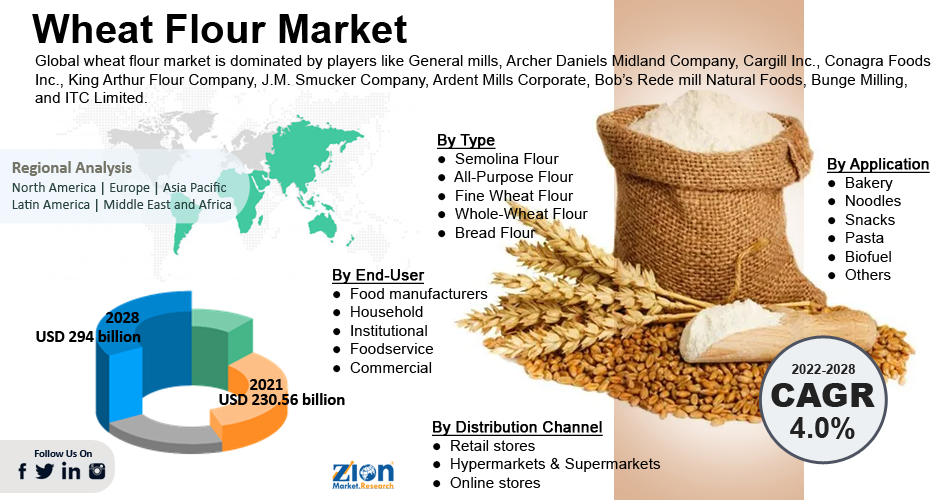 Key Insights
As per the analysis shared by our research analyst, the global wheat flour market is estimated to grow annually at a CAGR of around 4% over the forecast period (2022-2028).
In terms of revenue, the global wheat flour market size was valued at around USD 230.56 billion in 2021 and is projected to reach USD 294 billion, by 2028. Due to a variety of driving factors, the market is predicted to rise at a significant rate.
Based on type segmentation, all-purpose flour was predicted to show maximum market share in the year 2021
Based on application segmentation, the bakery was the leading revenue-generating application in 2021.
On the basis of region, Asia-Pacific was the leading revenue generator in 2021
Covid-19 Impact:
The global market cap did not suffer huge losses during Covid-19 since the food item was a part of essential products making it readily available through offline and online modes. Before the majority of the countries announced lockdowns and restrictions, the governments had chalked out plans to ensure a constant supply of staple food items to the population. In 2019-2020, the Indian agricultural sector produced over 106.21 million tonnes of wheat, but the problem was its sales owing to reduced staff, which was resolved during the later phase of 2020 once the markets gradually opened up.
Wheat Flour Market: Growth Drivers
Variations in wheat flour to propel market growth
The global wheat flour market is projected to grow favorably owing to the high varieties of wheat flour manufactured in different parts of the world. Wheat flour, in general, forms a critical part of diet cultures for centuries owing to its energy-storing capacities. However, given the versatile nature of the cereal, wheat, it has managed to evolve over the years concerning its nutritional benefits. Every part of the cereal has some form of nourishment to offer, which makes the product desirable amongst people with different purposes. For instance, brown flour, made of germ and bran part of the cereal, is gaining extreme popularity amongst end-consumers since the products made from it have a better impact on their health.
The ability of wheat flour to constantly reinvent itself and stay relevant to the demand in the market is what makes it unique and results in a high acceptance rate in the global market. The growth trend is also aided by the high applications of wheat flour in the bakery segment. The global market for baked food items is expected to grow at a CAGR of 4.65% in the next 4 years and generate over USD 437 billion in revenues which is subsequently expected to drive the demand for wheat flour as well.
Wheat Flour Market: Restraints
High demand for gluten-free products to restrict the market growth
Gluten is a type of protein found in barley, wheat, triticale, and rye. With the growing trend of maintaining better health, there is a high demand for gluten-free products since as per some studies, excessive consumption of gluten is not recommended for health purposes. Side effects like bloating, diarrhea, and constipation have been reported in many cases. For this reason, manufacturers of food items in which wheat flour is a key ingredient, are now looking for other substitutes that can provide gluten-free results. As per studies, around 25% of the American population is on a gluten-free diet which may restrict global market expansion.
Wheat Flour Market: Opportunities
Rising organic food consumption trend to provide market growth opportunities
A large section of the end-consumers is shifting their preference toward organic food items which is aided by the vast information present on the internet along with multiple initiatives by the government and private companies to generate awareness about the benefits of organic food over artificially created consumption items. There is a growing concern about the side effects of chemical residues, pesticides, and additives that are added to inorganic food products which are a leading cause of change in consumer demand and are expected to provide multiple growth opportunities for global wheat flour market growth
Wheat Flour Market: Challenges
Changing weather and price modulation to impact market expansion
Crops and cereals are extremely weather sensitive. They grow at their best forms when they get the required nourishment including sunlight and water. However, due to climate changes and extreme weather fluctuations, the agricultural sector is unable to meet the necessities of delivering quality grains. As per climate-related reports by the National Aeronautics and Space Administration (NASA), climate change is projected to affect wheat production due to greenhouse gasses. The unavailability of sufficient water supply may also create challenging situations for global market expansion.
Wheat Flour Market: Segmentation
The global wheat flour market is segmented based on end-user, type, distribution channel, application, and region.
Based on end-user, the global market segments are food manufacturers, household, institutional, food service, and commercial. The global market witnessed the highest demand in the commercial segment driven by the high requirement in the food processing industry. As per a 2021 analysis conducted by the US Department of Agriculture, 84 companies in the baking industry used 102 million hundredweight of wheat flour for commercial use.
Based on type, the global market segments are semolina flour, all-purpose flour, fine wheat flour, whole-wheat flour, and bread flour. The global market is dominated by all-purpose flour since it can be used to create all types of baked items like pizza, biscuits, and bread. It is also used as a thickening agent in many gravies. The biscuit market is projected to grow at a CAGR of 5.75% in the coming years which may drive the demand for all-purpose flour.
Based on distribution channel, the global market is segmented into retail stores, hypermarkets & supermarkets, and online stores. Retail chains dominated the market in the previous years since they are more accessible to people across regions. Most cities or towns may lack hypermarkets and supermarkets. In terms of grocery purchases, the highest sales of around 55% are recorded in retail formats.
Based on application, the global market is divided into bakery, noodles, snacks, pasta, biofuel, and others. Baked items lead the segment growth owing to the high consumption rate of baked goods. In Australia, at least 90% of the household consumes bread in some form or other.
Recent Developments:
In July 2022, Crown Flour Mills, a Nigerian-based milling giant, announced that it will import around 500,000 mt of wheat from India after receiving the necessary government support for the transaction. The move is expected to strengthen the wheat supply chain with Nigeria.
In February 2022, GRM Overseas Ltd., a leading basmati rice exporter in India, announced the addition of packaged wheat flour called 10X Shakti Chakki Fresh Atta strengthening its hold on the consumer market. The product is launched under its subsidiary GRM Foodkraft Private Limited (GFK) and is a direct-to-customer food item.
Wheat Flour Market Report Scope:
Report Attributes
Report Details
Report Name
Wheat Flour Market Research Report
Number of Pages
192
Key Companies Covered
General mills, Archer Daniels Midland Company, Cargill Inc., Conagra Foods Inc., King Arthur Flour Company, J.M. Smucker Company, Ardent Mills Corporate, Bob's Rede mill Natural Foods, Bunge Milling, and ITC Limited
Segments Covered
By Product Type, By Application, and By End Use
Forecast Units
Value (USD Billion), and Volume (Units)
Regions Covered
North America, Europe, Asia Pacific (APAC), Latin America, Middle East and Africa (MEA)
Countries Covered
North America: U.S and Canada
Europe: Germany, Italy, Russia, U.K, Spain, France, Rest of Europe
APAC: China, Australia, Japan, India, South Korea, South East Asia, Rest of Asia Pacific
Latin America: Brazil, Argentina, Chile
The Middle East And Africa: South Africa, GCC, Rest of MEA
Base Year
2021
Historical Year
2016 to 2020
Forecast Year
2022 - 2028
Customization Scope
Avail customized purchase options to meet your exact research needs. Request For Customization
Wheat Flour Market: Regional Analysis
Asia-Pacific to garner the highest revenue during the forecast period
The global wheat flour market is projected to be dominated by Asia-Pacific in the coming years driven by the high manufacturing power of China and India. China produces more than 120 million metric tons of wheat annually and is the world's largest producer of the crop. China's global market is 3 times larger than the US market in terms of wheat production. On the other hand, India is the second largest producer of wheat with its June ending 2022 crop season predicted to finish with a total of 106.41 million tons. China also leads the regional market in terms of the highest consumer of wheat with the value going up to 149 million metric tonnes as of 2022.
The European market is expected to grow at a high CAGR because of Russia's take as the world's largest exporter of wheat. Out of Russia's total grain export, wheat accounted for more than 78.54% and the country may sell more than 30 million tonnes of wheat by 2023 in the international market. The regional growth may also be driven by the high consumption rate of baked food items. As per the Federation of Bakers Ltd, the total consumption of patisserie, viennoiserie, and the break was around 39 million tonnes in the 27 nations of the EU.
Wheat Flour Market: Competitive Analysis
The global wheat flour market is dominated by players like General mills, Archer Daniels Midland Company, Cargill Inc., Conagra Foods Inc., King Arthur Flour Company, J.M. Smucker Company, Ardent Mills Corporate, Bob's Rede mill Natural Foods, Bunge Milling, and ITC Limited.
The global wheat flour market is segmented as follows:
By End-User
Food manufacturers
Household
Institutional
Foodservice
Commercial
By Type
Semolina Flour
All-Purpose Flour
Fine Wheat Flour
Whole-Wheat Flour
Bread Flour
By Distribution Channel
Retail stores
Hypermarkets & Supermarkets
Online stores
By Application
Bakery
Noodles
Snacks
Pasta
Biofuel
Others
By Region
North America
Europe

France
The UK
Spain
Germany
Italy
Rest of Europe

Asia Pacific

China
Japan
India
South Korea
Southeast Asia
Rest of Asia Pacific

Latin America

Brazil
Mexico
Rest of Latin America

Middle East & Africa

GCC
South Africa
Rest of Middle East & Africa