Waterproofing Membranes Market: Industry Prospective:
The global waterproofing membranes market was worth around USD 34.9 billion in 2021 and is estimated to grow to about USD 40.2 billion by 2028, with a compound annual growth rate (CAGR) of approximately 5.4 percent over the forecast period. The report analyzes the waterproofing membranes market's drivers, restraints/challenges, and the effect they have on the demands during the projection period. In addition, the report explores emerging opportunities in the waterproofing membranes market.
Waterproofing Membranes Market: Overview
A waterproofing membrane is a fine layer of material that is put over another surface to prevent water from entering it. Waterproofing membranes might be adhesive or simply put on top of the substance to be protected. These waterproofing membranes can be manufactured with a variety of materials and come in a variety of sizes & thicknesses. Considering the applications these membranes can be utilized in several applications, including covering concrete as it is created to prevent water from affecting its structural integrity, and coating objects that are submerged where corrosion is a problem.
COVID-19 Impact:
The global waterproofing membranes market was severely hit by the COVID-19 pandemic. Strict lockdowns imposed by many governments caused a halt in the manufacturing process. Also, many constructions projects got delayed during this period which directly affected the demand for waterproofing membranes. Secondly, these waterproofing membranes are in high demand for residential purposes. However, reduction in maintenance work and product shortage due to supply chain disruption caused less sale of the waterproofing membranes in the pandemic period. On the other side, demand for waterproofing membranes increased in healthcare constructions which supported the sale of the products during a pandemic.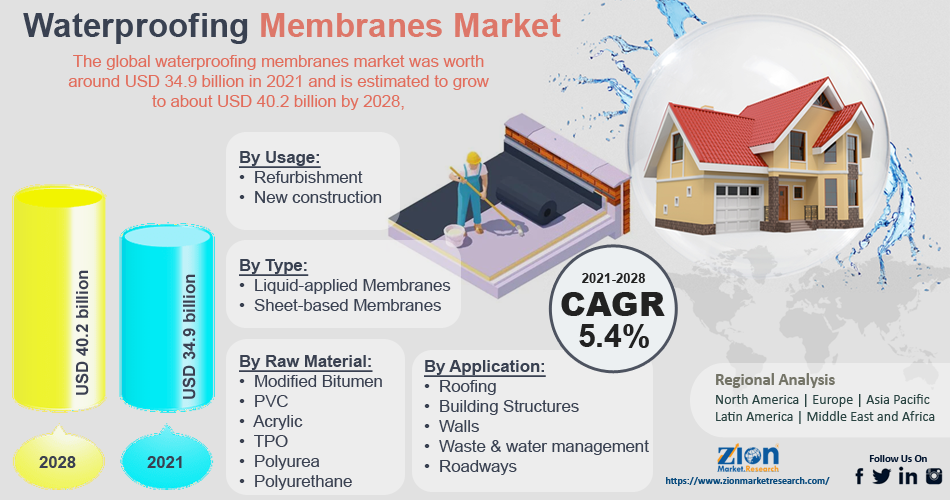 Request Free Sample
Waterproofing Membranes Market: Growth Drivers
Waterproofing Membranes Market: Infrastructural developments, rapid urbanization, and economic growth are likely to fuel market growth.
Infrastructure is how low- and middle-income nations are transformed into emerging or developing nations. Infrastructure expenditure is primarily driven by rapid urbanization in developing nations and sustained urbanization in industrialized economies. Infrastructural projects like power plants, electrical grids, water treatment & supply plants, highways, trains, airports, telecommunications networks, bridges, schools, and hospitals are all in high demand as a result of increased infrastructure investment. High-performance materials that are lightweight, strong, durable, high-performance, and adaptable are required by the building and construction sector. Because the quality and performance of construction materials must be exceedingly uniform, the demand for waterproofing membranes for infrastructure development is expanding.
Waterproofing Membranes Market: Restraints
Waterproofing Membranes Market: Notable issues with health and the environment may hamper the market growth.
The usage of waterproofing agents or membranes can be hazardous to the environment and human health. When employed in spray form, waterproofing membranes can be hazardous to the user as well as nearby personnel. These substances may include fluorinated substances, which can induce chemical pneumonitis, lung damage, and other respiratory disorders when they reach the respiratory system. Workers may also be exposed to hazardous vapors while using bitumen-based membranes. Long-term exposure to these chemicals can cause health problems including nasal inflammation and bronchitis. Additionally, people who have worked for a long time have had higher nasal and pharyngeal complaints. Although synthetic waterproofing membranes are becoming more popular, bitumen still has a considerable market share among several other waterproofing membranes.
Waterproofing Membranes Market: Opportunities
Waterproofing Membranes Market: Increasing interest in green roofs is likely to offer better growth opportunities for global market.
Toxicity and VOC levels are two drawbacks of waterproofing membranes. Manufacturers like Sika, Fosroc, and Tremco supply and have invested in R&D of solutions that have a low environmental effect. Manufacturers are progressively obtaining green certification for their materials to be used in energy-efficient buildings such as green roofs and green buildings. Green roofs reduce energy expenditures, the urban heat island effect, and stormwater runoff while also removing dangerous air pollutants. Green buildings, on the other hand, are structures that are both energy efficient and ecologically conscious throughout their lifespan. Waterproofing is vital for these structures because it protects them from water runoff and weather conditions while also increasing their energy efficiency.
Report Scope:
Waterproofing Membranes Market: Challenges.
Raw material price volatility is the major challenge for manufacturers
The majority of the basic ingredients required to make waterproofing membranes come from crude oil. PU, PVC, acrylic, and bitumen-based waterproofing membranes are all generated from petroleum. According to the BP Statistical Review of Energy, crude oil is one of the most significant sources of energy, accounting for 27.3 percent of worldwide primary energy consumption in 2015. From a low of USD 29.8 per barrel at the end of January 2016, the average crude oil spot price rose to USD 52 per barrel by the end of December 2016. Crude oil prices are on the mend and have steadied in the USD 55-60 per barrel area in 2017. Similarly, the current pandemic conditions also fluctuated the petroleum prices which directly affected the raw material prices.
Waterproofing Membranes Market: Segmentation
The global waterproofing membrane market is categorized based on raw material, type, usage, application, and region. Based on raw materials, the market is bifurcated based on modified bitumen, PVC, TPO, acrylic, polyurea, polyurethane, and others. The type segment covers liquid-applied membranes and sheet-based membranes. Based on usage, the market is segregated as refurbishment and new construction. The application segment of the global waterproofing membrane market comprised building structures, roofing, walls, roadways, waste & water management, and others.
Recent Developments
Sika opened a new production plant for the SikaProof structural waterproofing membrane in Sarnen, Switzerland, in March 2020. This expansion will increase manufacturing efficiency and allow the firm to service a fast-rising market.
In April 2021, Tremco CPG APAC expands its roofing restoration portfolio with the addition of AlphaGuardTM BIO.
Regional landscape
In 2021, Asia Pacific dominated the global waterproofing membranes market, with a revenue share of more than 31 percent. The accelerated industrialization and expanding infrastructure advancements, particularly in India and China are to account for the expansion. Furthermore, the tendency would create city density, which will boost demand for utility and services in a home application for water requirements, resulting in market growth. The waterproofing membranes market in North America is predicted to expand at a substantial rate throughout the forecast period, owing to increased building activity in Mexico and Canada. Furthermore, increased investment in warehouse development for the retail, healthcare, and automotive industries, all of which require waterproofing solutions, is boosting the market growth.
Competitive Landscape
The key players functioning in the global waterproofing membrane market include BASF, Sika, Tremco, GCP applied technologies, Soprema, Fosroc, Carlisle Construction Company, Johns Manville, Mapei, and Renolit.
The global waterproofing membranes market is segmented as follows:
Waterproofing Membranes Market: By Raw Material:
PVC
Acrylic
TPO
Polyurea
Polyurethane
Others
By Type:
Liquid-applied Membranes
Sheet-based Membranes
By Usage:
Refurbishment
New construction
By Application:
Roofing
Building Structures
Walls
Waste & water management
Roadways
Others
By Region
North America
Europe

France
The UK
Spain
Germany
Italy
Rest of Europe

Asia Pacific

China
Japan
India
South Korea
Southeast Asia
Rest of Asia Pacific

Latin America

Brazil
Mexico
Rest of Latin America

Middle East & Africa

GCC
South Africa
Rest of Middle East & Africa