Free Analysis
The waterproofing membrane is a thin layer of water tight material that is laid over a surface. This thin layer membrane is continuous and does not permit water to pass through it. There are essentially two types of membranes, sheet based membranes and liquid applied membranes. Waterproofing membranes are used in various applications such as roofing, walls, building decks, basements, balconies, bridge decks, foundation, parking areas, water tank linings, and tunnels.
The global waterproofing market is expected to register substantial growth within the forecast period. The waterproofing membranes market is mainly driven by the growing building & construction industry and the need to develop the quality of building &construction. Furthermore, infrastructure development in emerging economies is expected to boost the market in the near future. Asia Pacific has been a key contributing factor to the overall growth of the waterproofing membranes market over the past few years and the trend is expected to continue over the forecast period. In addition growing consumer awareness regarding the benefits of waterproofing and new materials such as geo-membranes is expected to augment the waterproofing membranes demand within the next few years. However, volatile raw material prices may hamper the market in the coming years.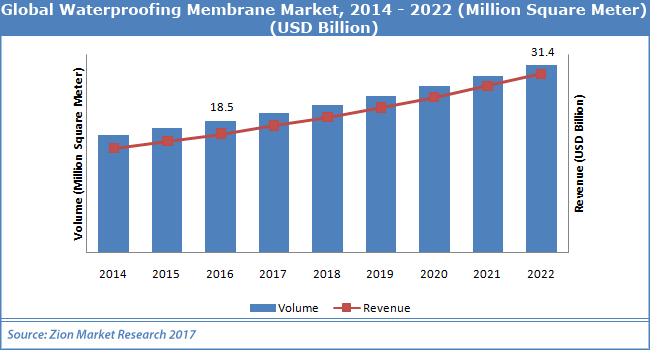 The waterproofing membranes market has been segmented based on types such as modified bitumen, PVC, EPDM, TPO, HDPE, LDPE, and others. TPO water proofing membrane is expected to grow at fast pace in the forecast period owing to their high performance and low installation cost. Roofing & walls, building structures, waste & water management, tunnels & landfills, bridges & highways, and others are the key application segment of the market. The roofing & walls account for the bulk of the market share in 2016 and is expected to continue dominance within the forecasted period. The roofing & walls application of waterproofing membranes offers a wide scope to increase the consumption of waterproofing membranes globally.
The geographic analysis of waterproofing membranes market includes North America, Europe, Asia Pacific, Latin America and Middle East & Africa. Asia Pacific was the leading market for waterproofing membrane in 2016, followed by North America. Rising roofing and waste & water management industries are driving the waterproofing membranes market in the region. Asia Pacific is expected to register the fastest growth within the forecast period owing to rapid industrialization coupled with growing infrastructure development in China and India.
The waterproofing membranes market consists of a large number of players and is highly fragmented. These players are primarily focusing on novel products and material offerings. Several players are increasingly competing against each other based on factors such as price, features, and product quality. Companies operating in this market include Carlisle Companies Inc., Firestone Building Products Company LLC., Soprema Group, Sika AG, The DOW Chemical Company, GAF Materials Corporation, Johns Manville, Renolit Se, Fosroc International Limited and Solmax International Inc. among others.