Global Virtual Event Platforms Industry Perspective:
The virtual event platforms market is set for rapid growth over the forecast period. In terms of revenue, the global virtual event platforms market accounted for USD 21.42 Billion in 2019 and is expected to reach USD 67.54 Billion by 2026, growing at a CAGR of 17.83% between 2020 and 2026.
The market report is an indispensable guide on growth factors, challenges, restraints, and opportunities in the global market space. The virtual event platforms market report covers the geographical market along with a comprehensive competitive landscape analysis. It also includes cash flow analysis, profit ratio analysis, market basket analysis, market attractiveness analysis, PESTEL analysis, SWOT analysis, Porter's five force analysis, and value chain analysis. Additionally, the virtual event platforms industry report explores the investor and stakeholder space to help companies make data-driven decisions.
Global Virtual Event Platforms Market: Overview
Virtual event platforms provide a wide variety of resources for planning, promoting, and conducting online events. These products are designed to help companies deliver the same sense and meaning of in-person events through a digital experience. Virtual event platforms are modular software solutions that can be used to organize and host various types of online activities, such as association meetings, trade shows, multi-session conferences, and job fairs. Many features of virtual event platforms are similar to those of event management platforms.
Virtual event platforms promote interactive interactions through built-in webcasting features, integrations with webinar software, or either, while the latter focuses on organizing in-person events. By integrating interactive content including Q&A, live surveys, community chat, and 1:1 networking, virtual event platforms can therefore help replicate in-person event experiences. Many solutions use mobile event apps to improve interactive events, allowing attendees to access event content from any smartphone.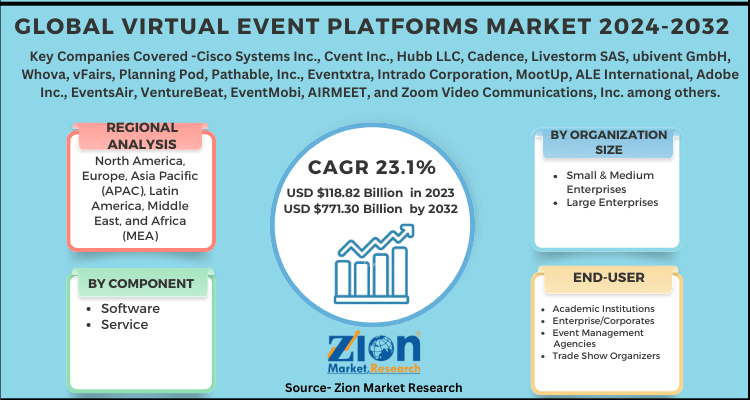 Request Free Sample
Global Virtual Event Platforms Market: Growth Factors
Today's developments have compelled businesses to embrace augmented and virtual reality technologies in order to stay afloat. As a result, software developers are focusing on effective networking solutions to assist businesses in achieving their goals. When it comes to virtual meetings and conferences, smart devices are heavily used.
The integration of Unified Communications-as-a-Service (UCaaS) and Software-as-a-Service (SaaS) has increased in recent months. With the pandemic approaching its second peak, demand for virtual event management software is expected to rise, creating huge opportunities for entrepreneurs and business organizations alike.
As COVID-19 is intensifying, digitally simulated platforms for the organization of live virtual events are being implemented across various end-use industries. Healthcare, hospitality, education, banking & finance, and marketing are among the key users of virtual event platforms. These end-users use interactive networks to facilitate online activities, virtual conferences, seminars, lectures, and trade fairs to deal with the changing standard.
As a result, software such as Zoom Meetings, Microsoft Teams, Google Meets, and Skype are gaining momentum. The novel coronavirus pandemic has resulted in a dramatic reshaping of the global economy.
Government-mandated lockdowns pushed companies to accommodate work-from-home operations, thereby moving enterprises to the virtual platform. The global virtual event platforms are expected to continue to expand at a rapid rate throughout the pandemic's duration. Large, medium, and small businesses have increased expenditure on cloud and virtual event management platforms, with meetings and conferences being conducted online.
Global Virtual Event Platforms Market: Segmentation
On the basis of components, live event support services are expected to be the most common solution. Live virtual meetings and conferences have become popular as a result of the pandemic, highlighting the need for suitable live event streaming platforms. Similarly, integrated virtual event platforms are gaining traction and are expected to expand significantly during the forecast period. The segment's growth is being fueled due to a spike in the number of online meetings, lectures, conferences, and events.
In terms of end-users, academic institutions held a significant share in 2020. Shutdowns enforced by the government to combat the coronavirus have forced schools, colleges, and universities to go virtual, broadening the reach of virtual event platforms for educational institutions. In order to deliver lectures and conduct classes, these institutions make extensive use of streaming platforms. In addition, the rising demand for smart classrooms to deliver high-quality education is improving the virtual event platforms market's prospects. Since pre-pandemic days, various schools and colleges have integrated online meeting and event platforms. This helped institutions boost their workflow and invest less in physical infrastructure.
Small and medium-sized enterprises (SMEs) are progressing as the industry leaders in virtual event networks, with a significant CAGR. The increasing need to improvise workflows is propelling the industry forward. Moreover, the pandemic crisis has had a particularly negative impact on SMEs. They're using hybrid and mainstream on-site virtual event platforms to make up for sales and profit margin shortfalls, especially in industries like banking, automotive, and chemical manufacturing.
Global Virtual Event Platforms Market: Report Scope
| Report Attributes | Report Details |
| --- | --- |
| Report Name | Virtual Event Platforms Market Research Report |
| Market Size in 2019 | USD 21.42 Billion |
| Market Forecast in 2026 | USD 67.54 Billion |
| Growth Rate | CAGR of 17.83% |
| Number of Pages | 255 |
| Forecast Units | Value (USD Billion), and Volume (Units) |
| Key Companies Covered | Cisco Systems Inc., Cvent Inc., Hubb LLC, Cadence, Livestorm SAS, ubivent GmbH, Whova, vFairs, Planning Pod, Pathable, Inc., Eventxtra, Intrado Corporation, MootUp, ALE International, Adobe Inc., EventsAir, VentureBeat, EventMobi, AIRMEET, and Zoom Video Communications, Inc. among others. |
| Segments Covered | By Component, By Organization, By End User, And By Region |
| Regions Covered | North America, Europe, Asia Pacific (APAC), Latin America, Middle East and Africa (MEA) |
| Base Year | 2019 |
| Historical Year | 2017 to 2019 |
| Forecast Year | 2020 - 2026 |
| Customization Scope | Avail customized purchase options to meet your exact research needs. Request For Customization |
Global Virtual Event Platforms Market: Regional Analysis
By Geography, the virtual event platforms market is segmented into North America, Europe, Latin America, Asia Pacific, and the Middle East and Africa.
The virtual event platforms market in North America is expected to remain lucrative, accounting for more than half of global sales. Large multinational and regional companies' presence across major end-use sectors is boosting growth prospects. The United States and Canada host a variety of significant international events and conferences. In the aftermath of the pandemic, every major company is using interactive and online event management platforms to schedule meetings, exhibitions, product launches, and industry events. Leading players such as Apple, Microsoft, and Cisco Systems Inc. have been at the forefront of the North American virtual event platforms industry for many decades. These companies have advanced and cutting-edge virtual platforms with high bandwidth and reliability.
Asia Pacific is expected to be the fastest-growing region. Virtual events platform adoption is accelerating across the region, owing to the region's growing education, healthcare, banking, and finance sectors. India is regarded as the largest market, due to the high rate of spawning of numerous event management start-ups. These companies are springing up to support healthcare, academics, and other industries. Across the education field, broad adoption is being observed. Leading solution providers such as Communique Conferencing, Accelevents, SpotMe, BigMarker, Airmeet, and Brandlive have helped the region to generate substantial revenue streams.
Latin America region is gaining a lot of traction, particularly when it comes to cloud-based event management platforms. Increased internet penetration as a result of rising living standards is driving growth in the region. With rising income levels, consumers are more easily connecting to the internet through smartphones, laptops, tablets, and other IoT devices. Furthermore, the COVID-19 pandemic has forced companies to shift their activities online. As a result, technology behemoths have set up shop across the region.
Global Virtual Event Platforms Market: Competitive Players
The major players in the global virtual event platforms market include
Cisco Systems Inc.
Cvent Inc.
Hubb LLC
Cadence
Livestorm SAS
ubivent GmbH
Whova
vFairs
Planning Pod
Pathable.Inc.
Eventxtra
Intrado Corporation
MootUp
ALE International
Adobe Inc.
EventsAir
VentureBeat
EventMobi
AIRMEET
Zoom Video Communications.Inc.
among others.
The report segment of the global virtual event platforms market is as follows:
Global Virtual Event Platforms Market: Component Segment Analysis
Software

Standalone Software
Integrated Virtual Event Platforms

Service

Post Event Processing Services
Event Consulting Services
Live Event Support
Support Services
Global Virtual Event Platforms Market: Organization Size Segment Analysis
Small & Medium Enterprises
Large Enterprises
Global Virtual Event Platforms Market: End-User Segment Analysis
Academic Institutions
Enterprise/Corporates
Event Management Agencies
Trade Show Organizers
Others
Global Virtual Event Platforms Market: Regional Segment Analysis
North America
Europe

France
The UK
Spain
Germany
Italy
Rest of Europe

Asia Pacific

China
Japan
India
South Korea
Southeast Asia
Rest of Asia Pacific

Latin America

Brazil
Mexico
Rest of Latin America

Middle East & Africa

GCC
South Africa
Rest of Middle East & Africa