The vehicle roadside assistance industry market is set for a rapid growth over the forecast period. In terms of revenue, the global vehicle roadside assistance industry market accounted for USD 21.7 Billion in 2019 and is expected to Reach USD 28.7 Billion by 2026, growing at a CAGR of around 4.1%.
Global Vehicle Roadside Assistance Industry: Overview
Vehicle roadside assistance is a kind of assistance service that is a provider to the automobile driver whenever there is a breakdown of the vehicle. Through the vehicle roadside assistance, onsite help is offered to drivers including minor repairs of the vehicle.
Global Vehicle Roadside Assistance Industry: Growth Factors
The prominent rise in the aging automotive that is more prone to experience a breakdown on the roadway along with facing of many electrical & mechanical problems will culminate in demand for vehicle roadside assistance solutions. Apparently, an increase in deploying of application-driven services has resulted in minimization of the vehicle roadside assistance service response period. This is a key factor leveraging vehicle roadside assistance market size. Apart from this, an increase in vehicle production and sales worldwide has also culminated in traffic jams, road collisions, and vehicle breakdowns. This has made it mandatory for the governments as per as non-government organizations to provide vehicle roadside assistance to the vehicle owners or drivers. Additionally, cold weather, snowy, and icy terrain or slopes in many Western countries has led to road fatalities and this has necessitated governments to take measures such as offering vehicle roadside assistance to drivers in such tough environmental conditions. Nevertheless, massive charges for the vehicle roadside support are a vital aspect that can obstruct the market surge.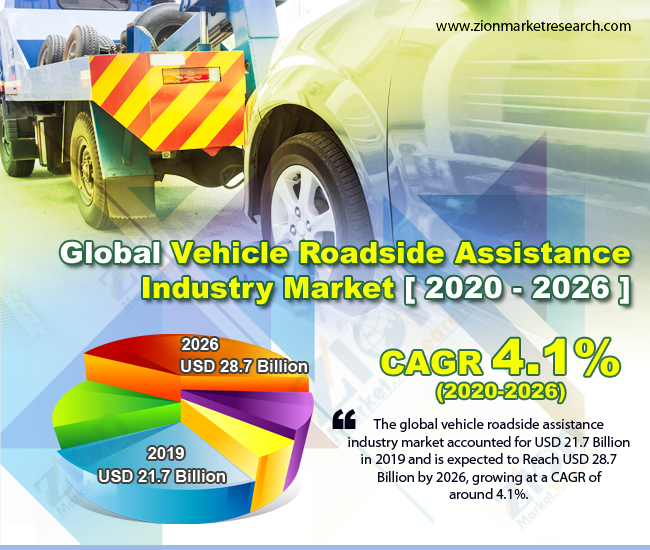 Request Free Sample
Global Vehicle Roadside Assistance Industry: Segmentation
The vehicle roadside assistance market can be classified into service, vehicle type, and service provider. On the basis of service, the market is sectored into towing, fuel delivery, battery assistance, replacement key, jump start, winch, and trip routing services. Vehicle type wise, the market is divided into passenger vehicle and commercial vehicle. Service Provider wise, the vehicle roadside assistance market is divided into the auto manufacturer, independent warranty, motor insurance, and automotive clubs.
Global Vehicle Roadside Assistance Industry: Regional Analysis
The number of vehicle registrations & sales in Europe has increased in the past few years and this has added enormously towards the number of vehicle breakdowns on roads. Apart from this, cold climatic conditions have led to vehicle breakdowns on the roadways and this has prompted in the greater need for the vehicle roadside assistance service in the region. Additionally, easy availability of roadside automobile support service providers in the region will further boost the vehicle roadside assistance market earnings in the European continent.
With burgeoning demand for roadside vehicle assistance support in North America, the market is anticipated to gain traction over the estimated period in the region. Furthermore, the rise in the old and outdated vehicles and ready availability of the roadside vehicle support services on highways as well as roads will boost the vehicle roadside assistance market trends in North America. Moreover, the rise in vehicle production with a massive need for locomotives in countries such as India will proliferate the progress of Asia Pacific vehicle roadside assistance industry.
Global Vehicle Roadside Assistance Industry: Competitive Players
Few of the main participants in vehicle roadside assistance market are ARC Europe SA, Allstate Insurance Company, Emergency Road Services Corporation, Falck A/S, Allianz Global Assistance, Good Sam Enterprise, LLC, TVS Auto Assist India Limited, Arabian Automobile Association, National General Insurance, and Viking Assistance Group AS.
Global Vehicle Roadside Assistance Industry: Regional Segment Analysis
North America
Europe

France
The UK
Spain
Germany
Italy
Rest of Europe

Asia Pacific

China
Japan
India
South Korea
Southeast Asia
Rest of Asia Pacific

Latin America

Brazil
Mexico
Rest of Latin America

Middle East & Africa

GCC
South Africa
Rest of Middle East & Africa