Vegetable Seeds Market Size And Industry Analysis
The global vegetable seeds market size was worth around USD 8.6 billion in 2021 and is predicted to grow to around USD 14.5 billion by 2028 with a compound annual growth rate (CAGR) of roughly 10.35% between 2022 and 2028. The report analyzes the global vegetable seeds market's drivers, restraints/challenges, and the effect they have on the demands during the projection period. In addition, the report explores emerging opportunities in the vegetable seeds market.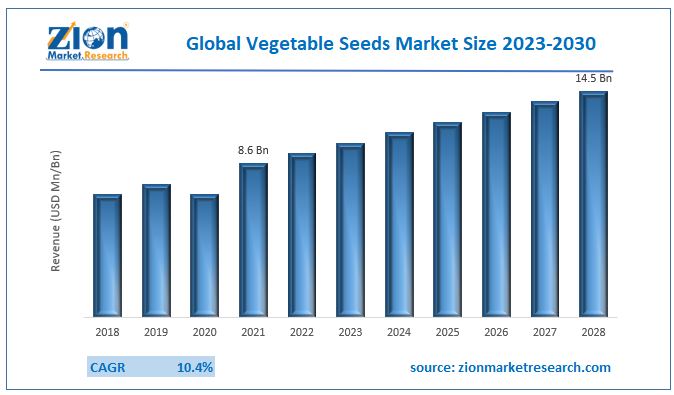 Request Free Sample
Vegetable Seeds Market: Overview
A seed is essentially an embryonic plant that is protected with an outer shell and contains a food reserve at the center. The formation of the seed represents reproduction in seed-producing plants. Vegetable seeds refer to seeds or embryonic state of crops that can be grown on trunk farms or gardens and are sold in the market under the name of herbs or vegetable seeds. Some examples of vegetable seeds include legumes like beans, peas, cabbage, carrot, pepper, etc. Vegetable seeds are growing extremely popular in the global market owing to the fewer resources required to grow these food items.
Typically for any agricultural project, acres of land, sufficient & regular water supply, and heavy pieces of machinery like a tractor-trailer, ripper machines, disc harrow, and other equipment are needed to produce crops in sufficient quantity and quality. Producing crops is expensive because a large number of resources inducing man hours are required on a constant basis. For best results, farmers have to invest in maintaining the soil quality, fertilizers, and other aspects. However, vegetable seeds are relatively easier to produce in comparison with other crops produced on a large scale.
They do not require much space and can be grown in gardens outside the houses of the farmers. They only need a minimum water supply and do not require truckloads of other resources which is why they are gaining popularity amongst individuals who may not have the monetary or non-monetary resources to spend on big agricultural projects but can invest in these less time and resource-consuming parts of the agricultural sector. It is important to know the planting dates before vegetable seeds are sown since they are extremely weather and soil-temperature sensitive along with creating a detailed plan for the entire growth cycle of these seeds.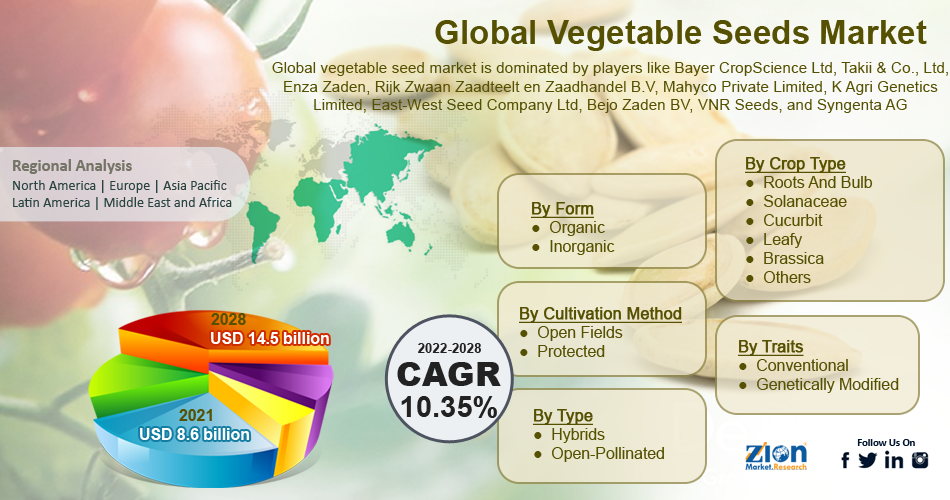 Request Free Sample
Key Insights
As per the analysis shared by our research analyst, the global vegetable seeds market is estimated to grow annually at a CAGR of around 10.35% over the forecast period (2022-2028).
In terms of revenue, the global vegetable seeds market size was valued at around USD 8.6 billion in 2021 and is projected to reach USD 14.5 billion, by 2028. Due to a variety of driving factors, the market is predicted to rise at a significant rate.
Based on form segmentation, organic was predicted to show maximum market share in the year 2021
Based on cultivation method segmentation, protected was the leading revenue-generating method in 2021.
On the basis of region, Asia-Pacific was the leading revenue generator in 2021.
Covid-19 Impact:
The global market cap growth was disturbed during the spread of Covid-19 majorly driven due to disruptions in the production of vegetable seeds at sites owing to lesser availability of raw material, absence of employees because of lockdown and transport restrictions. It came difficult to deliver the already produced seeds to the market as a direct consequence of logistics issues that arose during the peak of the pandemic.
Vegetable Seeds Market: Growth Drivers
Rising trend of organic farming to propel market growth
The global vegetable seeds market is projected to grow owing to the rising trend of organic and self-farming amongst the general population. During Covid-19, owing to multiple restrictions and more time in hand to spend on other aspects, many regions witnessed a rise in the number of people willing to invest time and money in organic farming even if it was small-scale. Since vegetable seeds require fewer resources like land and water, a large segment of the population was able to grow these seeds in their gardens. Another benefit of self-farming vegetable seeds is the freedom of selecting the vegetables a person wishes to invest in depending on the environmental conditions and personal choice that acted as an encouraging factor for people who have the means to grow vegetable seeds.
The global market growth is also augmented by the rising number of players in this sector who have taken up great initiatives to market and advertise the benefits of the products. Along with this, many companies offer a demonstration or detailed information related to the best possible way of sowing these seeds for the best yield return. Selling vegetable seeds online or on e-commerce platforms is another factor leading to global market growth since this has led to an increase in the availability and accessibility of the products.
Vegetable Seeds Market: Restraints
Unpredictable climatic changes to restrict the market growth
Vegetable seeds are highly sensitive to the environment they grow in. They are unable to withhold mild to strong climatic changes which makes it difficult for a normal vegetable seed farmer to invest in the seeds and their agricultural processes. As per official data, temperature changes witnessed across the globe are expected to reduce the crop yield every year discouraging many people who are willing to invest in vegetable seeds thus restricting the market growth.
Vegetable Seeds Market: Opportunities
Rising research activities to provide growth opportunities
Owing to the large-scale adoption of vegetable seeds witnessed across regions, more companies and government sectors are investing in exhaustive research and development activities to help farmers gain the best crop yield results. The growing research on a variety of vegetable seeds and the production of hybrid seeds or genetically modified seeds capable of handling climate change is projected to provide the global vegetable seeds market with exceptional growth opportunities. For instance, the Philippines' agricultural sector is studying the development of crop roots that have higher quality genetic traits along with better resistance to pests.
Vegetable Seeds Market: Challenges
Incorrect methods of sowing vegetable seed to create challenges for market growth
Vegetable seeds require special care since they are grown in gardens and on truck farms making them extremely sensitive to sowing and farming methods incorporated during the entire process. Many people are investing resources in vegetable seeds but some of them lack the necessary knowledge of farming on a small scale and the inaccurate use of fertilizers, water supply, etc. may result in soil deterioration over time which may create challenges for future market growth.
Vegetable Seeds Market Report Scope:
Report Attributes
Report Details
Report Name
Vegetable Seeds Market Research Survey Report
Market Size in 2020
USD 8.6 Billion
Market Forecast by 2028
USD 14.5 Billion
Compound Annual Growth Rate
CAGR of 10.35%
Number of Pages
164
Forecast Units
Value (USD Billion), and Volume (Units)
Key Companies Covered
Bayer CropScience Ltd, Takii & Co. Ltd, Enza Zaden, Rijk Zwaan Zaadteelt en Zaadhandel B.V, Mahyco Private Limited, K Agri Genetics Limited, East-West Seed Company Ltd, Bejo Zaden BV, VNR Seeds, and Syngenta AG
Segments Covered
By Form, By Type, By Traits, By Crop Type, By Cultivation Method, And By Region
Regions Covered
North America, Europe, Asia Pacific (APAC), Latin America, Middle East and Africa (MEA)
Countries Covered
North America: U.S and Canada
Europe: Germany, Italy, Russia, U.K, Spain, France, Rest of Europe
APAC: China, Australia, Japan, India, South Korea, South East Asia, Rest of Asia Pacific
Latin America: Brazil, Argentina, Chile
The Middle East And Africa: South Africa, GCC, Rest of MEA
Base Year
2021
Historical Year
2016 to 2020
Forecast Year
2022 - 2028
Customization Scope
Avail customized purchase options to meet your exact research needs. Request For Customization
Vegetable Seeds Market: Segmentation
The global vegetable seeds market is segmented based on form, type, traits, crop type, cultivation method, and region.
Based on type, the global market segments are hybrids and open-pollinated. The global market is currently dominated by the open-pollinated segment owing to the variations offered by the seed. However, hybrid seeds may also generate high revenues resulting from increasing research activities. The global hybrid seed market is projected to generate a market value of USD 62.3 billion by 2026.
Based on form, the global market is divided into organic and inorganic. The organic segment is expected to grow significantly during the forecast period owing to the rising trend of organic food culture. The global organic food market is anticipated to grow at a CAGR of 13.9% by 2028 while generating a revenue of USD 437 billion.
By traits, the global market segments are conventional and genetically modified. There is continuous ongoing research on the development of genetically modified vegetable seeds. They are far more beneficial as compared to conventional crops in terms of withstanding strong external factors like insect infestation, climate changes, depreciation in soil quality, and other aspects. However, these seeds are expensive in current times. For instance, a bag of genetically modified seeds costs around USD 150 more than regular seeds.
Based on crop type, the global market divisions are roots & bulbs, Solanaceae, cucurbit, leafy, brassica, and others. The demand for the Solanaceae group of vegetable seeds including items like tomato, eggplant, potato, and pepper is high in the global market. Hybrid tomato seeds are gaining extreme popularity. Another factor resulting in the high demand for tomatoes is the high seed replacement rate which is around 99.32%
By cultivation method, the global market is segmented into open fields and protected. The global market is witnessing an increase in demand for protected methods of cultivation since it gives the producers the necessary flexibility to make sure that the crop yield is not affected owing to sudden changes in external factors and gives them total control over the required growth conditions. China currently holds the largest market share in terms of protected land for cultivation with the area being as high as 2,760,000 hectares.
Recent Developments:
In January 2021, Bayer launched four new and advanced categories of vegetable seeds. The newly launched products are called Bazlet, SVHA9093, Anshuman, and Humgauri. The announcement was made at the fourth annual edition of Pragati Diwas celebrated by Bayer's vegetable seed business. The event also showed around 120 high-yielding hybrid seeds comprising 14 vegetable and fruit crops.
In April 2020, Vanguard Seed was acquired by Sakata Seed America. Vanguard seed is America's leading lettuce seed company. Following the acquisition, Vanguard's seed production, breeding, and sales & marketing will be completely handled by the Sakata Seed management. The move has aided Sakata Seed to gain a stronger foothold in the US market of vegetable seeds.
Vegetable Seeds Market: Regional Analysis
Asia-Pacific to continue dominating the global market during the projection period
The global vegetable seed market is projected to be dominated by Asia-Pacific owing to an increase in awareness about vegetable seeds and their benefits. The regional growth is anticipated to be driven by the presence of two of the world's largest agricultural countries, China and India, which rank at number 1 and number 4 respectively in the official list of the world's largest producers of agricultural products. The Indian market may be driven by the rising adoption of hybrid seeds owing to drastic climatic changes resulting in producers looking for other options for main crop yield. For instance, in 2002, 88.6 million metric tons of hybrid vegetables were produced, but in 2017, the number increased 2X with a final total of 178.2 metric tons.
Europe is projected to grow because of rising research on breeding technologies to aid the production of high-quality vegetable seeds. The regional market may grow at a CAGR of 6.9% during the projection period. Growth in North America is expected to be owing to countries like the US and Canada that are witnessing a high demand for organic food items and an increased rate of self-cultivation in remote areas.
Vegetable Seeds Market: Competitive Analysis
The global vegetable seed market is dominated by players like Bayer CropScience Ltd, Takii & Co., Ltd, Enza Zaden, Rijk Zwaan Zaadteelt en Zaadhandel B.V, Mahyco Private Limited, K Agri Genetics Limited, East-West Seed Company Ltd, Bejo Zaden BV, VNR Seeds, and Syngenta AG
The global vegetable seed market is segmented as follows:
By Form
By Type
By Traits
Conventional
Genetically Modified
By Crop Type
Roots And Bulb
Solanaceae
Cucurbit
Leafy
Brassica
Others
By Cultivation Method
By Region
North America
Europe

France
The UK
Spain
Germany
Italy
Rest of Europe

Asia Pacific

China
Japan
India
South Korea
Southeast Asia
Rest of Asia Pacific

Latin America

Brazil
Mexico
Rest of Latin America

Middle East & Africa

GCC
South Africa
Rest of Middle East & Africa