User and Entity Behavior Analytics Market: Overview
The Global User and Entity Behavior Analytics Market accounted for USD 460.1 Million in 2020 and 570.5 Million by 2028, growing at a CAGR of more than 42.3% from 2021 to 2028.
UEBA (User and Entity Behavior Analytics), is a kind of cyber security process which take notes of the normal pattern of a user. It detects any anomalous pattern or instance when there are variations from the "normal" instances. For instance, if a user downloads 15 MB of files every day but unexpectedly downloads terabytes of files, the system will detect this anomaly and will immediately alert them.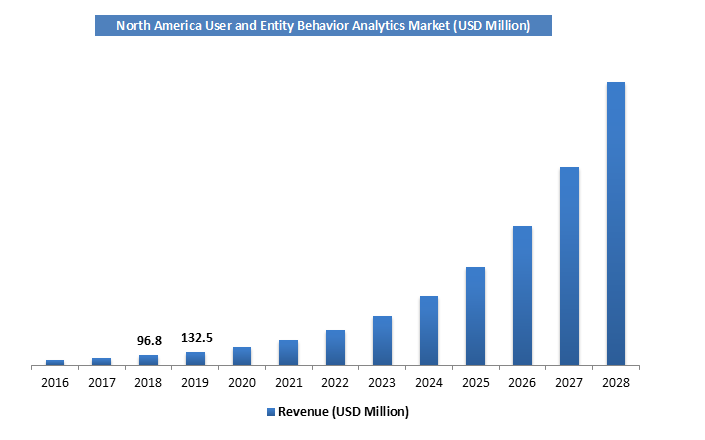 Request Free Sample
COVID-19 Impact Analysis
The outbreak of COVID-19 will impact has forced many sectors to operate online which increases the threat of cyber security and hence increases the demand for UEBA. The growth in this market is expected to boom in the coming years due to a growing digital presence.
User and Entity Behavior Analytics Market: Growth Factors
The demand for UEBA is anticipated to rise at a quick rate due to increasing volume of a huge investment in threat prevention technologies and data breaches. With the increasing demand for advanced technology and solution for security, entities are investing heavily in threat/attack detection analytical solutions to uncover security risks that criminals may exploit, this is growing the demand for the UEBA solutions market. This solution helps entities covering data exfiltration, security management, insider threats, and identity & access management. The factors restraining the growth of the UEBA market include lack of knowledge regarding advanced insider threats and scarcity of trained security professionals.
UEBA is coming out as a promising solution to extensive cyber fraud and threats. These solution vendors have concentrated on assuring that packaged analytics and algorithms are robust, along with improving framework systems.
Report Scope :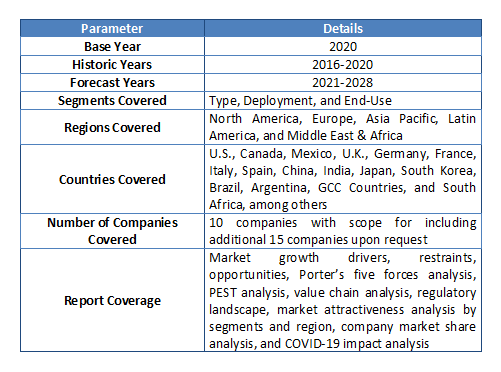 Request Free Sample
Deployment Segment Analysis Preview
The on-premise segment held a share of around 30% in 2020. Business operations in On-premise are carried out on the server of the user's company's site with a server. In recent years, companies have shifted from on-premise to cloud deployment as it can highly support and scale unlimited cameras and it also provides real-time data to ensure you have knowledge of ongoing activities. Introducing User and entity behavior analytics into your environment broadens your safety perimeter which includes monitoring activities for cloud providers, closed networks, users, and endpoint devices that are wired and smart.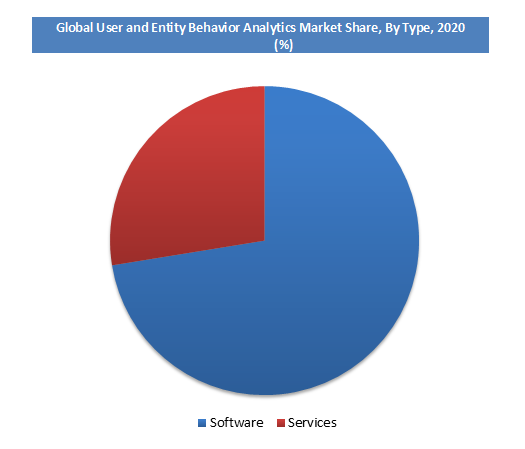 Request Free Sample
End-Use Segment Analysis Preview
The financial services & insurance segment is projected to grow at a CAGR of over 35% from 2021 to 2028. The rising number of clients in the insurance & banking and finance sector is growing the risk of cyber-crimes and thus, the UEBA is mainly used by these sectors as it allows users to have easy access to deposit and payments services; this also manages the threats at the same as it informs about the fraudulent transaction.
User and Entity Behavior Analytics Market: Regional Analysis Preview
North America accounted for a share of around 40% in 2020. Enterprises and governments in majorly the U.S. and Canada have invested heavily in the deployment of user and entity behavior analytics systems. Rapid technological development and a developed economy are helping the growth in this market.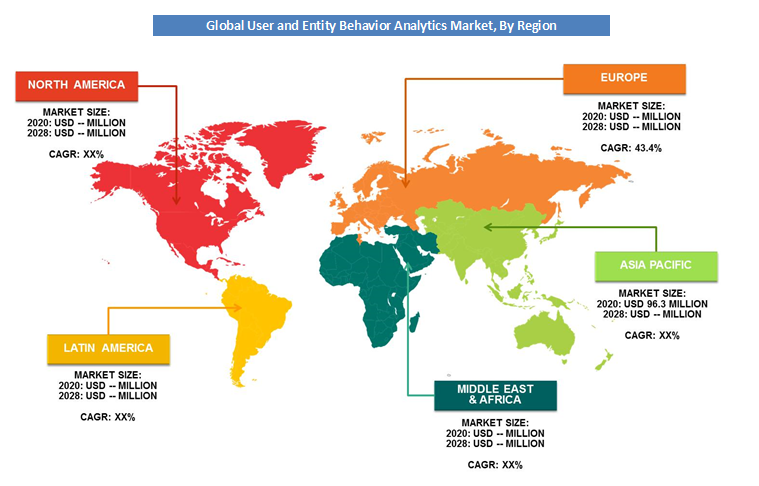 Request Free Sample
Asia Pacific is projected to grow at a CAGR of over 42% during the forecast period. Countries like China and India are investing in security surveillance systems for the safety of the residents. The Middle East and Africa are actively improving their surveillance systems and are expected to grow in the future due to large funding by the government into technologies such as AI, 5G, cloud, IoT, networking, and others.
User and Entity Behavior Analytics Market: Key Players & Competitive Landscape
Some of the key players in the user and entity behavior analytics market are Bay Dynamics, Exabeam, Inc., Dtex Systems, Gurucul, Niara, Inc., Securonix, Rapid7, Splunk, Inc., Varonis Systems, Inc., and Sqrrl Data, Inc., among others.
The global user and entity behavior analytics market is segmented as follows:
By Type
By Deployment
By End Use
By Region
North America
Europe

France
The UK
Spain
Germany
Italy
Rest of Europe

Asia Pacific

China
Japan
India
South Korea
Southeast Asia
Rest of Asia Pacific

Latin America

Brazil
Mexico
Rest of Latin America

Middle East & Africa

GCC
South Africa
Rest of The Middle East & Africa