Industry Prospective:
The U.S. school furniture market size was worth around USD 1.901 billion in 2022 and is predicted to grow to around USD 2.92 billion by 2030 with a compound annual growth rate (CAGR) of roughly 5.51% between 2023 and 2030. The report analyzes the U.S. school furniture market drivers, restraints/challenges, and the effect they have on the demands during the projection period. In addition, the report explores emerging opportunities in the U.S. school furniture industry.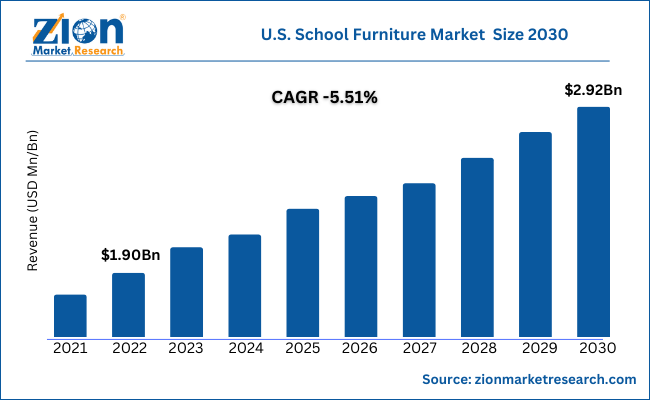 Request Free Sample
U.S. School Furniture Market: Overview
School furniture is different types of furniture items that are used in education institutes such as colleges, schools, and universities. This includes items such as desks, chairs, tables, cabinets, bookshelves, whiteboards, podiums, and other products that are designed specifically to be used in libraries, classrooms, administrative areas, and laboratories of education facilities. The U.S. school furniture industry refers specifically to the production and distribution of school furniture in the United States, which is one of the world's most advanced countries. The market encompasses the demand, supply, and trade of school furniture within the country and is influenced by the efforts or undertakings of manufacturers, suppliers, distributors, and retailers of school furniture products. During the forecast period, the growth rate in the market is likely to be steady.
Key Insights:
As per the analysis shared by our research analyst, the U.S. School Furniture market is estimated to grow annually at a CAGR of around 5.51% over the forecast period (2023-2030)
In terms of revenue, the U.S. School Furniture market size was valued at around USD 1.901 billion in 2022 and is projected to reach USD 2.92 billion, by 2030.
The U.S. school furniture market is projected to grow at a significant rate due to the increasing school enrollment rate
Based on application segmentation, the classroom was predicted to show maximum market share in the year 2022
Based on product segmentation, seating units were the leading units in 2022
On the basis of region, Northeastern was the leading revenue generator in 2022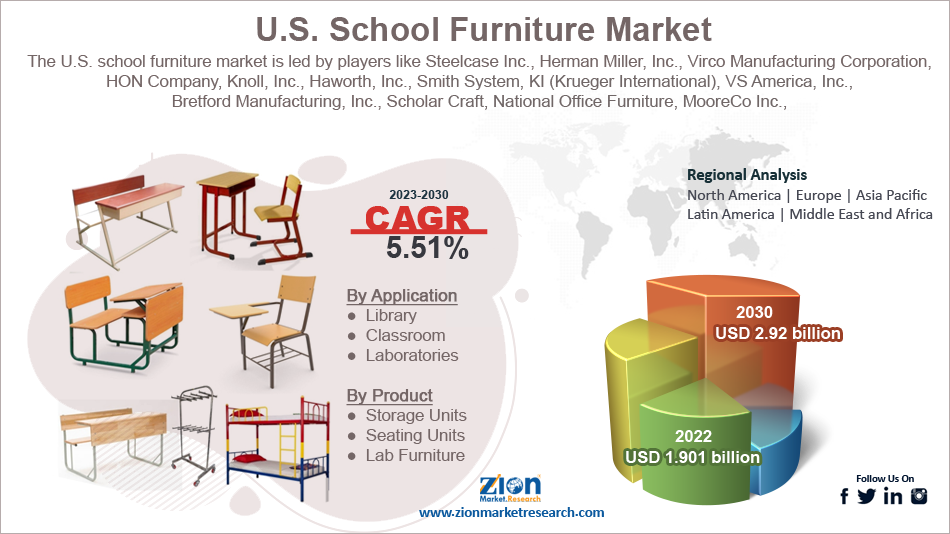 Request Free Sample
U.S. School Furniture Market: Growth Drivers
Increasing school enrollment rate to propel market growth
The U.S. school furniture market is projected to grow owing to the increasing rate of school enrollment across the United States territory. Although there are claims that the schooling system in this country is currently struggling to meet international standards in terms of effectiveness when compared to other developed nations, nonetheless, it has one of the most well-established schooling ecosystems across the globe.
A report published by the Department of Education claimed that in the fall of 2021, more than 49 million students were enrolled in public schools. This trend was observed in pre-kindergarten until 12th grade. The number of students enrolled in schools in 2021 was higher than the number in 2020. As the population in the country continues to grow, more children are expected to be enrolled in these education facilities since quality education is one of the primary concerns of the national government.
U.S. School Furniture Market: Restraints
Severe budget constraints to restrict the market growth
Several education facilities, especially public schools in the US, run on limited budgets and resources. This can pose a significant threat to the U.S. school furniture industry expansion goal as school management may refrain from spending heavily on more efficient school furniture or renovation of the old units.
For instance, public schools receive funding depending on property taxes and hence areas with more wealth tend to get more money when compared to poorer areas. There have been growing concerns over the insufficiency of funding received by public schools.
U.S. School Furniture Market: Opportunities
Increasing adoption of modern learning methods to provide growth opportunities
The U.S. school furniture market is projected to come across several growth opportunities owing to the increasing shift toward modern learning methods such as collaborative learning, project-based learning, and technology integration. These types of learning methods demand furniture that can support the teaching process. Manufacturers can gain more market share by developing innovative furniture solutions that cater to the need for flexible learning spaces, adjustable seating, and technology integration.
U.S. School Furniture Market: Challenges
Longer sales cycle to challenge market growth
The U.S. school furniture industry may face growth challenges due to the longer sales cycle of school furniture since it tends to be a lengthy process that involves multiple stakeholders during decision-making. Typically, schools have a strict procurement process and it requires necessary approvals from management or committee which can lengthen the time from initial inquiry to final purchase. Furthermore, stricter regulatory compliance measures could lead to loss of revenue as furniture may need to undergo testing and certifications.
U.S. School Furniture Market: Segmentation
The U.S. school furniture market is segmented based on application, product, and region.
Based on application, the regional market segments are library, classroom, and laboratories. The industry witnessed the highest growth in the classroom segment since the types of furniture required in a classroom setting are higher when compared to other areas of an educational facility.
For instance, every classroom needs desks, chairs, whiteboards, storage units, and teacher podiums. These are the minimum components needed to create a fully functional classroom setting. Schools may invest in more variants of furniture depending on their specific needs and budget. Since the classroom is a part of the facility where maximum knowledge transfer occurs, these units must be well-equipped.
Types of furniture used in libraries include bookshelves, study tables, and seating areas whereas laboratories may need specialized workstations, stools, and storage units. As per WeAreTeachers, there are around 90,148 public schools in the US.
Based on product, the regional market is divided into storage units, seating units, and lab furniture. The highest CAGR was observed in the seating units segment which includes desks and chairs. These components form the basic building blocks of any educational facility since students require a spacious and comfortable seating place and hence this segment remains one of the most frequently bought items.
Storage units which include items such as bookshelves, cabinets, and lockers are also common since they are used to store supplies, books, and personal belongings. Despite the demand for storage units being significant, it is relatively less than seating units. Lab furniture is customized and specialized units. The national average of students per public school is around 526 students.
Recent Developments:
In May 2023, the Texas Senate witnessed the introduction of a new education bill that would allow families to have access to taxpayer money that can be used to send their children to private schools. The bill also focuses on the imposition of new rules that would ensure efficient teaching of sexual and gender orientation in all grades
In April 2023, Ann Hsu, a former member of the San Francisco school board, announced her intention to start a new private school in the Potrero Hill area. She is an ex-mayor of the city and failed to get a seat in the last elections. The academy is called Bertrand D. Hsu American & Chinese Bicultural Academy and will charge around USD 18,000 per student annually
In August 2020, Private schools dominated the waivers to reopen amidst the Covid-19 pandemic. Around 90% of the schools that received reopening approvals were private institutes
U.S. School Furniture Market: Report Scope
Report Attributes
Report Details
Report Name
U.S. School Furniture Market Research Report
Market Size in 2022
USD 1.90 Billion
Market Forecast in 2030
USD 2.92 Billion
Growth Rate
CAGR of 5.51%
Number of Pages
226
Key Companies Covered
Steelcase Inc., Herman Miller, Inc., Virco Manufacturing Corporation, HON Company, Knoll, Inc., Haworth, Inc., Smith System, KI (Krueger International), VS America, Inc., Bretford Manufacturing, Inc., Scholar Craft, National Office Furniture, MooreCo Inc., Artcobell, Norix Group Inc., Academia Furniture Industries, Paragon Furniture, Inc., Fleetwood Group, Intermetal, Diversified Woodcrafts, Inc., Allied Plastics Co., Inc., AmTab Manufacturing Corporation, W.B. Mason Co., Inc., Cramer, Inc., and SmartDesks.
Segments Covered
By Application, By Product, and By Region
Regions Covered
North America and Latin America
Base Year
2022
Historical Year
2017 to 2021
Forecast Year
2023 - 2030
Customization Scope
Avail customized purchase options to meet your exact research needs. Request For Customization
U.S. School Furniture Market: Regional Analysis
Northeastern region to witness high growth rate
The U.S. school furniture market is expected to witness the highest growth rate in the Northeastern region of the country which is home to some of the most advanced states in the country. Regions such as Massachusetts and New York are home to a large working population with families. These regions are considered ideal for families that wish to enjoy the perks of good job opportunities while also raising children. Furthermore, the region has an exceptionally high focus on quality education and hence there is a growing demand for innovative furniture solutions.
The West region including states such as California, Washington, and Oregon is emphasizing sustainability and innovation and this can be seen in more demand for eco-friendly and technologically advanced furniture options. The U.S. region, in general, can be expected to grow at a steady rate due to the changing rules around schooling facilities with higher importance being given to student safety and comfort.
U.S. School Furniture Market: Competitive Analysis
The U.S. School Furniture market is led by players like:
Steelcase Inc.
Herman Miller Inc.
Virco Manufacturing Corporation
HON Company
Knoll Inc.
Haworth Inc.
Smith System
KI (Krueger International)
VS America Inc.
Bretford Manufacturing Inc.
Scholar Craft
National Office Furniture
MooreCo Inc.
Artcobell
Norix Group Inc.
Academia Furniture Industries
Paragon Furniture Inc.
Fleetwood Group
Intermetal
Diversified Woodcrafts Inc.
Allied Plastics Co.Inc.
AmTab Manufacturing Corporation
W.B. Mason Co. Inc.
Cramer Inc.
SmartDesks.
The U.S. school furniture market is segmented as follows:
By Application
Library
Classroom
Laboratories
By Product
Storage Units
Seating Units
Lab Furniture
By Region