Truffle Chocolate Industry Prospective:
The global truffle chocolate market size was worth around USD 1243.69 million in 2022 and is predicted to grow to around USD 1884.36 million by 2030 with a compound annual growth rate (CAGR) of roughly 5.28% between 2023 and 2030.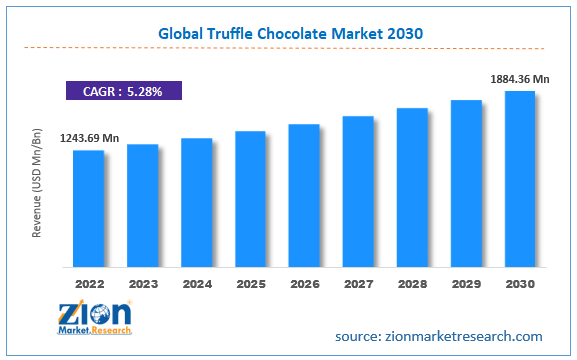 Request Free Sample
The report delves deeper into several crucial aspects of the global truffle chocolate industry. It includes a detailed discussion of existing growth factors and restraints. Future growth opportunities and challenges that impact the truffle chocolate market are comprehensively addressed in the report.
Truffle Chocolate Market: Overview
Truffle chocolates are typically referred to as truffles. They are categorized into the chocolate confectionery segment in the larger food & beverages (F&B) industry. Truffle chocolates derive their name from the truffle fungus since they resemble the earthy appearance and irregular shape of the fungi. The most standard forms of truffle chocolates are produced using a combination of extremely rich and creamy ganache coated externally with chocolate. The ganache filling is made using heavy cream which is heated and then poured into finely chopped chocolate. The mixture thus created is stirred continuously until it becomes smooth and evenly consistent. It is then allowed to cool and set. Various market players provide truffle chocolates across flavor ranges by using options such as vanilla extract, liqueurs, or spices. This helps in enhancing the taste of the ganache. The truffle chocolate industry may register steady growth as there are a growing number of consumers across the globe.
Key Insights:
As per the analysis shared by our research analyst, the global truffle chocolate market is estimated to grow annually at a CAGR of around 5.28% over the forecast period (2023-2030)
In terms of revenue, the global truffle chocolate market size was valued at around USD 1243.69 million in 2022 and is projected to reach USD 1884.36 million, by 2030.
The truffle chocolate market is projected to grow at a significant rate due to the increasing spending on gourmet food
Based on flavor segmentation, dark chocolate truffles were predicted to show maximum market share in the year 2022
Based on distribution channel segmentation, specialty stores were the leading channels in 2022
On the basis of region, North America was the leading revenue generator in 2022
Truffle Chocolate Market: Growth Drivers
Increasing spending on gourmet food to drive market growth
The global truffle chocolate market is expected to register high growth owing to the increasing spending globally on gourmet food. Truffle chocolates are considered in this category due to their high-quality ingredients, meticulous craftsmanship, and indulgent flavor profiles. Premium chocolates have registered high demand across nations especially in developed countries. A 2019 report by Fox DC stated that nearly 4 out of 10 Americans are expected to spend nearly USD 50 per week on gourmet food items. This can be seen in the increasing number of recent luxury chocolate launched by companies producing high-end chocolates. In September 2022, Lily O'Brien's Chocolates, an Irish brand of premium chocolates, unveiled a new range of truffle chocolates which was made available in 2 flavors including Salted Caramel Truffles and Milk Chocolate Truffles. They were sold for £5.00 each. The company used marketing tactics such as unique boxes to enhance the overall look of the product packaging thus contributing to its luxury feel.
Truffle Chocolate Market: Restraints
High cost of truffle chocolate production to restrict market expansion
The production process of truffle chocolates is extremely labor intensive. They are carefully produced only by skilled chocolatiers that follow meticulous production processes. Moreover, since truffle chocolates are made of high-quality ingredients such as premium chocolate, fresh cream, and other high-grade flavorings, the total cost of production is further pushed to new heights. As companies invest in chocolate innovation, the associated expense is likely to continue growing. A recent example is the 2020 inauguration of an expansive and the world's largest research & development center by the premium chocolate-making company Lindt & Sprüngli. The center is launched by The Lindt Chocolate Competence Foundation and is a 3-story, 1500 m2 facility that is expected to help the global chocolate truffle industry register higher consumer demand.
Truffle Chocolate Market: Opportunities
Product portfolio expansion to provide high-growth opportunities
The global truffle chocolate market is expected to come across multiple growth opportunities as international and world-famous chocolatiers are expanding their product portfolio. In May 2023, VELVEETA, a company popular for its creamy and texture-rich cheese announced a partnership with Compartés Chocolatier, a leading chocolate company for the production of TruffVels. It is the first-ever chocolate cheese truffle introduced in the commercial market. Similarly in July 2020, Mother Dairy announced the launch of a new flavor ice cream called the Chocolate Truffle Ice Cream which allowed the company to make an entry in the ice cream segment.
Truffle Chocolate Market: Challenges
Restricted range of consumer groups to challenge the market expansion
Truffle chocolates are expensive and although they are considered an affordable luxury, the consumer share for these chocolates is limited especially when compared to mass-produced chocolates. These products are likely to have fewer buyers in countries that are ruled by other forms of traditional sweets or dessert items. For instance, research suggests that an average Chinese citizen consumes less than 110 grams of chocolate per year. Although the choice of food items is a personal one, the number indicates that the majority of the people in non-Western countries spend more on traditional cuisines. The product is a perishable item and may not prove to be worthy of the cost of low to medium-income families in developing countries.
Truffle Chocolate Market: Segmentation
The global truffle chocolate market is segmented based on distribution channel, flavor, and region.
Based on distribution channel, the global market is segmented into online stores, specialty stores, brand-owned stores, supermarkets & hypermarkets, and others. The truffle chocolate industry is expected to register the highest growth in the specialty stores and brand-owned stores segment. This is mainly because the majority of the companies that produce high-end truffle chocolate tend to have an established brick-and-mortar store where consumers visit to enjoy the gourmet food in a relevant setting. In addition to this, supermarkets & hypermarkets are also significant revenue generators since truffle chocolate producers sell their products with the help of the established supply chain network created by these units. For instance, in 2018, Walmart, the US supermarket giant, started selling Swiss-made chocolates called Schoggihüsli. It is noteworthy that around 68% of chocolate consumers in the US regularly spend on premium chocolate.
Based on flavor, the global market is divided into milk chocolate truffles, dark chocolate truffles, flavored truffles, and white chocolate truffles. The demand and consumption of dark chocolate truffles are higher mainly due to the extreme popularity of dark chocolates and the intense flavor profile of dark chocolate truffles. They tend to provide a more pronounced chocolate experience when compared to white or milk variants. The dark chocolate truffle segment caters to the need of health-conscious consumers as dark chocolate is known to have several health benefits when consumed in appropriate quantities. Studies indicate that dark chocolate is a rich source of magnesium, iron, copper, zinc, and other minerals. A 1 ounce of dark chocolate containing 69% to 85% cacao solids has around 170 calories. In December 2021, Alter Eco Foods launched the Truffle Thins™ Dark Chocolate Bars which were made of 60% cacao shell and other organic ingredients.
Truffle Chocolate Market: Report Scope
Report Attributes
Report Details
Report Name
Truffle Chocolate Market Research Report
Market Size in 2022
USD 1243.69 Million
Market Forecast in 2030
USD 1884.36 Million
Growth Rate
CAGR of 5.28%
Number of Pages
222
Key Companies Covered
Lindt & Sprüngli, Ferrero, Mondelez International (Cadbury), Nestlé, Mars, Incorporated, The Hershey Company, Godiva Chocolatier, Ghirardelli Chocolate Company, Neuhaus, Toblerone, Valrhona, Guylian, Chocoladefabriken Lindt & Sprüngli AG, Frey, Kinder (Ferrero), Milka (Mondelez International), Côte d'Or (Mondelez International), Ritter Sport, Ferrero Rocher, Green & Black's, Patchi, Tony's Chocolonely, Leonidas, and Barry Callebaut.
Segments Covered
By Distribution Channel, By Flavor, and By Region
Regions Covered
North America, Europe, Asia Pacific (APAC), Latin America, Middle East, and Africa (MEA)
Base Year
2022
Historical Year
2017 to 2021
Forecast Year
2023 - 2030
Customization Scope
Avail customized purchase options to meet your exact research needs. Request For Customization
Truffle Chocolate Market: Regional Analysis
North America to register the highest growth
The global truffle chocolate market is expected to be led by North America during the forecast period. Regions such as the US and Canada are the leading revenue generators. One of the primary reasons for higher regional growth is the presence of a strong gifting culture in these countries. A recent survey conducted by the National Confectioners Association concluded that nearly 92% of the survey respondents would prefer to receive chocolates or candies as gifts. These items register high sales during the holiday seasons.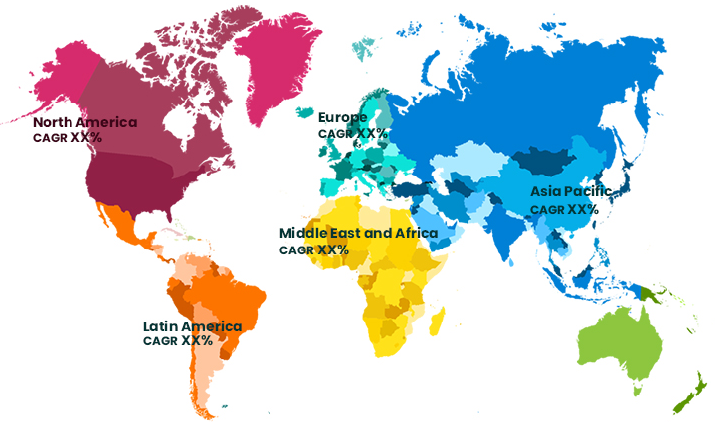 Request Free Sample
During Christmas, the sale of chocolates, across the range, goes up by 5.75% while during Easter, the sale increase rate is 5.19%. Furthermore, the US is home to some of the most dominant manufacturers of gourmet chocolates and these companies are spread across nations including developing countries. The Hershey Company, the world's biggest chocolate maker generated more than USD 2.7 million in the 2nd quarter of 2022. Although the number showed a decline when compared to the 1st quarter, the net profit by Hershey in 2022 was positive.
Truffle Chocolate Market: Competitive Analysis
The global truffle chocolate market is led by players like:
Lindt & Sprüngli
Ferrero
Mondelez International (Cadbury)
Nestlé
Mars
Incorporated
The Hershey Company
Godiva Chocolatier
Ghirardelli Chocolate Company
Neuhaus
Toblerone
Valrhona
Guylian
Chocoladefabriken Lindt & Sprüngli AG
Frey
Kinder (Ferrero)
Milka (Mondelez International)
Côte d'Or (Mondelez International)
Ritter Sport
Ferrero Rocher
Green & Black's
Patchi
Tony's Chocolonely
Leonidas
Barry Callebaut
The global truffle chocolate market is segmented as follows:
By Distribution Channel
Online Stores
Specialty Stores
Brand-Owned Stores
Supermarkets & Hypermarkets
Others
By Flavor
Milk Chocolate Truffles
Dark Chocolate Truffles
Flavored Truffles
White Chocolate Truffles
Integrated
By Region
North America
Europe

France
The UK
Spain
Germany
Italy
Rest of Europe

Asia Pacific

China
Japan
India
South Korea
Southeast Asia
Rest of Asia Pacific

Latin America

Brazil
Mexico
Rest of Latin America

Middle East & Africa

GCC
South Africa
Rest of Middle East & Africa