Thermal Cyclers Industry Prospective:
The global thermal cyclers market size was worth around USD 781.49 million in 2022 and is predicted to grow to around USD 1369.37 million by 2030 with a compound annual growth rate (CAGR) of roughly 7.32% between 2023 and 2030.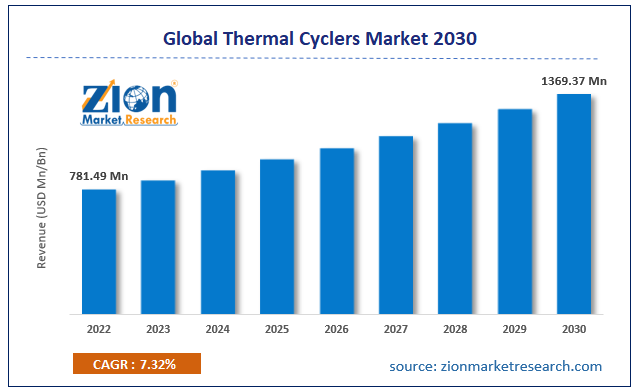 Request Free Sample
The report delves deeper into several crucial aspects of the global thermal cyclers market. It includes a detailed discussion of existing growth factors and restraints. Future growth opportunities and challenges that impact the thermal cyclers industry are comprehensively addressed in the report.
Thermal Cyclers Market: Overview
Thermal cyclers are also known as Polymerase Chain Reaction (PCR) machines or Deoxyribonucleic acid (DNA) amplifiers. They are laboratory instruments with extensive applications in genetics research and molecular biology. Thermal cyclers are used to amplify specific segments of DNA through the PCR process. It is a technique that helps in generating millions or billions of copies of specific regions of DNA. The process uses a series of temperature cycles and thermal cyclers act as precise controllers during the process. These laboratory tools consist of a heating and cooling block which is also known as a thermoelectric system. It changes the temperature of the wells and tubes rapidly. The three main steps of PCR are denaturation, annealing, and extension. The temperature cycling process is crucial to facilitate the three steps. The temperature cycles are typically repeated multiple times ranging between 20 to 40 cycles which aids DNA amplification at an exponential level.
Key Insights:
As per the analysis shared by our research analyst, the global thermal cyclers market is estimated to grow annually at a CAGR of around 7.32% over the forecast period (2023-2030)
In terms of revenue, the global thermal cyclers market size was valued at around USD 781.49 million in 2022 and is projected to reach USD 1369.37 million, by 2030.
The thermal cycler market is projected to grow at a significant rate due to the evolving patterns of life science research
Based on type segmentation, real-time was predicted to show maximum market share in the year 2022
Based on application segmentation, diagnostics was the leading application in 2022
On the basis of region, North America was the leading revenue generator in 2022
Thermal Cyclers Market: Growth Drivers
Evolving patterns of life science research to drive product adoption
The global thermal cyclers market is projected to grow owing to the evolving character of life science research. Thermal cyclers play an irreplaceable role in life science research. They are used extensively for several activities including studying gene expression patterns, DNA sequencing, DNA and Ribonucleic acid (RNA) quantification, detection of sequence-tagged sites, and many more activities. The global pharmaceutical industry is investing resources in associated fields to a greater extent owing to the importance of life science research as it helps researchers gain crucial insights into disease processes. Moreover, the study of life sciences has been pivotal in the development of novel medical devices and therapeutics. As the pharmaceutical and healthcare sector is under pressure to improve human health by developing cures for existing conditions and researching potential health hazards, the demand for thermal cyclers will continue to grow.
Thermal Cyclers Market: Restraints
Lack of established infrastructure to support the use of thermal cyclers may restrict market expansion
The use of thermal cyclers requires key infrastructure, especially in terms of reliable power supply, temperature control, and maintenance capabilities. Although global leaders are working toward improving the related infrastructure worldwide, there is a significant lack of access to advanced amenities that can support the extensive use of thermal cyclers. Particularly, in developing nations or countries facing social-political issues. A recent report published by the International Energy Agency claims that nearly 775 million people across the globe did not have access to regular electricity in 2022.
Thermal Cyclers Market: Opportunities
Opportunities toward the application of thermal cyclers in non-PCR technologies to generate higher revenues streams
Thermal cyclers are currently majorly used for PCR processes and even though the application range is extensive, there are several opportunities that can allow application of these equipment in non-PCR technologies. For instance, techniques such as loop-mediated isothermal amplification (LAMP) and recombinase polymerase amplification (RPA) are steadily gaining popularity in the pharmaceutical and medical devices sectors owing to their simplicity, rapidity, and cost-effectiveness. It is possible for thermal cyclers manufacturers to invest in upgrading and optimizing the tools to be used in these processes.
Thermal Cyclers Market: Challenges
Fear of obsolescence of thermal cyclers to challenge market expansion
The field of microbiology is evolving rapidly. This has necessitated the companies functioning in laboratory device manufacturing to keep up with these advancements encouraging them to constantly manufacture thermal cyclers equipped with the latest capabilities and features. Failure to stay updated in terms of product technology and functionality can cause the thermal cycler market players to lose existing or potential customers.
Thermal Cyclers Market: Segmentation
The global thermal cyclers market is segmented based on type, end-user, application, and region.
Based on type, the global market is segmented into gradient and real-time. The highest revenue was observed in the real-time segment in 2022. They are also known as quantitative PCR (qPCR) or reverse transcription PCR (RT-PCR) instruments. The real-time variant is used extensively in various research and diagnostic applications as they offer the ability to monitor or track DNA or RNA amplification in real-time. This helps researchers draw conclusive and quantitative data on the initial template concentration. qPCR is used in activities such as gene expression analysis, genetic testing, and viral load quantification. On the other hand, gradient thermal cyclers help in creating thermal gradients across the well plate or the block. They are beneficial during simultaneous testing of different annealing temperatures in a single run. Basic models of thermal cyclers may cost between USD 2000 to USD 10,000.
Based on end-users, the thermal cycler industry is divided into academic & research foundations, pharmaceutical industry, diagnostic laboratories, and others.
Based on application, the global market is divided into genotyping, diagnostics, manufacturing & quality control testing, mutagenesis, cloning, forensics, clinical research, and others. The thermal cyclers industry witnessed the highest growth in the diagnostics segment in 2022 as these tools are used for molecular diagnostic tests. The invention of thermal cyclers has managed to revolutionize the field of medicine since it helps in detecting and identifying genetic markers, pathogens, and disease-related mutations. Thermal cyclers are used for the detection and identification of infectious agents, including bacteria, viruses, and parasites. Moreover, they are also crucial to genetic testing for inherited disorders, genetic predispositions, and personalized medicine. Pfizer, a global pharmaceutical leader, recently increased its research spending to USD 13.4 billion.
Recent Developments:
In April 2023, Bio-Rad Laboratories, Inc., one of the leading researchers of life science concepts and producers of diagnostic products, launched the PTC Tempo Deepwell Thermal Cyclers and PTC Tempo 96. These products are expected to optimize PCR applications such as cloning, sequencing, and genotyping. Both products are categorized as next-generation conventional PCR thermal cyclers
In June 2021, Pharma Labs and Biotech collaborated to perform an endpoint polymerase chain reaction (PCR) which showcased the possibility to amplify a sample in 15 minutes. The new record was in response to the pairing of the Eppendorf Mastercycler® X50s thermal cycler and Promega GoTaq® Rapid Master Mix. The standard amplification process takes up to 1 to 2 hours
Thermal Cyclers Market: Report Scope
Report Attributes
Report Details
Report Name
Thermal Cyclers Market Research Report
Market Size in 2022
USD 781.49 Million
Market Forecast in 2030
USD 1369.37 Million
Growth Rate
CAGR of 7.32%
Number of Pages
223
Key Companies Covered
Thermo Fisher Scientific, Bio-Rad Laboratories, QIAGEN, Agilent Technologies, BioMérieux, Eppendorf AG, Roche Diagnostics, Illumina Inc., Fluidigm Corporation, Analytik Jena AG, Becton, Dickinson and Company (BD), Merck KGaA, Takara Bio Inc., PerkinElmer Inc., Promega Corporation, Techne Corporation, Enzo Life Sciences, Corbett Life Science, Cepheid, ThermoGenesis Holdings Inc., VWR International LLC, Hamilton Company, Bioline, Jena Bioscience GmbH, and Astec Co. Ltd..
Segments Covered
By Type, By End-User, By Application, and By Region
Regions Covered
North America, Europe, Asia Pacific (APAC), Latin America, Middle East, and Africa (MEA)
Base Year
2022
Historical Year
2017 to 2021
Forecast Year
2023 - 2030
Customization Scope
Avail customized purchase options to meet your exact research needs. Request For Customization
Thermal Cyclers Market: Regional Analysis
North America to register the highest revenue during the forecast period
The global thermal cyclers market is expected to witness the highest growth in North America mainly due to the high medical and laboratory export rate of the US. The International Trade Administration reports US exports of medical devices stood at USD 45 billion as of 2015. Since then, the export value has gone higher. Additionally, the domestic demand for thermal cyclers is equally high. The latest report by the Centers for Medicare & Medicaid Services reported that the American healthcare system spent nearly USD 174 billion on research & development.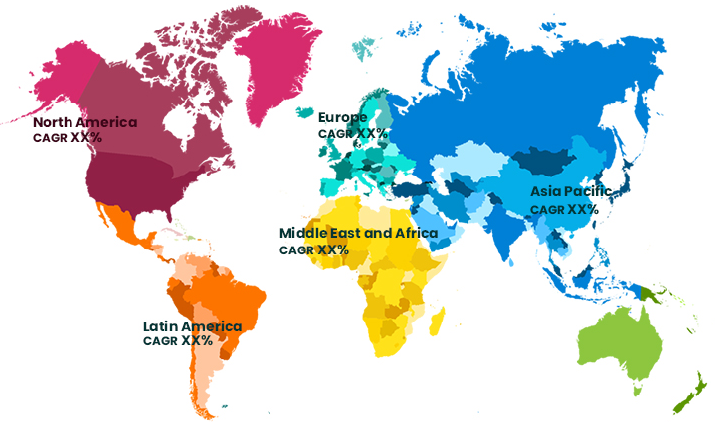 Request Free Sample
These factors and such large-scale spending work in the favor of regional market revenue which is further strengthened by the presence of key manufacturers and suppliers of some of the most advanced forms of thermal cyclers among other forms for medical devices. As the US is vying for emerging markets for expansion, the regional export rate could reach new heights during the forecast period.
Thermal Cyclers Market: Competitive Analysis
The global thermal cyclers market is led by players like:
Thermo Fisher Scientific
Bio-Rad Laboratories
QIAGEN
Agilent Technologies
BioMérieux
Eppendorf AG
Roche Diagnostics
Illumina Inc.
Fluidigm Corporation
Analytik Jena AG
Becton
Dickinson and Company (BD)
Merck KGaA
Takara Bio Inc.
PerkinElmer Inc.
Promega Corporation
Techne Corporation
Enzo Life Sciences
Corbett Life Science
Cepheid
ThermoGenesis Holdings Inc.
VWR International LLC
Hamilton Company
Bioline
Jena Bioscience GmbH
Astec Co. Ltd.
The global thermal cyclers market is segmented as follows:
By Type
By End-User
Academic & Research Foundations
Pharmaceutical Industry
Diagnostic Laboratories
Others
By Application
Genotyping
Diagnostics
Manufacturing & Quality Control Testing
Mutagenesis
Cloning
Forensics
Clinical Research
Others
By Region
North America
Europe

France
The UK
Spain
Germany
Italy
Rest of Europe

Asia Pacific

China
Japan
India
South Korea
Southeast Asia
Rest of Asia Pacific

Latin America

Brazil
Mexico
Rest of Latin America

Middle East & Africa

GCC
South Africa
Rest of Middle East & Africa