The global Targeted Therapeutics market accrued earnings worth approximately 68.1 (USD Billion) in 2020 and is predicted to gain revenue of about 99.3(USD Billion) by 2028, is set to record a CAGR of nearly 12.1% over the period from 2021 to 2028. The report offers an assessment and analysis of the Targeted Therapeutics market on a global and regional level. The study offers a comprehensive assessment of the market competition, constraints, revenue estimates, opportunities, evolving trends, and industry-validated data. The report provides historical data from 2018 to 2020 along with a forecast from 2021 to 2028 based on revenue (USD Billion).
Targeted Therapeutics Market: Synopsis
Targeted therapeutics is a kind of cancer therapy making use of medicines to target cancer tissues without impacting healthy cells. Moreover, these targeted therapies are used in combination with other medicines or conventional therapies for effectively treating cancer. In recent years, personalized cancer treatment with targeted agents is taking center stage and provides personalized treatment to individuals. Apparently, therapeutic peptides are utilized in biomedical applications and they offer high potential in targeting the delivery of medicines owing to its selectivity, biocompatibility, specificity, small dimensions, and modifying ease. Furthermore, in last few years use of tumor-targeting peptides as therapeutics has influenced cancer research & nanotechnology domain. Additionally, targeted therapeutics have also found slew of applications in breast cancer treatment as well as endometrial cancer therapy. Moreover, myriad types of targeted therapeutics are used for cancer treatment and this includes monoclonal antibodies, small molecular inhibitors, prodrug, and nano-particulate antibody conjugates.
Reportedly, first targeted cancer therapeutics was tamoxifen during 1970. Furthermore, U.S. FDA have approved targeted therapies for cancer that include Xgeva, Votrient, Affinitor, Istodax, Tasigna, Sutent, Zolinza, Sprycel, Rituxan, and Herceptin.
Targeted Therapeutics Market: Growth Factors
Growing focus on cancer drug development and cytotoxic & non-specific chemotherapies has shifted to molecularly targeted and rationally developed medicines which has potential of providing more efficiency with lesser side-effects. This, in turn, will prompt growth of targeted therapeutics market in coming decade. Need for developing specific cancer drugs for treating individuals and necessity of comprehensively understanding genetics & biology of patient will drive targeted therapeutics market trends. Apart from this, shift towards integrated cancer research activities and highlight on biomarker-based & hypothesis-driven clinical trials is expected to create new growth avenues for targeted therapeutics market in near future. Additionally, loophole of chemotherapy is drug resistance & severe side effects on patients. Moreover, way to minimize the chemotherapy effects on healthy cancer tissues of patients is to change bio-distribution of medicine and this can be achieved through passive targeting & active targeting of drugs, thereby steering industry landscape.
Furthermore, targeted therapeutics business is gaining significance owing to its specificity towards cancerous tissues while sparing toxicity to normal as well as off-target cell tissues. Comprehensive understanding of molecular activities underlying cancer in human beings and development of new drugs targeting cancerous cells is anticipated to expedite growth of targeted therapeutics industry over upcoming years. Nevertheless, unmet medical needs and lack of reliability of pre-clinical models for predicting efficacy of cancer treating drugs can impede growth of targeted therapeutics market in foreseeable future.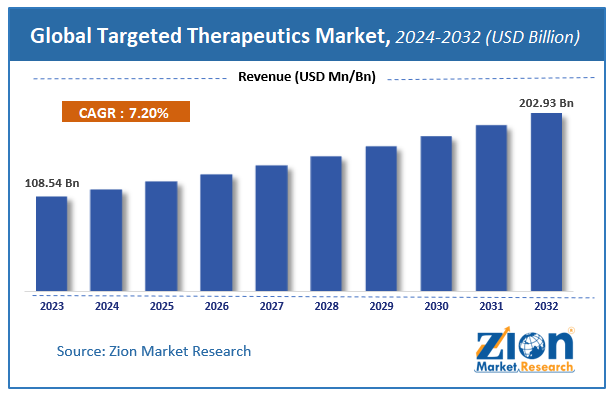 Request Free Sample
Regional Landscape
Asia Pacific Market To Expand Leaps & Bounds During 2021-2028
Asia Pacific targeted therapeutics market is entering a new era of growth with China possessing huge potential due to success of I-PASS clinical trials on patients in the country. Apart from this, China is slated to play a key role in production of new anti-cancer therapeutic agents, thereby contributing humungously towards regional market size. Furthermore, breakthroughs in pharmacokinetics, cancer biology, and pharmacodynamics along with the development of core capabilities in molecular testing of tumor samples will create new growth opportunities for the targeted therapeutics market in Asia Pacific.
Targeted Therapeutics Market: Report Scope
Report Attributes
Report Details
Report Name
Targeted Therapeutics Market Report
Market Size in 2020
USD 68.1 Billion
Market Forecast in 2028
USD 99.3 Billion
Growth Rate
CAGR of 21.1%
Number of Pages
100
Key Companies Covered
Amgen, Inc., Sanofi, AstraZeneca, Roche Diagnostics, Bayer AG, Novartis AG, Merck & Co., Inc., Seagen, Inc., Pfizer, Inc., Takeda Pharmaceutical Company Limited, and GlaxoSmithKline plc
Segments Covered
By Type, By Application, By Distribution Channel, and By Region
Regions Covered
North America, Europe, Asia Pacific (APAC), Latin America, Middle East, and Africa (MEA)
Base Year
2020
Historical Year
2017 to 2020
Forecast Year
2021 - 2028
Customization Scope
Avail customized purchase options to meet your exact research needs. Request For Customization
Competitive Landscape
Key players profiled in the study and influencing the market growth are
Amgen, Inc
Sanofi
AstraZeneca
Roche Diagnostics
Bayer AG
Novartis AG
Merck & Co., Inc
Seagen, Inc
Pfizer, Inc
Takeda Pharmaceutical Company Limited
GlaxoSmithKline plc
The global Targeted Therapeutics Market is segmented as follows:
By Type
Monoclonal Antibodies
Small Molecular Inhibitors
Prodrug
Nano-Particulate Antibody Conjugates
By Application
Breast Cancer
Leukemia
Lung Cancer
Colorectal Cancer
Lymphoma
Renal Cancer
Multiple Sclerosis
Wet Age-Related Macular Degeneration
By Distribution Channel
Hospital Pharmacies
Online Pharmacies
Retail Pharmacies
By Region
North America
Europe

France
The UK
Spain
Germany
Italy
Rest of Europe

Asia Pacific

China
Japan
India
South Korea
Southeast Asia
Rest of Asia Pacific

Latin America

Brazil
Mexico
Rest of Latin America

Middle East & Africa

GCC
South Africa
Rest of Middle East & Africa