Surface Mount Technology Industry Prospective:
The global surface mount technology market size was worth around USD 5.69 billion in 2022 and is predicted to grow to around USD 9.88 billion by 2030 with a compound annual growth rate (CAGR) of roughly 7.14% between 2023 and 2030.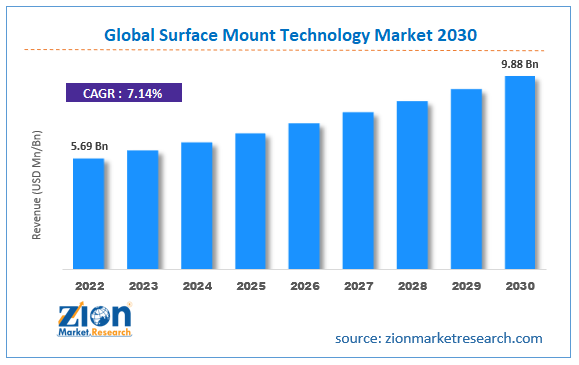 Request Free Sample
Surface Mount Technology Market: Overview
Surface mount technology (SMT) is the result of automation in the field of electronics. With the help of this technology, it is possible to mount minute electronic components on the surface of the printed circuit board or PCB. This method is in complete contrast to the otherwise traditional assembly method requiring the insertion of components through holes. The SMT method has given rise to a higher level of automation making the production and manufacturing of complex electronic circuits an easy task further enhancing the process by generating a scope for the creation of smaller and smaller assemblies without compromising on good repeatability quality. Surface mount devices (SMDs), on the other hand, are electronic components that are used within the process of surface assembly mount and it is easy to find several SMD component packages in several shapes and sizes. The surface mount technology is used in several end-user verticals including medical devices, automotive electronics, industrial electronics, renewable energy, telecommunications, aerospace & defense, and many others. The industry for SMT is expected to grow at a steady rate during the forecast period.
Key Insights:
As per the analysis shared by our research analyst, the global surface mount technology market is estimated to grow annually at a CAGR of around 7.14% over the forecast period (2023-2030)
In terms of revenue, the global surface mount technology market size was valued at around USD 5.69 billion in 2022 and is projected to reach USD 9.88 billion, by 2030.
The surface mount technology market is projected to grow at a significant rate due to the rising demand and consumption of miniaturized consumer electronic items
Based on service segmentation, manufacturing was predicted to show maximum market share in the year 2022
Based on component segmentation, the passive component was the leading type in 2022
On the basis of region, Asia-Pacific was the leading revenue generator in 2022
Surface Mount Technology Market: Growth Drivers
Rising demand and consumption of miniaturized consumer electronic items to push market growth
The global surface mount technology market is expected to grow owing to the increasing demand and consumption of miniaturized consumer electronics. With an increase in migration of people from one region to another either due to work-related responsibilities or personal reasons, there is a growing requirement for compact and portable devices such as laptops, tablets, and smartphones with advanced features. Additionally, compact television systems or other entertainment units have registered higher sales due to growing adoption in several outdoor activities such as sports & recreation and medical or healthcare.
In August 2023, LG, a leading provider of TV and other consumer electronics, unveiled its new range of portable TVs with a 27-inch light-emitting diode (LED) television that consumers can carry with them. The TV set is powered by in-built battery systems and priced at USD 1000. In September 2021, Apple, a revolutionary technology company, launched the new iPad mini that offers exceptional performance and comes with a stunning new design. It can support a 5G network and has an all-screen design. Such innovations are the leading cause of higher demand for SMT in the consumer electronic segment. As the purchasing power of end-consumers continues to grow along with the greater need for highly advanced yet small-in-size electronic components, the global market size will continue to expand.
Surface Mount Technology Market: Restraints
Higher sensitivity of SMT to environmental conditions could restrict market expansion
When compared to alternative technologies such as Through-Silicon Vias (TSVs) and Through-Hole Technology (THT), surface mount technology is known to show higher sensitivity to external environmental factors such as humidity and temperature. This attribute has created the need for considering investing in thermal and high-frequency management in devices manufactured using SMT and it may lead to additional complications during product manufacturing. In addition to this, the growing applications of substitute technologies such as THTs and TSVs further segment the surface mount technology market revenue as there is a large section of players in the semiconductor sector that continue to use older assembly methods since they have the benefit of having experience and expertise in older yet effective methods.
Surface Mount Technology Market: Opportunities
Increasing regional diversification in the semiconductor industry to drive market conductor
The semiconductor industry has an indirect impact on the global surface mount technology market demand since SMT is a widely used technique in assembling semiconductor devices. For many in the past, the semiconductor industry has been highly limited with certain territories enjoying the largest part of the total market share. However, in recent times, several new nations especially emerging countries with substantial resources are eyeing the semiconductor market and opening new investment opportunities for international players to invest in the upcoming regional semiconductor sector. In July 2023, the government of India announced that it was planning to create an entire fully functional ecosystem for the domestic semiconductor market. The country plans to utilize its massive talent pool in its new vision. In addition to this, the existing market leaders continue to amplify their efforts in maintaining market dominance. Recent reports indicate that China plans to open a state-backed investment fund in a bid to raise USD 40 billion that it intends to use to enhance its domestic semiconductor market.
Surface Mount Technology Market: Challenges
Difficulty in repairing or reworking on SMT-based PCBs to challenge market growth
Since the key feature of SMT is to allow the production of compact devices with limited free space, in case the PCB assembled using SMT malfunctions, it is extremely difficult to repair the parts. Traditional soldering methods for repair may not prove helpful with such parts and advanced techniques are required during these instances. However, a key point to note is that there is a significant gap in the availability of skilled professionals, especially in underdeveloped countries or nations with limited bases in technical expertise. Moreover, the initial investment related to setting up SMT units is highly driven by the requirement of specialized equipment and skilled labor. Moreover, the method may not be suitable for low-production requirements as it may become difficult to establish economies of scale.
Surface Mount Technology Market: Segmentation
The global surface mount technology market is segmented based on service, component, equipment, and region.
Based on service, the global market segments are supply chain services, designing, aftermarket services, test & prototype, and manufacturing. In 2022, the highest growth was observed in the manufacturing sector since it is regarded as the core process of the entire sector. It includes assembling the complete PCB with the help of components, soldering processes, and pick-and-place machines. Once the PCB is designed and produced, it undergoes the process of testing or quality check that ensures the product functions as per expectations. Other key segments including design and supply chain services are expected to continue growing at a steady pace. On average, the cost of large pick-and-place machines is around USD 700,000.
Based on equipment, the surface mount technology industry is divided into repair & rework equipment, placement equipment, screen printing equipment, soldering equipment, and cleaning equipment.
Based on component, the global market segments are passive component, electrochemical component, and active component. In 2022, the highest growth was observed in the passive component segment which dominated over 55.1% of the total surface mount technology industry share. These components function without the aid of an external power surface and play a crucial role in the proper functioning of electronic circuits. The segment includes components such as capacitors, resistors, filters, and inductors. Some of the main applications of passive components include filtering, power conversion, and electromagnetic interference (EMI).
Surface Mount Technology Market: Report Scope
Report Attributes
Report Details
Report Name
Surface Mount Technology Market
Market Size in 2022
USD 5.69 Billion
Market Forecast in 2030
USD 9.88 Billion
Growth Rate
CAGR of 7.14%
Number of Pages
221
Key Companies Covered
Panasonic Corporation, ASM Assembly Systems (ASMPT), Mycronic AB (formerly MYDATA automation), Juki Corporation, Koh Young Technology Inc., Fuji Machine Manufacturing Co. Ltd., Nordson DAGE, Yamaha Motor Co. Ltd., Nordson ASYMTEK, Nordson Corporation, PVA TePla AG, Mydata Automation AB, Saki Corporation, Universal Instruments Corporation, Test Research Inc. (TRI), Europlacer, Viscom AG, Siemens AG, Kurtz Ersa Corporation., and others.
Segments Covered
By Service, By Equipment, By Component, and By Region
Regions Covered
North America, Europe, Asia Pacific (APAC), Latin America, Middle East, and Africa (MEA)
Base Year
2022
Historical Year
2017 to 2021
Forecast Year
2023 - 2030
Customization Scope
Avail customized purchase options to meet your exact research needs. Request For Customization
Surface Mount Technology Market: Regional Analysis
Asia-Pacific to register the highest growth rate during the projected period
The global surface mount technology market is expected to witness the highest growth in Asia-Pacific. In 2022, the region was responsible for controlling over 31.5% of the global revenue share. The presence of a robust electronics industry in the countries of China, Japan, Taiwan, and India is the leading cause of the high regional growth rate. These countries are home to a complete set of manufacturers, designers, suppliers, and corporate companies dealing with PCB assembly lines and SMT.
In addition to this, the increase in the regional consumer electronics industry with surging demand for affordable, advanced, and compact devices such as smartphones and tablets could assist the regional expansion trend in the coming years. Since the SMT market in Asia-Pacific has tremendous potential, the regional governments have continued to support and encourage the domestic PCB and SMT industry. North America is projected to grow at a significant rate driven by the presence of several end-users of the final components. The regional SMT industry has applications in several sectors including medical and automotive, two of the fastest-growing regional markets.
Surface Mount Technology Market: Competitive Analysis
The global surface mount technology market is led by players like:
Panasonic Corporation
ASM Assembly Systems (ASMPT)
Mycronic AB (formerly MYDATA automation)
Juki Corporation
Koh Young Technology Inc.
Fuji Machine Manufacturing Co. Ltd.
Nordson DAGE
Yamaha Motor Co. Ltd.
Nordson ASYMTEK
Nordson Corporation
PVA TePla AG
Mydata Automation AB
Saki Corporation
Universal Instruments Corporation
Test Research Inc. (TRI)
Europlacer
Viscom AG
Siemens AG
Kurtz Ersa Corporation.
The global surface mount technology market is segmented as follows:
By Service
Supply Chain Services
Designing
Aftermarket Services
Test & Prototype
Manufacturing
By Equipment
Repair & Rework Equipment
Placement Equipment
Screen Printing Equipment
Soldering Equipment
Cleaning Equipment
By Component
Passive Component
Electrochemical Component
Active Component
By Region
North America
Europe

France
The UK
Spain
Germany
Italy
Rest of Europe

Asia Pacific

China
Japan
India
South Korea
Southeast Asia
Rest of Asia Pacific

Latin America

Brazil
Mexico
Rest of Latin America

Middle East & Africa

GCC
South Africa
Rest of Middle East & Africa