Sulfuric Acid Market: Industry Perspective
The report covers a forecast and an analysis of the sulfuric acid market on a global and regional level. The study provides historical data from 2015 to 2017 along with a forecast from 2018 to 2024 based on volume (Kilotons) and revenue (USD Billion). The study includes drivers and restraints for the sulfuric acid market along with the impact they have on the demand over the forecast period. Additionally, the report includes the study of opportunities available in the sulfuric acid market on a global level.
In order to give the users of this report a comprehensive view of the sulfuric acid market, we have included a competitive landscape and an analysis of Porter's Five Forces model for the market. The study encompasses a market attractiveness analysis, wherein all the segments are benchmarked based on their market size, growth rate, and general attractiveness.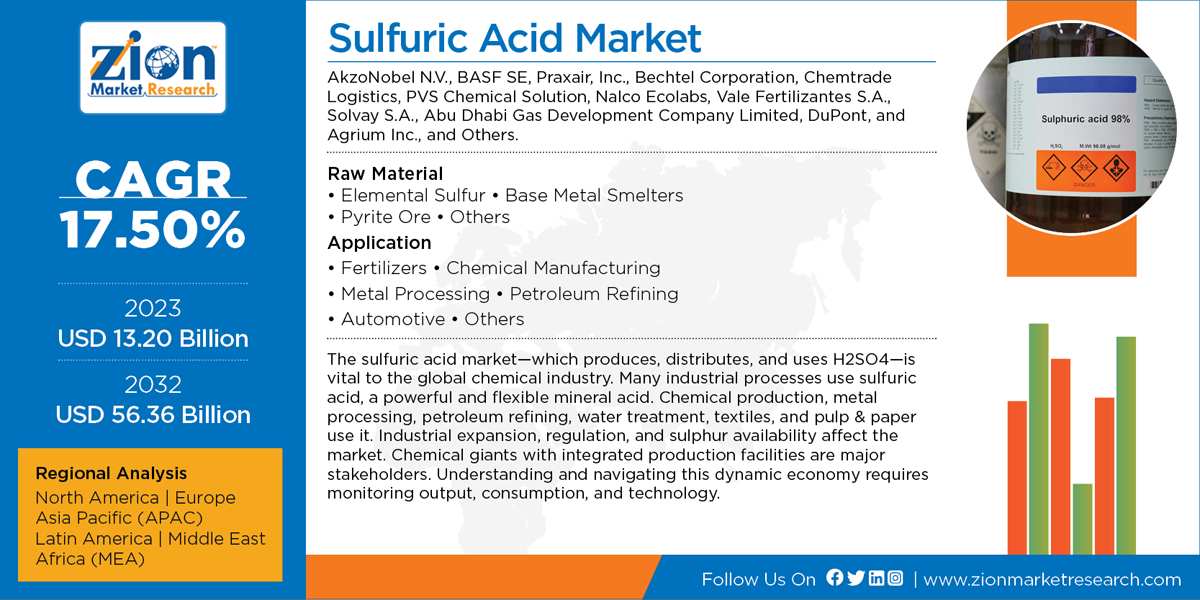 Request Free Sample
The report provides company market share analysis to give a broader overview of the key market players. In addition, the report also covers key strategic developments of the market including acquisitions & mergers, new application launch, agreements, partnerships, collaborations & joint ventures, research & development, and regional expansion of major participants involved in the market on a global and regional basis. Moreover, the study covers price trend analysis and product portfolio of various companies according to regions.
The study provides a decisive view of the sulfuric acid market by segmenting the market based on raw material, application, and region. All the segments have been analyzed based on present and future trends and the market is estimated from 2018 to 2024. The regional segmentation includes the historical and forecast demand for North America, Europe, Asia Pacific, Latin America, and the Middle East and Africa.
By raw material, the sulfuric acid market is segmented into elemental sulfur, pyrite ore, base metal smelters, and others. By application, this market is categorized into fertilizers, metal processing, chemical manufacturing, automotive, petroleum refining, and others.
Some of the major players operating in the sulfuric acid market are AkzoNobel N.V., BASF SE, Praxair, Inc., Bechtel Corporation, Chemtrade Logistics, PVS Chemical Solution, Nalco Ecolabs, Vale Fertilizantes S.A., Solvay S.A., Abu Dhabi Gas Development Company Limited, DuPont, and Agrium Inc., among others.
This report segments the global sulfuric acid market into:
Global Sulfuric Acid Market: Raw Material Analysis
Elemental Sulfur
Base Metal Smelters
Pyrite Ore
Others
Global Sulfuric Acid Market: Application Analysis
Fertilizers
Chemical Manufacturing
Metal Processing
Petroleum Refining
Automotive
Others
Global Sulfuric Acid Market: Regional Analysis
North America
Europe
Asia Pacific
Latin America
Middle East and Africa