Free Analysis
Sulfuric acid, also called vitriol, is a mineral acid that is composed of sulfur, hydrogen, and oxygen. It is odorless, colorless, and highly exothermic in nature. Moreover, it is a syrupy liquid that is soluble in water along with being a highly strong corrosive mineral acid. Sulfuric acid exhibits different properties for different materials depending on the level of concentration. It is mostly used in the production of chemicals to make sulfate pigments, salts, dyes, sulfate salts, and nitric acid. In addition, it also serves as an electrolyte in the lead-acid storage batteries. Some key methods used in producing sulfuric acid include the wet sulfuric acid process (gas desulfurization processes) and contact process (production of sulfuric acid at high concentration). The production of sulfuric acid comprises four stages—extraction of sulfur, conversion of sulfur into sulfur dioxide, conversion of sulfur dioxide to sulfur trioxide, and transformation of sulfur trioxide into sulfuric acid.
The rising demand for sulfuric acid for manufacturing chemicals and fertilizers and metal processing is likely to fuel the market for sulfuric acid in the future. Sulfuric acid is used as a dehydrating agent, catalyst, and reactant by the automotive industry is anticipated to further drive this market's growth in the forecast time period. Sulfuric acid is a good catalyst owing to its strong proton donor. It is also a good dehydrating agent that helps in sequestering water produced during the reaction. Furthermore, the growing concerns of high crop yield and excellent food quality from agricultural sector are projected to propel the fertilizer market, which, in turn, is anticipated to boost the sulfuric acid market in the upcoming years. In addition, the increasing use of sulfuric acid in automotive batteries is further expected to boost the sulfuric acid market in the years ahead. However, stringent environmental regulations due to the toxic effects of sulfuric acid and adverse effects on human health, such as eyes irritation, skin irritation, and skin sensitiveness, might hamper the sulfuric acid market globally in the forecast time period.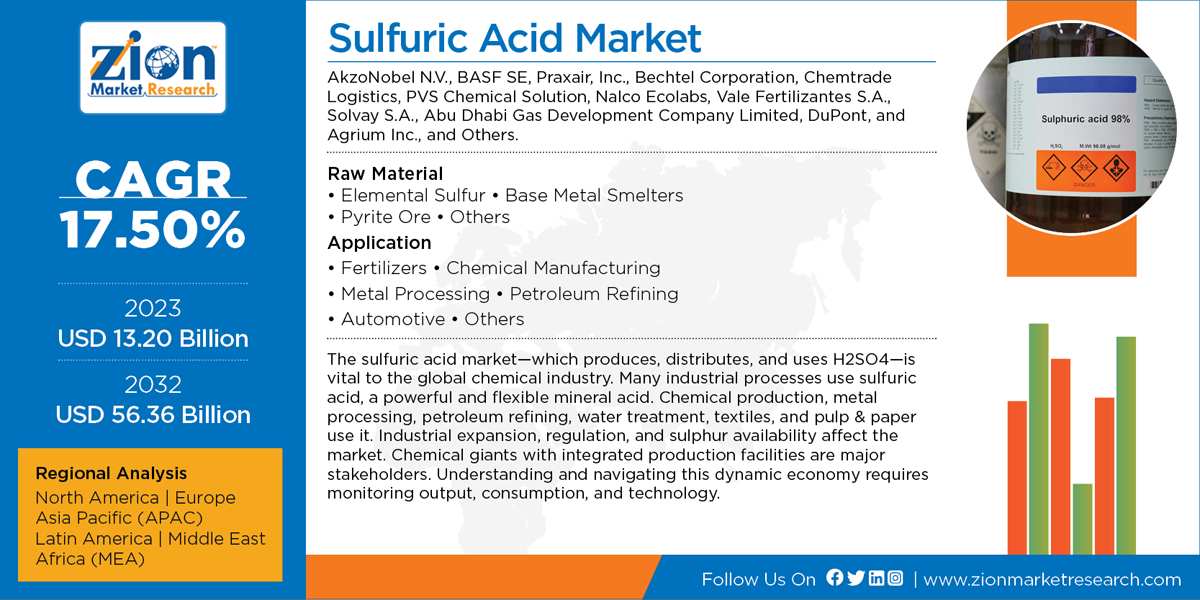 By raw material, the sulfuric acid market is segmented into elemental sulfur, pyrite ore, base metal smelters, and others. By application, this market is categorized into fertilizers, metal processing, chemical manufacturing, automotive, petroleum refining, and others.
Based on region, this global market is classified into Europe, North America, Asia Pacific, Latin America, and the Middle East and Africa. The Asia Pacific region is anticipated to hold the largest sulfuric acid market share in terms of both revenue and volume. It is the rising demand for products using sulfuric acid like soaps and cleaners that is expected to increase the market demand for sulfuric acid.
Some of the major players operating in the sulfuric acid market are AkzoNobel N.V., BASF SE, Praxair, Inc., Bechtel Corporation, Chemtrade Logistics, PVS Chemical Solution, Nalco Ecolabs, Vale Fertilizantes S.A., Solvay S.A., Abu Dhabi Gas Development Company Limited, DuPont, and Agrium Inc., among others.