Solar Battery Industry Perspective:
The global solar battery market size accounted for USD 96.3 Million in 2020 and is expected to reach USD 297.1 Million by 2028, growing at a CAGR of 15.8% from 2021 to 2028.
A global Solar Battery market is a device that stores energy for later use and is charged by a solar system linked to it. This electricity which is stored is consumed after sundown at night, during a power outage, or during energy demand peaks. Often, solar batteries are used in residential or commercial structures. Policies adopted by the government of various countries, technological advancements for the development of relatively cheaper, durable, and more efficient solar batteries along with the rising concern regarding hazards caused to due conventional power storage options are fueling the market growth. Market players are now adopting manufacturing batteries that can cater to different power storage capacities and sizes.
Request Free Sample
COVID-19 Impact Analysis
The nationwide lockdowns implemented during the COVID-19 pandemic lead to reduced availability of manpower resulting in the cancellation of new projects or delayed installations of solar systems. Furthermore, as many people lost their jobs or were forced to keep their businesses shut, consumer expenditure sharply declined, affecting the demand.
Moreover, restrictions on movement within or between countries lead to an increase in the number of inventories. Furthermore, the market was negatively impacted by a significant reliance on Chinese exports for solar batteries, and solar module solar cells.
Solar Battery Market: Growth Factors
Market growth for solar battery is being fueled by the rising demand for sustainable energy solutions. The market for solar power batteries is predicted to rise throughout the forecasted timeframe, as governments around the world are promoting the adoption of sustainable energy sources. Solar batteries may effectively reduce the demand for coal, oil, and other imported fossil energy resources.
As consumers have become more aware and conscious about their buying choices and their effect on the environment, concerns about the dangers of traditional power-generating processes are driving up demand for solar panel systems. The need for solar-powered batteries is increasing as a result of this.
Solar Battery Market: Report Scope
| Report Attributes | Report Details |
| --- | --- |
| Report Name | Solar Battery Market Research Report |
| Market Size in 2020 | USD 96.3 Million |
| Market Forecast in 2028 | USD 297.1 Million |
| Growth Rate | CAGR of 15.8% |
| Number of Pages | 255 |
| Forecast Units | Value (USD Billion), and Volume (Units) |
| Key Companies Covered | BYD Company, Carnegie Clean Energy, and Kokam.Co, LG Chem, Primus Power, Bosch Solar Energy, Samsung SDI, Exide Technologies, Panasonic, and EnerSys among others. |
| Segments Covered | By Technology, By End-User, And By Region |
| Regions Covered | North America, Europe, Asia Pacific (APAC), Latin America, Middle East and Africa (MEA) |
| Base Year | 2020 |
| Historical Year | 2016 to 2020 |
| Forecast Year | 2021 - 2028 |
| Customization Scope | Avail customized purchase options to meet your exact research needs. Request For Customization |
Solar Battery Market: Segmentation
Product Type Segment Analysis Preview
The Lithium Ion batteries segment held a share of around 30% in 2020. This is attributable to the fact that they require almost no regular maintenance. They also have a greater battery energy density than lead-acid batteries, which means they can store more energy in a smaller space. In addition to these characteristics, lithium-ion batteries are in demand due to their high charge and discharge efficiencies, which aid in the harvesting of huge amounts of energy. For example, lithium-ion batteries have an average efficiency of 90-95 percent, but lead-acid batteries have an average efficiency of 80-85 percent.
End User Segment Analysis Preview
The Industrial segment will grow at a CAGR of over 12% from 2021 to 2028. This is attributable to the high demand for more energy storage solutions from diverse industrial end-users. Furthermore, governments around the world are promoting the adoption of sustainable energy sources. This has resulted in the introduction of new government tax credits and incentive programs to incentivize the adoption of greener alternatives. All these factors are likely to attract the growth of solar batteries in this segment.
Regional Analysis Preview
North America region held a share of around 25% in 2020. This is attributable to an increase in investments in smart solar power plants as well as an increase in solar capacity and installations in the region. Because of the US government's increased support for the installation of smart solar projects, the US is a key revenue source for the worldwide as well as the North American solar battery market.
The Asia Pacific region is projected to grow at a CAGR of around 15% over the forecast period. This surge is due to an increase in government initiatives over renewable energy storage in growing countries such as India, South Korea and China. The market in this region is projected to increase as a result of these factors. Furthermore, being the world's greatest producer of solar energy, China will have a favorable impact on the demand for solar batteries in this region.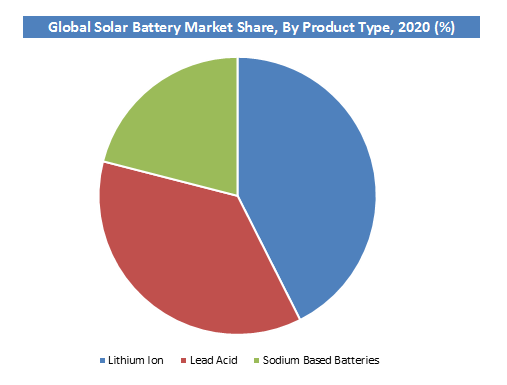 Request Free Sample
Key Market Players & Competitive Landscape
Some of the key players in the solar battery market are
BYD Company
Carnegie Clean Energy
Kokam. Co
LG Chem
Primus Power
Bosch Solar Energy
Samsung SDI
Exide Technologies
Panasonic
EnerSys
among others.
To keep up with the fierce market competition faced in this market, major players across the world have adopted strategies like mergers, acquisitions, and business expansion.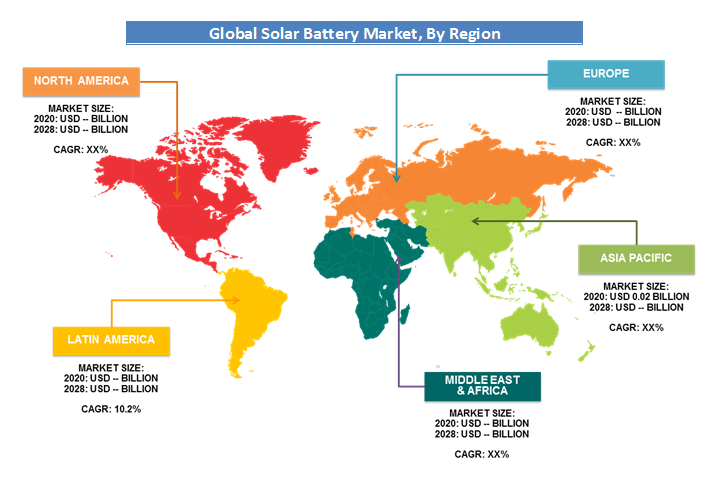 Request Free Sample
The global Solar Battery system market is segmented as follows:
By Technology
Lithium Ion Batteries
Lead Acid Batteries
Sodium Based Batteries
By End-User
Residential
Industrial
Commercial
By Region
North America
Europe

France
The UK
Spain
Germany
Italy
Rest of Europe

Asia Pacific

China
Japan
India
South Korea
Southeast Asia
Rest of Asia Pacific

Latin America

Brazil
Mexico
Rest of Latin America

Middle East & Africa

GCC
South Africa
Rest of Middle East & Africa