Smart Scale Industry Prospective:
The global smart scale market size was worth around USD 257.48 million in 2022 and is predicted to grow to around USD 496.58 million by 2030 with a compound annual growth rate (CAGR) of roughly 8.56% between 2023 and 2030.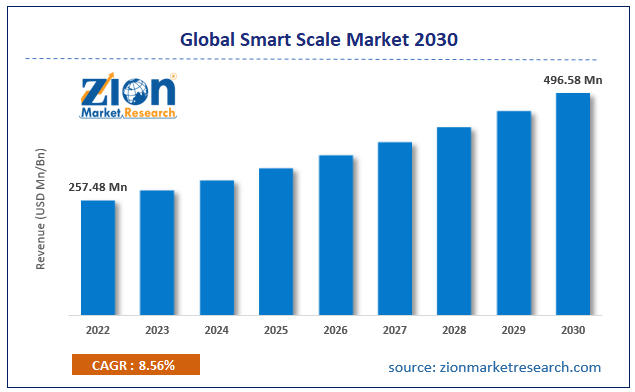 Request Free Sample
Smart Scale Market: Overview
Smart scales are defined as electronic devices that are used for measuring more than just weight. These devices are equipped with technologies that assess other essential body components such as muscle mass, body fat percentage, and bone mass, thus providing a more comprehensive idea about a person's health. Smart scales operate or provide body composition by sending small electrical currents through the body and since different body tissues contain varying water amounts, the conduct rate for electricity is also different. This method is known as bioelectrical impedance analysis (BIA) and is essential for calculating desired body composition details. Furthermore, they can also store and track data and develop a communication network with smart devices such as smartphones and fitness trackers thus allowing users to gain more control over the health progress. As compared to traditional scales, smart variants offer more advantages but are higher prices which leads to growth limitations. The smart scale industry is expected to grow at a steady pace during the forecast period.
Key Insights:
As per the analysis shared by our research analyst, the global smart scale market is estimated to grow annually at a CAGR of around 8.56% over the forecast period (2023-2030)
In terms of revenue, the global smart scale market size was valued at around USD 257.48 million in 2022 and is projected to reach USD 496.58 million, by 2030.
The smart scale market is projected to grow at a significant rate due to the growing fitness consciousness among people
Based on connectivity segmentation, Bluetooth was predicted to show maximum market share in the year 2022
Based on applications segmentation, body weight management was the leading segment in 2022
On the basis of region, Europe was the leading revenue generator in 2022
Smart Scale Market: Growth Drivers
Growing fitness consciousness among people to drive market growth
The global smart scale market is projected to grow owing to the increasing fitness consciousness among people. Since COVID-19, more people have started investing time and resources in ensuring good health by eating the right type and amount of food and integrating physical exercises into daily routines. In addition to this, the growing obesity rate across the globe is a cause of alarm leading to governments and health care agencies conducting massive awareness drives to educate the people about the methods in which obesity can be controlled. Smart scales become an essential tool in this fitness journey since these devices provide more comprehensive information about overall health while traditional scales deal with only body weight. Studies have shown that body weight alone is not the only indication of good health. Several other parameters such as body mass index and body fat percentage should not be ignored when body health is considered. Smart scales can help users manage these parameters by providing detailed reports.
Rising applications in the sports industry to trigger a higher growth rate
During the projection period, the industry for smart scales is expected to gain higher momentum as the application of these smart devices continues to grow in the expanding sports industry. Athletes, on all levels including amateur and professionals, are required to undergo intense physical training and maintain a certain type of physique along with a high endurance level. Smart scales are gaining more attention from the sports community due to the advantages offered by them in ensuring that the training sessions are on track. In November 2021, Garmin, a US-based smart scale developer, announced the launch of a new digital wellness tool especially targeting the fitness sector in India. Index S2 has several features including measuring body mass index (BMI), body fat percentage, bone mass, body water percentage, and skeletal mass ratio. The product is available in 2 options and can be bought across e-commerce platforms.
Smart Scale Market: Restraints
High cost of smart scales to restrict market growth rate
The global smart scale industry growth is expected to be restricted due to the high cost of smart scales as compared to traditional weighing scales. These scales cost between USD 50 to USD 250 depending on the model and features offered. In addition to this, smart scales may not prove cost-worthy for people who do not regularly take part in physical activities and hence do not need extra information on other health parameters such as BMI and body fat index. Moreover, there is a growing segment of the population that finds adding more digital devices to their daily use as distracting thus limiting consumer reach for smart scales.
Smart Scale Market: Opportunities
Growing market for telehealth to create growth opportunities for smart scale manufacturers
The global smart scale market is expected to witness high growth opportunities as a result of the growing telehealth industry. Telehealth deals with the distribution of health-related services using digital mediums such as telecommunication technologies and other electronic devices. The industry relies heavily on smart systems for monitoring and providing essential medical care to patients remotely. It gained popularity during COVID-19 when in-patient medical care became difficult. Telehealth techniques are used to deal with a wide range of medical conditions including chronic conditions, obesity, diabetes, blood pressure issues, and others. Since smart scales are capable of sharing information with other smart electronic devices, medical professionals can monitor patient's critical health parameters by accessing the data recorded and stored in smart scales.
Smart Scale Market: Challenges
Competition from the existing demand for conventional smart scales and other health monitoring devices to challenge market growth
The global smart scale market growth trend could be challenged by the existing demand for other alternatives in terms of digital health monitoring devices. For instance, smartwatches and other wearable devices are capable of providing health-related information and offer additional features such as tracking sleep, sending alerts & notifications, higher compatibility with other smart tools, environment-related details, and others. The smart scale industry is relatively new and will need more years to gain the same popularity level as other alternatives.
Smart Scale Market: Segmentation
The global smart scale market is segmented based on connectivity, type, application, price, and region.
Based on connectivity, the global market segments are Bluetooth, Wi-Fi, and Android & iOS applications. In 2022, the highest growth was registered in the Bluetooth segment followed by Wi-Fi-connected devices. Bluetooth is a common connectivity-based technology available in almost all smart devices as it helps in quick data transfer between connected smart electronics. Bluetooth technology uses a spectrum band of 2400 to 2483.5 MHz and hence provides an excellent balance between throughput and range.
Based on type, the global smart scale industry is divided into metallic or stainless steel and glass.
Based on application, the smart scale industry divisions are object weighing, body weight management, and others. In 2022, the highest revenue was registered in the body weight management segment since smart scales are mostly used for determining key parameters of body health including BMI, muscle mass, basal metabolic rate, fat mass, visceral fat, lean body mass, and skeletal muscle to name a few. These are indicators of good health and hence essential in managing medical conditions. For people between the age group of 20 to 39, women are expected to aim for a body fat range between 21% to 32% while men should have 8% to 19%,
Based on price, the global market segments are low, medium, and high.
Smart Scale Market: Report Scope
,
Report Attributes
Report Details
Report Name
Smart Scale Market
Market Size in 2022
USD 257.48 Million
Market Forecast in 2030
USD 496.58 Million
Growth Rate
CAGR of 8.56%
Number of Pages
220
Key Companies Covered
Tanita, Fitbit, Renpho, Beurer, Withings, Weight Gurus, Taylor Precision Products, Garmin, Escali, Eufy, EatSmart, Yunmai, Koogeek, iHealth, Salter, Omron Healthcare, Redover, Qardio, Tanita, Greater Goods, and others.
Segments Covered
By Connectivity, By Type, By Application, By Price, and By Region
Regions Covered
North America, Europe, Asia Pacific (APAC), Latin America, Middle East, and Africa (MEA)
Base Year
2022
Historical Year
2017 to 2021
Forecast Year
2023 - 2030
Customization Scope
Avail customized purchase options to meet your exact research needs. Request For Customization
Smart Scale Market: Regional Analysis
Europe to lead with the highest growth rate during the forecast period
The global smart scale market is expected to witness the highest growth in Europe. The increasing number of new product offerings in the regional smart scale industry is expected to boost higher demand for the devices as more advanced smart scales are anticipated to show extended applications. In September 2023, Withings, a France-based consumer electronics company that produces devices including smart scales, health monitoring systems, watches, and launched a new luxury smart scale in the form of the US Food & Drugs Administration (FDA) approved Body Scan Connected Health Station. The product is priced at USD 400 and comprises a range of capabilities including detection of atrial fibrillation. It is intended for consumers seeking measures to manage heart conditions. Additionally, the growing health-conscious population along with increased demand for telehealth in Europe will further fuel regional market growth.
Asia-Pacific is showing signs of promising growth. In September 2023, Titan Company, India's leading provider of luxury goods, entered the smart weight scales and rings industry. The company is relatively new in the industry and managed to generate INR 500 crore from its smart wearable segment in 2023. Asia has a huge consumer market and along with growing disposable income, the demand for smart scale may surge in the coming years.
Smart Scale Market: Competitive Analysis
The global smart scale market is led by players like:
Tanita
Fitbit
Renpho
Beurer
Withings
Weight Gurus
Taylor Precision Products
Garmin
Escali
Eufy
EatSmart
Yunmai
Koogeek
iHealth
Salter
Omron Healthcare
Redover
Qardio
Tanita
Greater Goods
The global smart scale market is segmented as follows:
By Connectivity
Bluetooth
Wi-Fi
Android & iOS Applications
By Type
Metallic or Stainless Steel
Glass
By Application
Object Weighing
Body Weight Management
Others
By Price
By Region
North America
Europe

France
The UK
Spain
Germany
Italy
Rest of Europe

Asia Pacific

China
Japan
India
South Korea
Southeast Asia
Rest of Asia Pacific

Latin America

Brazil
Mexico
Rest of Latin America

Middle East & Africa

GCC
South Africa
Rest of Middle East & Africa