The smart ports market is set for a rapid growth over the forecast period. In terms of revenue, the global smart ports market accounted for USD 1.67 Billion in 2019 and is expected to reach USD 12.08 Billion by 2026, growing at a CAGR of 32.64%
Global Smart Ports Market: Overview
A smart port is a port that utilizes automation and advanced technology to enhance its performance, including the Internet of Things (IoT), Artificial Intelligence (AI), big data, and blockchain. While the ports and container shipping industry are often considered conservative and 'resistant to change,' new technologies, systems and solutions are evolving that will change this perception in the near future, contributing to a stronger, more connected future for the entire sector. With the evolving demands of global trade, the need to adapt and become "smart" is much more important today; ships are becoming larger, commodities are moving faster, and geopolitical tensions are generating new challenges for ports around the world.
Report Scope:
Report Attributes
Report Details
Report Name
Smart Ports Market Research Report
Market Size in 2019
USD 1.67 Billion
Market Forecast in 2026
USD 12.08 Billion
Compound Annual Growth Rate
CAGR of 32.64%
Number of Pages
110
Forecast Units
Value (USD Billion), and Volume (Units)
Key Companies Covered
IBM, General Electric, Telephonica SA, Accenture Plc, Cisco Systems, Inc., ABB Ltd., Trelleborg AB, Wipro Limited, Royal Haskoning, Awake.AI, and Traxen
Segments Covered
By Type,By end-user, And By Region
Regions Covered
North America, Europe, Asia Pacific (APAC), Latin America, Middle East and Africa (MEA)
Countries Covered
North America: U.S and Canada
Europe: Germany, Italy, Russia, U.K, Spain, France, Rest of Europe
APAC: China, Australia, Japan, India, South Korea, South East Asia, Rest of Asia Pacific
Latin America: Brazil, Argentina, Chile
The Middle East And Africa: South Africa, GCC, Rest of MEA
Base Year
2021
Historical Year
2016 to 2020
Forecast Year
2022 - 2030
Customization Scope
Avail customized purchase options to meet your exact research needs. Request For Customization
Global Smart Ports Market: Growth Factors
The rising need to curb operating costs, collect real-time information and make data-driven decisions at port facilities drives the adoption of smart technology among port authorities. Several technologies are used to turn a conventional port into a smart port, like the Internet of Things (IoT), Artificial Intelligence (AI), blockchain, and process automation. To turn the traditional infrastructure into a digitalized one, these technologies are either implemented separately or in combination. The smart port offers many advantages, including reduced human-related disturbances, limited operating costs, smart decision-making, and more predictable efficiency, over traditional port. All these advantages have resulted in improved efficiency, paving the way for Port 4.0.
In addition to these advantages, increasing technical advancement and the resulting ease of incorporation of technology are increasing the implementation of smart technologies across all forms of ports. Over the years, national and international trade by maritime transport has increased considerably. Benefits such as lower costs of transport have contributed to an increasing preference for maritime transport. The pressure on shipyards and decks has been intensified by the rise in global trade activities worldwide. The rise in the number of operations has prompted the harbor authorities to take advantage of intelligent technology and solutions to automate several harbor operations.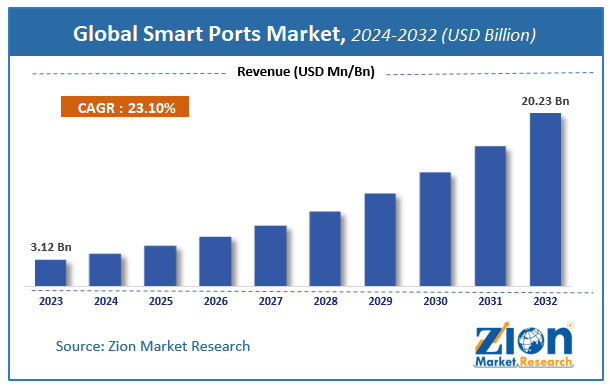 Request Free Sample
Impact due to the outbreak of COVID-19
The outbreak of the COVID-19 epidemic and the associated lockdowns implemented to control the spread of the virus have placed a heavy strain on industries that rely heavily on the workforce to perform operations, and there is no exception for the marine industry. The inaccessibility of the workforce to its maximum potential has required the adoption of automation by the port authorities. Therefore, the pandemic is intended as a catalyst for the production of smart ports.
Global Smart Ports Market: Segmentation
On the basis of technology, blockchain is expected to be the fastest-growing segment during the forecast era, as this is the key mechanism that ensures smooth handling and management of data. For organizations that have to collaborate but are still competitors, blockchain is the perfect technology to a certain degree. Blockchain allows data to be managed and protects the user's privacy. Therefore, Blockchain gets around this problem, allowing data to be exchanged in a protected manner which can never be manipulated.
The largest and fastest-growing segment is projected to be the smart port infrastructure segment. The infrastructure makes it possible to fully automate the port's operations. In addition to automating facilities, green technology ensures zero emissions by replacing diesel with low-emission fuels and electricity. All operations are controlled by a management centre. These centre can monitor each container and its movement, they can also control which unit, when and how to move it. In this way, multi-task operations are possible at the same time and hundreds of truck trips can be avoided, making the whole supply chain far more effective.
Global Smart Ports Market: Regional Analysis
By Geography, the smart ports market is segmented into North America, Europe, Latin America, Asia Pacific, and Middle East and Africa.
The Asia Pacific region is expected to be the largest market for smart ports in the forecast period. Countries such as China, Japan, Hong Kong, Singapore, and South Korea are among the leading manufacturing centres and trading points that produce a significant amount of trade activity. This region has undergone rapid economic growth over the past few years. The growth of industrial automation in this region has also increased the use of smart technology in port operations, which, in turn, is driving the growth of the demand for smart ports.
Europe is expected to experience the highest CAGR in the near future. Ports in Europe are relatively smaller, but handle a significant volume of cargo. Also, as ports with comparatively less size/capacity manage as much traffic as large ports, European ports are no longer capable of competing alone on port size. Thus, even moderately and barely busy ports are turning to smart operations more and more. The Port of Rotterdam in Germany, for example, has partnered with IBM to deploy smart sensors around the 42-kilometer-long stretch of the port.
Global Smart Ports Market: Competitive Players
The major players in the global smart ports market include IBM, General Electric, Telephonica SA, Accenture Plc, Cisco Systems, Inc., ABB Ltd., Trelleborg AB, Wipro Limited, Royal Haskoning, Awake.AI, and Traxen among others.
The report segment of global smart ports market are as follows:
Global Smart Ports Market: Technology Segment Analysis
Internet of Things (IoT)
Artificial Intelligence (AI)
Process Automation
Blockchain
Global Smart Ports Market: Component Segment Analysis
Port Community Systems
Smart Port Infrastructure
Traffic Management Systems
Smart Safety & Security
Terminal Automation & Cargo Handling
Global Smart Ports Market: Regional Segment Analysis
North America
Europe

France
The UK
Spain
Germany
Italy
Rest of Europe

Asia Pacific

China
Japan
India
South Korea
Southeast Asia
Rest of Asia Pacific

Latin America

Brazil
Mexico
Rest of Latin America

Middle East & Africa

GCC
South Africa
Rest of Middle East & Africa