Smart Luggage Market Size & Industry Share
The global Smart Luggage market size which accrued revenue worth nearly 700 (USD Million) in 2019 and is slated to garner earnings worth 1,015 (USD Million) by 2025, is set to grow at a CAGR of 16.8% during the period from 2019 to 2025.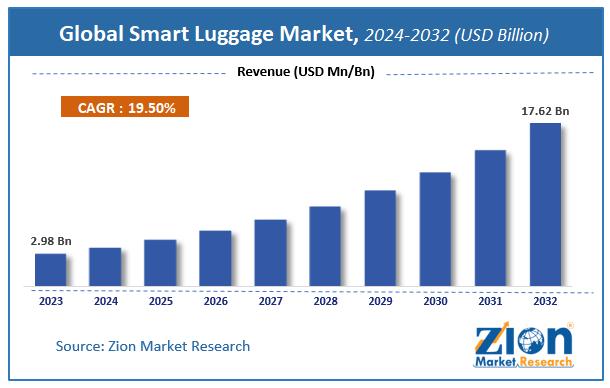 Request Free Sample
The report offers valuation and analysis of the Smart Luggage market on a global as well as regional level. The study offers a comprehensive assessment of the industry competition, restraints, revenue estimates, avenues, current & emerging trends, and industry-validated market information. The report offers historical data from 2016 to 2018 along with a forecast from 2019 to 2025 based on value (USD Million).
Smart Luggage Market: Outlook
Smart luggage industry is experiencing lucrative growth over the ensuing years with massive demand for bags as well as suitcases embedded with key features including Bluetooth, Wi-Fi hotspots, digital scaling, SIM cards, RFID, GPS, and built-in batteries. With rapid expansion of IoT and growing introduction of new technologies for luggage safety will culminate into high demand for smart luggage industry over the forecast timeframe.
Smart Luggage Market: Growth Drivers

Escalating customer trend towards leisure, style-quotient, and lifestyle is likely to prompt the expansion of smart luggage industry in the years ahead. Apart from this, surge in the internet penetration across the globe and rise in the air travel will prompt the technological breakthroughs in the coming years. Technological breakthroughs including automated locking, location & proximity alerts, smartphone connectivity, and tracking system are expected to steer the expansion of smart luggage market over the assessment timeline. Blending of smart luggage with analytics is set to offer new growth avenues for smart luggage industry over the assessment timeline.
Furthermore, onset of technologies including machine-to-machine interaction for offering high security to baggage is expected to help smart luggage industry gain momentum over the forecast timeline. With bags & luggage safeguarded with digital lock activation, the smart luggage industry is likely to gain traction over the assessment timeline.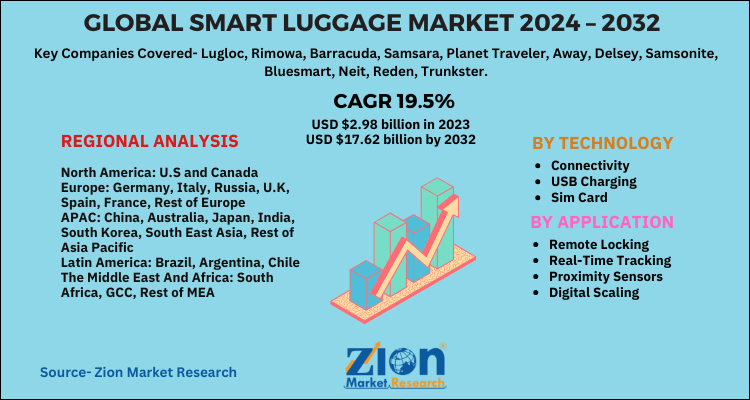 Request Free Sample
Opportunities
The travel sector has access to a variety of prospects for expansion and innovation thanks to the market for smart luggage. The term "smart luggage" refers to luggage that integrates electrical or digital features such as GPS tracking, built-in scales, USB charging outlets, and biometric locks. Smart luggage is becoming increasingly popular. The following are some opportunities available in the market for smart luggage:
Demand for convenience has increased as a result of an increase in the number of people travelling and the prevalence of busy lifestyles. As a result, customers are looking for luggage that provides convenience and makes the overall experience of travelling easier for them. Travelers can track their baggage, charge their electronic gadgets, and weigh their luggage with the help of the functions provided by smart luggage, which eliminates the need for any additional devices.
A growing interest in travel technology The travel industry is one that is continually undergoing change, and as a result, consumers are becoming increasingly interested in the incorporation of technology into their respective travel experiences. Smart baggage provides a means for passengers to maintain their connections and maintain their organisation even when on the move.
Increase in online business: Because purchasing online is so convenient, there has been a rise in the amount of online business conducted for travel items, especially luggage. By placing their wares on various online marketplaces and employing various digital marketing tactics, smart baggage makers have the opportunity to capitalise on this trend.
The travel sector is anticipated to continue expanding, particularly in developing nations, and as a result, there will be a greater demand for smart luggage as a result of this growth. As more people travel, there will be a greater demand for luggage that provides cutting-edge technologies and makes the experience of travelling more enjoyable.
Smart Luggage Market: Challenges
The market for smart luggage is confronted with a number of obstacles, including the following:
Restrictions imposed by the battery: Smart luggage often comes equipped with an internal battery that can be used to power features like as electronic locks, GPS tracking, and USB charging ports. However, certain airlines have set restrictions on the size and type of batteries that can be carried on board, which may limit the use of smart luggage as well as its attraction to customers.
Due to the increased amount of technology and functionality, the cost of smart luggage might be much more than the cost of regular luggage. It's possible that the extra price will dissuade some customers from purchasing smart luggage.
Compatibility: When it comes to the usage of smart luggage, the policies and restrictions of various airlines can vary greatly from one another. There is a possibility that certain airlines will not let passengers bring on board specific types or features of smart luggage, while others may need additional documentation or labelling.
Concerns about safety: Because of worries around cybersecurity and the possibility of hacking, some passengers may be reluctant to use smart luggage. If the electronic locks or tracking capabilities of smart baggage are broken into, the luggage may also be more susceptible to being stolen.
Repair and maintenance: The technology and electronics found in smart baggage might be difficult to understand, and as a result, the luggage may need expert maintenance or repair. Owning and utilising smart luggage can become more difficult and expensive as a result of this factor.
North America To Majorly Contribute Towards Overall Smart Luggage Industry Size By 2025
The expansion of smart luggage industry in North America over the forecast timeline is due to large-scale acceptance of technologically advanced luggage items. In addition to this, humungous presence of smart luggage manufacturers focusing on creating new products will prompt the business growth over the forecast timeline.
Key Market Players & Competitive Landscape
Key participants profiled in the study include
Lugloc
Rimowa
Barracuda
Samsara
Planet Traveler
Away
Delsey
Samsonite
Bluesmart
Neit
Reden
Trunkster.
The global smart luggage market is segmented as follows:
By technology:
Connectivity
USB Charging
Sim Card
By application:
Remote Locking
Real-Time Tracking
Digital Scaling
Others
By Region
North America
Europe

France
The UK
Spain
Germany
Italy
Rest of Europe

Asia Pacific

China
Japan
India
South Korea
Southeast Asia
Rest of Asia Pacific

Latin America

Brazil
Mexico
Rest of Latin America

Middle East & Africa

GCC
South Africa
Rest of Middle East & Africa