Description
The Smart Education & Learning market is set for a rapid growth over the forecast period. In terms of revenue, the global Smart Education & Learning market accounted for USD 208.42 Billion in 2019 and is expected to reach USD 741.32 Billion by 2026, growing at a CAGR of 19.87%
Global Smart Education & Learning Market: Overview
Smart education and learning is an electronic method of learning and education with the aid of learning software and application. Smart education and learning offer universal learning for students using new technologies and provide a paradigm change in student access to education. The method uses state-of-the-art technology to help teachers and learners train themselves. Smart education and learning can be achieved using innovative approaches such as digital learning environments, virtual schools, smartphones and others.
Smart education and learning enable students to communicate with other students via online teaching platforms and to engage in a discussion thread to resolve queries. Students may also evaluate themselves with other students within their field and check if their learning outcomes are satisfactory.
Smart education enables teachers to develop better instructional styles to meet the needs of students. Smart education and learning ensure continuous development by tracking the progress of learning goals. Smart education is making learning accessible to everyone through their smartphones and is a great tool for knowledge sharing.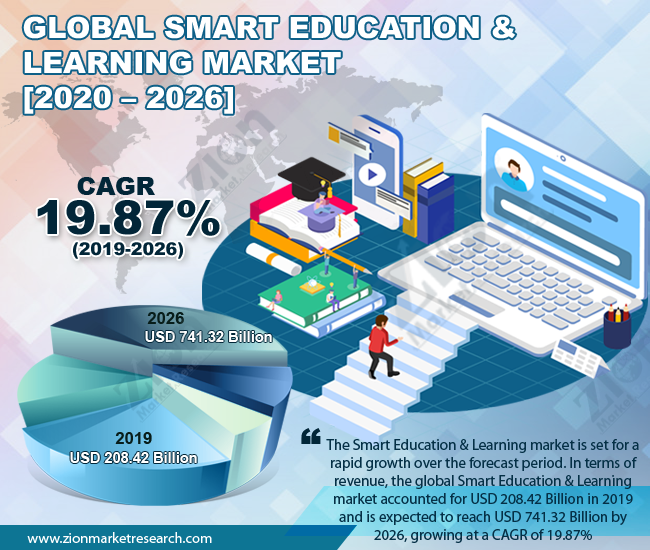 Global Smart Education & Learning Market: Growth Factors
The growing adoption of e-learning methods by business firms to coordinate successful training programs for their employees is one of the main factors contributing to the growth of the industry. The increasing demand for interactive learning strategies, such as mobile educational apps and gamification, is also anticipated to augment the market for smart education and learning.
Schools and universities across the globe are progressively committed to bringing more complex information distribution methods for better collaboration and efficiency with higher quality and accuracy. In addition, the idea of Bringing Your Own Device (BYOD) into classrooms has enabled learners to use their choice of technology-assisting devices in schools.
Smart education and learning approaches have seen an increase in popularity due to benefits such as cost-effectiveness, comfort and increased focus. In addition, these methods have allowed both teachers and learners to increase their performance and productivity. Partnerships and collaborations between hardware companies, software developers and service providers have resulted in enhanced smart teaching solutions. The market is expected to show substantial growth over the forecast period as a result of its widespread adoption by corporate professionals.
Continuous technological advances and increased accessibility of mobile communication devices are some of the other factors driving the industry. In addition, the growing promotion of digital teaching by developing nations enables schools and universities to follow smart education and learning methods. For instance, the Ontario Ministry of Education (Canada), in July 2019, introduced a programme under which it became mandatory to take four online courses for graduate high school students. As a result, the government's decisions on e-learning initiatives would have a direct effect on the Ontario smart education and learning market.
Impact due to the outbreak of COVID-19
The epidemic of COVID-19 (Coronavirus Disease) has been declared as a pandemic by the World Health Organization (WHO) and has had a significant impact on industry and the human condition. When people are forced to stay at home because of this outbreak, business organizations are expected to have a totally remote workplace in anticipation of the respective government's requirement to work from home (WFH). Schools are also encouraged to pursue smart education and learning by utilizing the Professional Learning and Development (PLD) programs to work from home with their students. The introduction of remote education and learning as a result of this epidemic is expected to have a positive effect on the development of the industry.
Organizations will seek an excellent opportunity to resolve their distance learning strategy by putting in place the right tools and planning for a similar scenario in the future. Companies must also ensure that students and tutors working remotely have the tools they need, such as VPNs, video conferencing solutions, and access to important documentation. In addition, governments around the world are recommending smart education and learning solutions and offering online tutorial portals. For example, the Government of New Zealand has purchased digital devices to be distributed among families who do not have one. As a result, the smart education and learning market has a tremendous potential to stimulate significant growth in the midst of the COVID-19 pandemic.
Global Smart Education & Learning Market: Segmentation
On the basis of stage segment, the undergraduates/graduates and corporate employees' segments are projected to demonstrate a significant CAGR of smart education and learning over the forecast timeframe. This rise is due to the continuous evolution of online corporate training programs to suit current technology and trends. It provides employees fast access to information across multiple devices. The increasing popularity of social media sites to address issues and questions and share experiences is also boosting the growth of this category.
On the basis of component segment, the service segment dominated the market in 2019, due to the availability of various smart education and learning platforms providing better-quality educational content in the form of learning videos, question banks, study notes, and test-prep materials. For example, the People's Republic of China, Ministry of Education provides the National Cloud Platform for Public Services and Educational resources that offers primary and secondary education students with free educational resources.
The hardware segment is expected to undergo a major change in its growth rate over the forecast period. Interactive whiteboards have become increasingly popular, and offer a more enhanced experience. They have a wide range of features, including digital pens, dry-erase surfaces, applications for communicating, and other multi-touch options.
In terms of end-user, the academic segment dominated the market in 2019. In addition, the corporate segment is projected to see strong growth over the coming years. The demand for smart education and learning strategies within the organizational environment can be attributed to a growing need to ensure that workers have the information and skills developed to mitigate potential challenges. Smart education and learning may also minimize some of the costs related to the provision of traditional education and learning services during the time when workers are not physically accessible.
Global Smart Education & Learning Market: Regional Analysis
By Geography, the smart education & learning market is segmented into North America, Europe, Latin America, Asia Pacific, and Middle East and Africa.
In North America, the industry accounted for the largest share of sales in 2019 and is expected to remain the dominant segment in the projected timeframe. This growth is due to the involvement of well-established suppliers of ICT solutions and a broad customer base. The region is expected to register a significant growth rate between 2020 and 2026. In addition, the demand for smart education and learning in South America is also projected to see substantial growth over the forecast period. It can be attributed to the introduction of emerging technology such as micro-learning, gamification, Massive Open Online Courses (MOOCs), and customized literacy programmes.
Asia Pacific is expected to see major growth in smart education and learning due to the presence of emerging economies such as China, India, and Japan. Moreover, the presence of government launched programs, such as government-funded rural literacy initiatives, are expected to boost the smart education and learning market.
Global Smart Education & Learning Market: Competitive Players
The major players in the global smart education & learning market include Cisco Systems, Inc., Adobe, Blackboard Inc., Educomp Solutions Ltd, D2L Corporation; McGraw-Hill, Ellucian Company L.P., Pearson, Samsung Electronics Co., Ltd., SumTotal Systems, LLC, SMART Technologies ULC and MPS Interactive Systems Limited among others.
The report segment of global smart education & learning market are as follows:
Global Smart Education & Learning Market: Stage Segment Analysis
Pre-Primary & Primary Stage
Middle Stage
Secondary & Higher-Secondary
Undergraduate & Postgraduate
Others (Corporate Employee's, etc.)
Global Smart Education & Learning Market: Component Segment Analysis
Hardware

Interactive Display
Student Response System

Software

Adaptive Learning Platform
Assessment System
Learning Management System (LMS)
Learning Content Management System
Others

Service

Managed and Professional Service
Education Content
Global Smart Education & Learning Market: Learning Mode Segment Analysis
Adaptive Learning
Blended Learning
Collaborative Learning
Social Learning
Simulation-Based
Virtual Instructor LED Training
Global Smart Education & Learning Market: End-User Segment Analysis
Corporate

Small & Medium Businesses
Large Enterprises

Academic
Global Smart Education & Learning Market: Regional Segment Analysis
North America
Europe

France
The UK
Spain
Germany
Italy
Rest of Europe

Asia Pacific

China
Japan
India
South Korea
Southeast Asia
Rest of Asia Pacific

Latin America

Brazil
Mexico
Rest of Latin America

Middle East & Africa

GCC
South Africa
Rest of Middle East & Africa