The report covers a forecast and an analysis of the skinlightening products market on a global and regional level. Thestudy provides historical data from 2015 to 2017 along with aforecast from 2018 to 2024 based on both volume (Kilotons) andrevenue (USD Million). The study includes drivers and restraintsfor the skin lightening products market along with the impact theyhave on the demand over the forecast period. Additionally, thereport includes the study of opportunities available in the skinlightening products market on a global level.
This report offers a comprehensive analysis of the global skinlightening products market along with market trends, drivers, andrestraints of the market. This report includes a detailedcompetitive scenario and product portfolio of the key vendors. Tounderstand the competitive landscape in the market, an analysis ofPorter's Five Forces model for the market has also been included.The study encompasses a market attractiveness analysis, wherein allthe segments are benchmarked based on their market size, growthrate, and general attractiveness.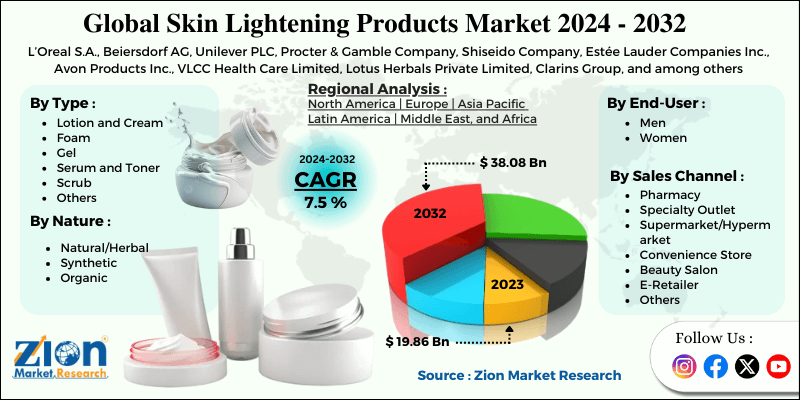 Request Free Sample
The study provides a decisive view of the skin lighteningproducts market by segmenting the market based on type, end-user,nature, distribution channel, and region. All the segments havebeen analyzed based on present and future trends and the market isestimated from 2018 to 2024. By type, the market is segmented intolotion and cream, foam, gel, serum and toner, scrub, and others.The end-user segment includes men and women. By nature, the marketis segmented into natural/herbal, synthetic, and organic. Bydistribution channel, the market is segmented into the pharmacy,specialty outlet, supermarket/hypermarket, convenience store,beauty salon, e-retailer, and others. The regional segment includesthe current and forecast demand for North America, Europe, AsiaPacific, Latin America, and the Middle East and Africa. Each regionhas been further segmented into major countries, such as the U.S.,UK, France, Germany, China, India, Japan, and Brazil.
The report covers a detailed competitive outlook including themarket share and company profiles of the key participants operatingin the global skin lightening products market, such as L'OrealS.A., Beiersdorf AG, Unilever PLC, Procter & Gamble Company,Shiseido Company, Estée Lauder Companies Inc., Avon Products, Inc.,VLCC Health Care Limited, Lotus Herbals Private Limited, andClarins Group, among others.
This report segments the global skin lightening productsmarket into:
Skin Lightening Products Market: TypeAnalysis
Lotion and Cream
Foam
Gel
Serum and Toner
Scrub
Others
Skin Lightening Products Market: End-UserAnalysis
Skin Lightening Products Market: NatureAnalysis
Natural/Herbal
Synthetic
Organic
Skin Lightening Products Market: Distribution ChannelAnalysis
Pharmacy
Specialty Outlet
Supermarket/Hypermarket
Convenience Store
Beauty Salon
E-Retailer
Others
Skin Lightening Products Market: RegionalAnalysis
North America
Europe
Asia Pacific
Latin America
Middle East and Africa