Industry Prospective:
The global silo bags market size was worth around USD 390 Million in 2022 and is predicted to grow to around USD 921 Million by 2030 with a compound annual growth rate (CAGR) of roughly 6.61% between 2023 and 2030. The report analyzes the global silo bags market drivers, restraints/challenges, and the effect they have on the demands during the projection period. In addition, the report explores emerging opportunities in the silo bags industry.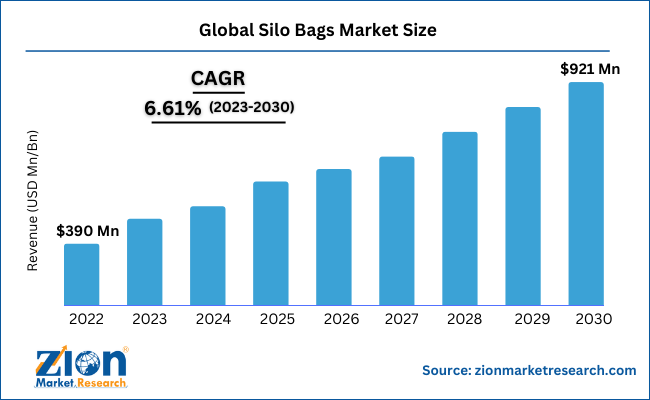 Request Free Sample
Silo Bags Market: Overview
Silo bags are also known as grain bags or silage bags. They are plastic tubes that are used to store agricultural products such as silage, haylage, and grain. In most cases, silo bags are made of multi-layered, high-density polyethylene (HDPE) plastic owing to their strength, flexibility, and impermeable nature against moisture or air, thus providing overall protection to the stored item. The bags can be filled using a forage harvester or grain cart. Once it is full, a specialized machine is required to seal the silo bags.
This machine ensures that the air content of the bag is removed before sealing thus creating an airtight seal which is helpful in preventing bacterial or mold growth. The sealed products remain free of any kind of damage while being stored and transported. The food and its nutritional value remain intact throughout the process.
Key Insights:
As per the analysis shared by our research analyst, the global silo bags market is estimated to grow annually at a CAGR of around 6.61% over the forecast period (2023-2030)
In terms of revenue, the global silo bags market size was valued at around USD 390 Million in 2022 and is projected to reach USD 921 Million, by 2030.
The silo bags market is projected to grow at a significant rate due to the growing demand for food
Based on capacity of bags segmentation, above 2000 mt was predicted to show maximum market share in the year 2022
Based on storage segmentation, dry grains was the leading storage in 2022
On the basis of region, North America was the leading revenue generator in 2022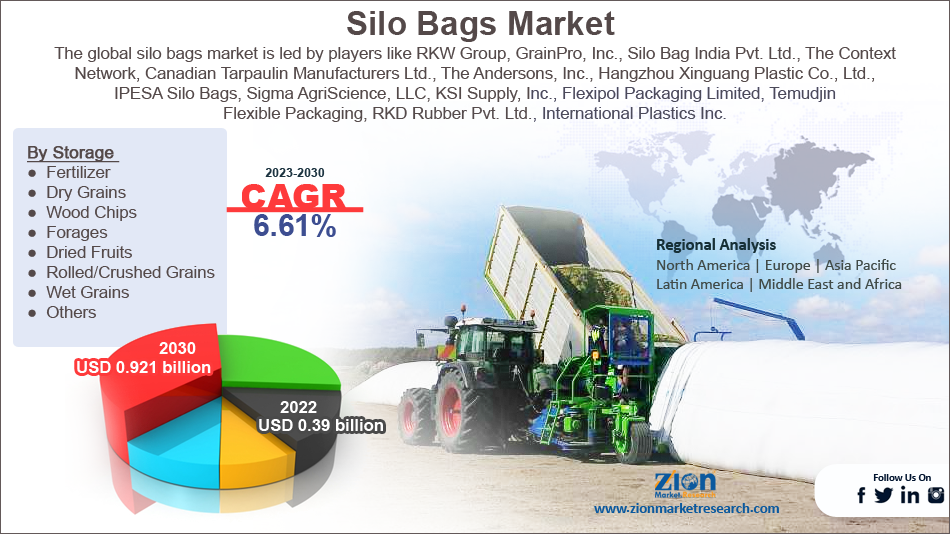 Request Free Sample
Silo Bags Market: Growth Drivers
Growing demand for food to drive market growth
The global silo bags market is projected to grow owing to the increasing demand for food products across the globe. The world population has already reached over 8 billion and it is expected to cross more than 9.5 billion by 2050 as per United Nations (UN) prediction. Since food is a basic human necessity, the growing rate of population is an indication of the tremendous amount of pressure on the agricultural sector globally. Government agencies along with private companies have started undertaking several initiatives to ensure an adequate supply of food grains to every person irrespective of financial or other backgrounds.
Silo bags are highly effective in ensuring the food content in the bag does not undergo any kind of damage due to external factors and hence they are desirable products in the agricultural sector. Furthermore, farmers are witnessing an extreme shortage of storage facilities and silo bags can act as an excellent source of storage at a relatively lower cost leading to higher consumption.
Silo Bags Market: Restraints
Environmental concerns to restrict the market growth
One of the key factors that are greatly impacting the global silo bags market growth is the growing environmental concerns over the use of silo bags since they are made of plastic, which are non-biodegradable and take multiple years to completely degrade from the ecosystem. This has led to a large number of consumers switching to other modes of storing food grains which are expected to cause less strain on the environment. While there are growing measures to develop more environmentally friendly silo bags, their durability remains questionable.
Silo Bags Market: Opportunities
Expansion into new markets to present high growth opportunities
The global silo bags industry players can expect higher growth opportunities owing to the rising number of players entering previously untapped markets or emerging economies to produce and sell silo bags. These storage units are less expensive as compared to more traditional forms of food storage. They do not require extensive initial investment. Thus, in countries that are witnessing a sharp decline in the availability of large storage units, these bags can be highly resourceful. Market players need to tap into these segments and market the product for better growth prospects.
Silo Bags Market: Challenges
Price volatility to challenge market growth
The global silo bags industry faces challenges in terms of the high price volatility of raw materials required to manufacture silo bags. One of the key components used in the production process is a plastic resin which is subject to price fluctuations making it difficult for the manufacturers to maintain consistent pricing and profitability. Additionally, the growing competition from alternative solutions could act as another significant roadblock in the industry.
Silo Bags Market: Segmentation
The global silo bags market is segmented based on capacity of bags, storage, and region.
Based on capacity of bags, the global market segments are up to 2000 mt and above 2000 mt. In 2022, the industry witnessed the highest growth in silo bags with a capacity above 2000 mt since they are most commonly used for large-scale storage of food grains such as grains, rice, corn, and soybeans. These bags have higher commercial applications and hence generate more revenue as companies have bigger budgets as compared to individual or smaller players in the agricultural sector. Using these bags, large amounts of food grain can be stored for a longer duration. Generally, smaller firms of individual farmers tend to use silo bags under the capacity of 2000 mt. According to the United States Department of Agriculture (USDA), Russia produced an estimated 85 million metric tons (MMT) of wheat and 13 MMT of barley in 2020.
Based on storage, the global silo bags market divisions are fertilizer, dry grains, wood chips, forages, dried fruits, rolled/crushed grains, wet grains, and others. The most commonly stored items in silo bags are dry grains such as corn, wheat, rice, soybeans, and barley. These products are further used in the production of food, feed, and industrial raw materials. Under such circumstances, silo bags are highly cost-effective since not only do they allow longer storage of food items but also ensure the nutritional value of the items remains intact. Hence they act as excellent storage solutions for farmers and corporations alike. According to the Food and Agriculture Organization (FAO) of the United Nations, estimates say that approximately 25% of the world's food production is lost or wasted every year due to various factors, such as moisture, pests, and other causes.
Recent Developments:
In September 2022, Marcher Brasil announced the launch of a new food extractor tool called OUTGRAIN211. The machine effectively removes stored food grains from silo bags. The product is known to be efficient, safe, and quick, and promotes zero losses. OUTGRAIN211 was launched at the Expointer 2022 and has promised to make the most of the storage system by avoiding grain contamination
In October 2022, Adani Agri Logistics Ltd, a part of the Adani Group, announced signing a contract with the Food Corporation of India (FCI) for building 4 silo complexes across Bihar and Uttar Pradesh states of India. These units are expected to improve silo storage capacity by 3.5 lakh tonnes.
Silo Bags Market: Report Scope
Report Attributes
Report Details
Report Name
Silo Bags Market Research Report
Market Size in 2022
USD 390 Million
Market Forecast in 2030
USD 921 Million
Growth Rate
CAGR of 6.61%
Number of Pages
195
Key Companies Covered
RKW Group, GrainPro, Inc., Silo Bag India Pvt. Ltd., The Context Network, Canadian Tarpaulin Manufacturers Ltd., The Andersons, Inc., Hangzhou Xinguang Plastic Co., Ltd., IPESA Silo Bags, Sigma AgriScience, LLC, KSI Supply, Inc., Flexipol Packaging Limited, Temudjin Flexible Packaging, RKD Rubber Pvt. Ltd., International Plastics Inc., Global-Pak, Inc., Blue Lake Plastics, LLC, PT. Delta Jaya Mas, Grain Bags Canada, RKW North America, Inc., Gaoqing Kuanbao Plastic Products Co., Ltd., Tianjin Yingtong Metal Products Co., Ltd., GreenBag America, Inc., Hangzhou Zon Packaging Machinery Co., Ltd., ESKO s.r.l., and Trucent.
Segments Covered
By Capacity of Bags, By Storage, And By Region
Regions Covered
North America, Europe, Asia Pacific (APAC), Latin America, Middle East, and Africa (MEA)
Base Year
2022
Historical Year
2017 to 2021
Forecast Year
2023 - 2030
Customization Scope
Avail customized purchase options to meet your exact research needs. Request For Customization
Silo Bags Market: Regional Analysis
North America to witness massive growth rate
The global silo bags market is expected to witness the highest growth rate in North America with the US acting as the dominant nation. The United States is one of the largest producers of agricultural products such as corn, soybeans, and wheat. As the demand for efficient and cost-effective storage solutions is on the rise, the production and consumption of silo bags in the region may also witness a high growth rate. Europe is another significant contributor to the global industry with Germany and the US leading with higher CAGR due to the growing adoption of modern-age farming practices along with the need for flexible storage units. In Asia-Pacific, the growth may be the result of higher agricultural production in Russia, India, and China. Agriculture is the primary occupation in India and these regions collectively export a large number of food products. They are also registering high domestic demand as the population continues to rise.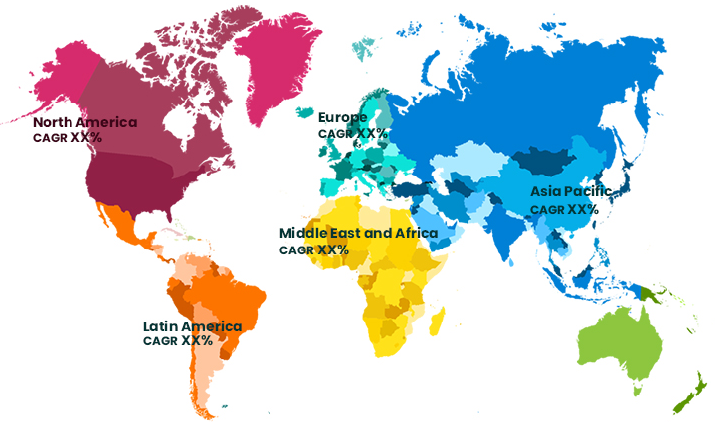 Request Free Sample
Silo Bags Market: Competitive Analysis
The global silo bags market is led by players like:
RKW Group
GrainPro Inc.
Silo Bag India Pvt. Ltd.
The Context Network
Canadian Tarpaulin Manufacturers Ltd.
The Andersons Inc.
Hangzhou Xinguang Plastic Co. Ltd.
IPESA Silo Bags
Sigma AgriScience LLC
KSI Supply Inc.
Flexipol Packaging Limited
Temudjin Flexible Packaging
RKD Rubber Pvt. Ltd.
International Plastics Inc.
Global-Pak Inc.
Blue Lake Plastics LLC
PT. Delta Jaya Mas
Grain Bags Canada
RKW North America Inc.
Gaoqing Kuanbao Plastic Products Co. Ltd.
Tianjin Yingtong Metal Products Co. Ltd.
GreenBag America Inc.
Hangzhou Zon Packaging Machinery Co. Ltd.
ESKO s.r.l.
Trucent.
The global silo bags market is segmented as follows:
By Capacity of Bags
Up to 2000 mt
Above 2000 mt
By Storage
Fertilizer
Dry Grains
Wood Chips
Forages
Dried Fruits
Rolled/Crushed Grains
Wet Grains
Others
By Region
North America
Europe

France
The UK
Spain
Germany
Italy
Rest of Europe

Asia Pacific

China
Japan
India
South Korea
Southeast Asia
Rest of Asia Pacific

Latin America

Brazil
Mexico
Rest of Latin America

Middle East & Africa

GCC
South Africa
Rest of Middle East & Africa