According to the report published by Zion Market Research, global demand for Agricultural Packaging market was valued at approximately USD 4.2 Billion in 2019, and is expected to generate revenue of around USD 6.1 Billion by end of 2026, growing at a CAGR of around 5.5 % between 2020 and 2026.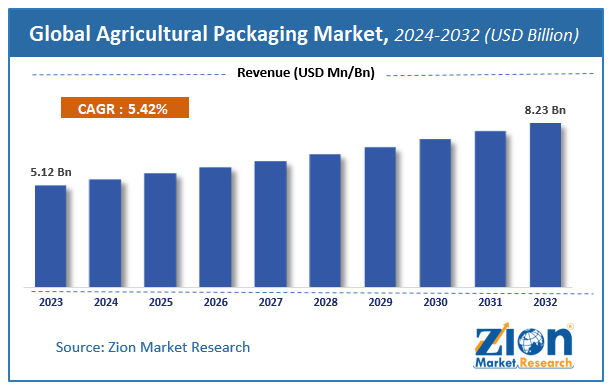 Request Free Sample
Global Agricultural Packaging Market: Overview
Packaging is referred to as fifth 'P' of the marketing mix with agricultural packaging helping in retention of the original properties of agro-based products that are packaged and transported to grocery & retail stores. Implementation of accurate agricultural packaging is vital for shipping as well as delivering fresh and cost-efficient products. Agricultural packaging provides heat ventilation and enhances the rate of cooling of packaged content. At the time of transit and material handling, agricultural packaging assists in minimizing the damage to packaged items.
Global Agricultural Packaging Market: Growth Factors
The burgeoning requirement of convenient as well as user-friendly packaging for agricultural products is anticipated to expedite agricultural packaging market growth over the years to come. In addition, agricultural packages offer oxygen and moisture barrier, thereby improving the shelf-life of the agro-based products. This, in turn, is likely to help agricultural packaging market garner hefty returns in the ensuing years. Massive need for sustainable packaging of agro-based products for withstanding severe atmospheric conditions such as rain and sunlight will further catapult the agricultural packaging market growth in the next seven years. Furthermore, escalating demand for raising the shelf life of pesticides and fertilizers as well as agrochemicals is likely to help agricultural packaging market accrue huge proceeds in the years ahead.
However, the major factors obstructing the growth of agricultural packaging market include oscillation in raw material costs along with the reuse of discarded or outdated packaging materials.
Global Agricultural Packaging Market: Segmentation
The global agricultural packaging market can be divided based on material, product, barrier strength, and application. On the basis of material, the market is segmented into plastic, composites, metal, and paper & paperboard among others. In terms of product type, the market is fragmented to pouches & bags, bottles & cans, and drums among others. Based on barrier strength, the market is sectored into low, high, and medium types. On the basis of application, the agricultural packaging market is categorized into biologicals, chemical pesticides, and chemical fertilizers.
Region-wise, the global market is segregated into North America, Europe, Asia Pacific, Latin America, and Middle East & Africa.
Global Agricultural Packaging Market: Regional Analysis
The Asia Pacific was anticipated to account for the major share of agricultural packaging market in 2018 and is predicted to dominate the business in the ensuing years. The growth can be attributed to the escalating focus of the major industry players targeting agricultural packaging business in APAC. The rise in the agricultural yield coupled with accelerated growth witnessed in plethora of end-use industries such as seed and pesticides & fertilizers is anticipated to steer Asia Pacific agricultural packaging market size in the years ahead. North America agricultural packaging market is expected to be the second largest market over the next seven years after APAC. Latin America and the Middle East & African markets are anticipated to demonstrate lucrative growths in the coming years, owing to the thriving farming sector in these regions.
Global Agricultural Packaging Market: Competitive Players
Some main participants of the agricultural packaging market are Amcor Limited, Bemis Company, Inc., Sonoco Products Company, Greif Inc., and Mondi Group. Some emerging players in the agricultural packaging market include Packaging Corporation of America, LC Packaging International BV, Kenvos Biotech Co., Ltd., Flex-Pack, NNZ Group, Silgan Holdings, Inc., Proampac LLC, Purity Flexpack Limited, Epac Holdings LLC, and Parakh Group among others.
Agricultural Packaging Market: Regional Segment Analysis
North America
Europe

France
The UK
Spain
Germany
Italy
Rest of Europe

Asia Pacific

China
Japan
India
South Korea
Southeast Asia
Rest of Asia Pacific

Latin America

Brazil
Mexico
Rest of Latin America

Middle East & Africa

GCC
South Africa
Rest of Middle East & Africa