Set-Top Box (STB) Industry Prospective:
The global set-top box (STB) market size was worth around USD 20.31 billion in 2022 and is predicted to grow to around USD 28.90 billion by 2030 with a compound annual growth rate (CAGR) of roughly 4.51% between 2023 and 2030.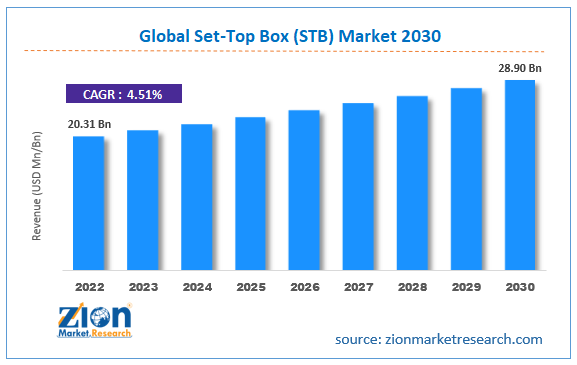 Request Free Sample
Set-Top Box (STB) Market: Overview
A set-top box (STB) is a hardware tool used for receiving, decoding, and displaying digital signals on a television. The signal can be received through a telephone connection or a cable and can be an Internet data or television signal. During the initial days of product innovation and use, STBs were mainly used for satellite and cable television. They were equipped with technology that allowed them to display more channels than the television's numbering system. They worked by receiving signals for multiple channels and displaying the ones that a user preferred or wanted and the channels were transmitted using an auxiliary channel on the television. However, modern set-top boxes are capable of conducting two-way communication. They allow interactive features such as the addition of premium channels by incorporating Internet access or directly from the device. STBs are of several types including cable converter boxes, TV signal sources, Internet Protocol TV (IPTV), hybrid, and professional set-top boxes with each variant showing specific applications and advantages. The market for set-top boxes is expected to receive growth opportunities during the projection period.
Key Insights:
As per the analysis shared by our research analyst, the global set-top box (STB) market is estimated to grow annually at a CAGR of around 4.51% over the forecast period (2023-2030)
In terms of revenue, the global set-top box (STB) market size was valued at around USD 20.31 billion in 2022 and is projected to reach USD 28.90 billion, by 2030.
The set-top box market is projected to grow at a significant rate due to the growing innovation in STB technology
Based on application segmentation, residential was predicted to show maximum market share in the year 2022
Based on product segmentation, OTT was the leading segment in 2022
On the basis of region, Asia-Pacific was the leading revenue generator in 2022
Set-Top Box (STB) Market: Growth Drivers
Growing innovation in STB technology to drive market growth
The global set-top box (STB) market is expected to grow owing to the increasing innovation in STB technology. Set-top box manufacturers are working toward improved features that directly have an impact on the overall consumer experience. Key parameters such as advanced graphics, increased computation power, and integration with machine learning capabilities are being tested for better performance delivery. As per recent projections, the demand for highly advanced and technologically rich set-top boxes is expected to be higher during the forecast period. The difference between traditional and modern STBs is that the former typically dealt with cable TV channels while modern versions tend to accommodate content provided by Retail Over-the-Top (OTT) services such as Google Chromecast, Amazon Fire, and others.
The consumer expectations from digital devices are rapidly evolving since the entertainment options at present times are many. Set-top box producers are focusing on ensuring improved content delivery in the form of 4K video along with Artificial Intelligence (AI) super-resolution. Additionally providing improved camera support, voice user interface (UI), and accommodating gaming programs & fitness programs is expected to attract more customers. In August 2023, Airtel, a leading direct-to-home (DTH) service provider, announced that it would soon be launching a new model of Xstream. As per official data, the new STB version is expected to be manufactured by Arris and will be able to run the Android 12 OS out of the box. Airtel Xstream is a hybrid STB and works as a combination of Android TV and DTH.
Set-Top Box (STB) Market: Restraints
Growing popularity of OTT streaming channels to restrict the market growth
The global set-top box market growth will be restricted due to the increasing popularity of OTT service providers such as Netflix, Amazon Prime Video, Disney Hotstar, and other regional digital content providers. These services can be accessed on other electronic devices such as laptops, tablets, and smartphones and do not necessarily require STB for displaying content on screen. Consumers are increasingly preferring portable mediums over large and stationary sets of digital entertainment since they offer on-the-go accessibility. Furthermore, large OTT companies provide global content, unlike cable STBs that generally cater to regional content only. Other advantages of OTT services are view-on-demand features, a subscription-based model, profile-sharing options, and personalized recommendations.
Set-Top Box (STB) Market: Opportunities
Growing collaborations between STB producers and entertainment partners may create expansion possibilities
The global set-top box (STB) industry is projected to come across higher growth opportunities due to the increasing strategic and future-oriented collaborations between STB manufacturers and entertainment partners or other associated companies to improve product performance and content delivery. This trend can be witnessed across the globe as the global industry worldwide is seeking measures to ensure consumer satisfaction. In June 2023, Amlogic, an American fabless semiconductor company, and one of the Middle East's leading TV entertainment companies for providing must-see, premium content, OSN announced a partnership for the production of Synamedia-protected, a first-of-its-kind hybrid set-top box for OSNtv. The new STB will be powered by Android TV version R and is announced to be integrated with Google Common Broadcast Stack (CBS).
Increasing trend of TV upgrades is likely to have a positive impact on STB demand
The rise in the middle income group and higher disposable income along with several other favorable factors have resulted in a growing trend of upgrading older TV sets with new and highly efficient TV sets. This creates growth opportunities for the set-top box industry as consumers tend to invest in superior-grade STBs for a better viewing experience. Furthermore, as feature-rich televisions start falling in an affordable range, the demand for TVs and subsequently that of STBs will rise.
Set-Top Box (STB) Market: Challenges
Growing demand for smart devices with integrated solutions to challenge market growth trajectory
Consumers are increasingly preferring digital solutions that can reduce the number of electronic devices. Hence, there is a growing demand for smart devices offering integrated solutions such as smart TVs that also have STB features and do not require support from externally connected set-top boxes. Additionally, the global set-top box market players also face growth barriers since STBs are vulnerable to technological obsolescence as the market is filled with multiple players continuously investing in upgraded versions of existing set-top boxes.
Set-Top Box (STB) Market: Segmentation
The global set-top box (STB) market is segmented based on application, quality of content, product, operating system, and region.
Based on application, the global market segments are commercial and residential. In 2022, the highest growth was witnessed in the residential segment. It dominated more than 88.12% of the total share mainly driven by the increasing demand for television sets in residential settings. The growing sale of high-grade TV units for entertainment purposes along with access to high-resolution and greater features-enabled set-top boxes are the main reasons for the high growth rate. During the forecast period, the commercial segment is expected to grow at a CAGR of 2.1%.
Based on quality of content, the set-top box industry segments are 4K & above, and HD or full HD.
Based on product, the global set-top box market is divided into DTT, OTT, IPTV, cable, and satellite. During the projection period, the OTT segment will grow at a CAGR of 6.12% driven by an increasing rate of technological development in terms of high-resolution picture quality and superior sound performance. Some of the most well-accepted features of OTT include accessible time-shifted viewing and simple payment methods. The cable segment will enjoy a market share of over 23.5% as high-potential television shows are continuously being produced on a large scale.
Based on operating system, the global market divisions are Linux, Android, and others.
Set-Top Box (STB) Market: Report Scope
Report Attributes
Report Details
Report Name
Set-Top Box (STB) Market
Market Size in 2022
USD 20.31 Billion
Market Forecast in 2030
USD 28.90 Billion
Growth Rate
CAGR of 4.51%
Number of Pages
224
Key Companies Covered
Technicolor, Arris, Google, ZTE, Corporation, Amino Communications, Skyworth, Humax, Amazon, Samsung, Huawei, LG Electronics, Apple, Xiaomi, and others.
Segments Covered
By Application, By Quality of Content, By Product, By Operating System, and By Region
Regions Covered
North America, Europe, Asia Pacific (APAC), Latin America, Middle East, and Africa (MEA)
Base Year
2022
Historical Year
2017 to 2021
Forecast Year
2023 - 2030
Customization Scope
Avail customized purchase options to meet your exact research needs. Request For Customization
Set-Top Box (STB) Market: Regional Analysis
Asia-Pacific to emerge as the highest revenue generator by 2030
The global set-top box (STB) market will be led by Asia-Pacific during the forecast period. It held dominance over 44.5% of the global revenue in 2022 mainly due to the extreme popularity of cable TV channels in Asian countries especially nations such as India, South Korea, Bangladesh, and others. The cable TV industry in Asia has a high number of consumers. Furthermore, the number of STB providers is growing rapidly along with a rising rate of technological development. In August 2022, Tata Sky, an Indian subscription-based Satellite TV service provider, announced the launch of a new STB in the Indian market called TataSky Binge + retailing at INR 5999. The new device is compatible with Android TV and also with popular applications such as Google Play Store.
Europe is a significant market with high growth potential. The increasing demand for high-resolution STBs is an important growth driving factor. In June 2021, British Telecommunications plc announced the launch of a new 4K STB to support the next-generation TV viewing experience.
Set-Top Box (STB) Market: Competitive Analysis
The global set-top box (STB) market is led by players like:
Technicolor
Arris
Google
ZTE
Corporation
Amino Communications
Skyworth
Humax
Amazon
Samsung
Huawei
LG Electronics
Apple
Xiaomi
The global set-top box (STB) market is segmented as follows:
By Application
By Quality of Content
By Product
DTT
OTT
IPTV
Cable
Satellite
By Operating System
By Region
North America
Europe

France
The UK
Spain
Germany
Italy
Rest of Europe

Asia Pacific

China
Japan
India
South Korea
Southeast Asia
Rest of Asia Pacific

Latin America

Brazil
Mexico
Rest of Latin America

Middle East & Africa

GCC
South Africa
Rest of Middle East & Africa