Abstract
The report analyzes and forecasts smart stadium market on a global and regional level. The study offers past data of 2015 to 2017 along with forecast from 2018 to 2023 based on revenue (USD Billion). Assessment of smart stadium market dynamics gives a brief thought about the drivers and restraints for the smart stadium market along with the impact they have on the demand over the years to come. Additionally, the report also includes the study of opportunities available in the smart stadium market on a global level.
The report gives a transparent view on the smart stadium market. We have included a detailed competitive scenario and portfolio of leading vendors operative in the global smart stadium market. To understand the competitive landscape in the smart stadium market, an analysis of Porter's Five Forces model for the smart stadium market has also been included. The report also covers patent analysis with bifurcation into patent trend, patent by company and patent by region. The study encompasses a market attractiveness analysis, wherein software, services, deployment,and regional segments are benchmarked based on their market size, growth rate and general attractiveness.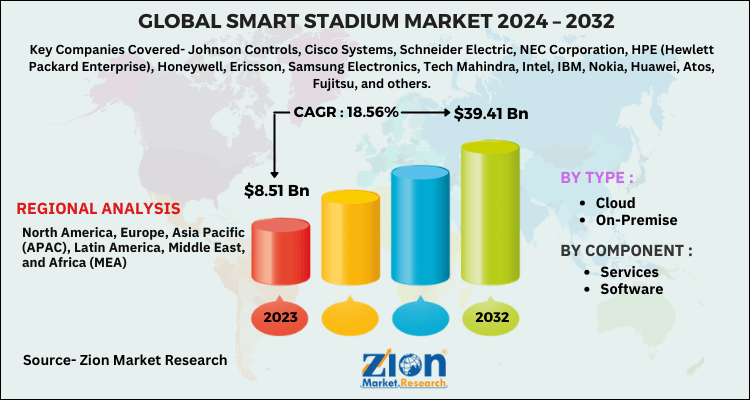 The study provides a crucial view of the smart stadium market by segmenting the market-based software, services, deployment, and region. All the segments of smart stadium market have been analyzed based on present and future trends and the market is estimated from 2018 to 2023. Based on software, global smart stadium market is bifurcated into stadium & public security, building automation, event management, network management, digital content management, and crowd management. Consulting, deployment, and support are the service segments of the global smart stadium market. Based on deployment the market is divided into on-premises and on-cloud. The regional segmentation comprises the current and forecast demand for the Middle East & Africa, North America, Asia Pacific, Latin America and Europe for smart stadium market with further country level bifurcation as U.S, UK, France, Germany, China, Japan, India, and Brazil among others is included in the report.
The competitive profiling of noticeable players of smart stadium market includes company and financial overview, business strategies adopted by them, their recent developments and product offered by them which can help in assessing competition in the market. Noticeable players included in the report are Huawei Technology Co. Ltd, Intel Corp., NEC Corp., Cisco System Inc., International Business Machine Corporation, Fujitsu, Johnson Controls, Tech Mahindra Ltd., Volteo, and GP Smart Stadium among others.
The report segments of the global smart stadium market are as follows:
Global Smart Stadium Market: Software Segment Analysis
Digital Content Management
Stadium & Public Security
Building Automation
Network Management
Event Management
Crowd Management
Global Smart Stadium Market: Service Segment Analysis
Consulting
Deployment
Support
Global Smart Stadium Market: Deployment Segment Analysis
Global Smart Stadium Market: Regional Segment Analysis
North America
Europe
Asia Pacific
Latin America
Middle East and Africa