School Uniform Industry Prospective:
The global school uniform market size was worth around USD 15.90 billion in 2022 and is predicted to grow to around USD 25.75 billion by 2030 with a compound annual growth rate (CAGR) of roughly 6.25% between 2023 and 2030.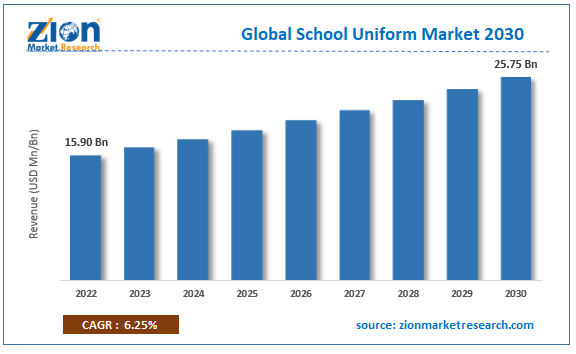 Request Free Sample
School Uniform Market: Overview
A school uniform is a type of costume worn by students across educational levels including primary and senior students. A school uniform is considered a representation of the educational institute a student belongs to. A typical uniform consists of shirts, skirts for female students, and trousers and shirts for male students. Additionally, the uniform also consists of other apparel items including formal shoes and neckties for all student genders. Each school or education facility decides the color scheme and design for school uniforms. They may also choose to add other accessories such as scarves and blazers depending on school preference. The idea of students wearing school uniforms is well accepted in certain countries and cultures but many governments have opposed the idea of school uniform mandates. The main purpose of school uniforms is to create a sense of equality among students when they are on school premises. However, the efficiency of school uniforms in achieving harmony and equality has been questioned multiple times. The demand for school-oriented costumes is expected to continue growing but will also have to deal with certain growth restrictions and challenges.
Key Insights:
As per the analysis shared by our research analyst, the global school uniform market is estimated to grow annually at a CAGR of around 6.25% over the forecast period (2023-2030)
In terms of revenue, the global school uniform market size was valued at around USD 15.90 billion in 2022 and is projected to reach USD 25.75 billion, by 2030.
The school uniform market is projected to grow at a significant rate due to the growing number of public and private schools worldwide
Based on end-user segmentation, middle or senior high school was predicted to show maximum market share in the year 2022
Based on form segmentation, traditional wear was the leading segment in 2022
On the basis of region, Asia-Pacific was the leading revenue generator in 2022
School Uniform Market: Growth Drivers
Growing number of public and private schools worldwide to drive market demand
The global school uniform market is expected to grow due to the increasing number of private and public schools across the globe. Several countries including nations such as Japan, India, South Korea, the United Kingdom, New Zealand, Indonesia, and African regions have emphasized the importance of school uniforms and drafted mandatory regulatory laws that all schools and students must follow. School uniforms are a measure in which schools and educational facilities aim to prevent any form of discrimination among students since all learners are dressed in the same attire and hence they cannot be distinguished based on their financial or social status. This is difficult to achieve when students are free to choose what they wear on school premises as students belonging to a strong financial background may wear more expensive clothes. Furthermore, another critical aspect of school uniforms is to teach students the importance of discipline. Research indicates that wearing uniforms is known to bring a sense of unity and order or conduct in students. Although the idea has been debated in several countries in terms of its efficiency, a growing number of countries continue to believe in the theory.
The demand for quality education is growing rapidly as the world population continues to expand. Primary education is considered a basic right for all citizens including young children. As private and public schools continue to grow in terms of student reach, the demand for uniforms will grow simultaneously. As per official reports, the Australian government plans to open around 100 new schools between 2019 and 2026 while on the other hand as of July 2023, South Korea was planning on drafting in which the burgeoning impact of the expensive private education sector can be curbed.
School Uniform Market: Restraints
Additional cost to parents and guardians as students outgrow school uniforms is an area of concern
School uniforms tend to increase the cost burden on parents and guardians as they can be expensive, especially the ones made of high-grade materials. This aspect is one of the crucial school uniform industry concerns. Students tend to frequently outgrow their uniforms as they are still in their developing phase. Additionally, in most schools, the uniform differs in pattern and color when students from one grade to another, especially from primary to secondary education. The cost of education is growing every year as additional expenses such as tuition fees, bus fees, and extracurricular activity charges are added to the overall education spending. The currently rising inflation rate globally and the high cost of the uniform may work in tandem to restrict market growth.
School Uniform Market: Opportunities
Rising demand and supply of environmentally friendly uniforms to create growth opportunities
The global school uniform market is expected to gain growth opportunities due to the growing demand for school uniforms. The massive piling of large volumes of textile waste is an environmental concern. School uniforms are a part of the waste generated from the textile industry leading to an expanding growth scope for the production of eco-friendly school uniforms. Several government-aided and private schools have mandated wearing uniforms made from sustainable clothing material since they are also beneficial to the students as they are chemical-free. In June 2023, Nadeen School Bahrain announced that the students would be wearing sustainable uniforms by promoting reusability as the school has tied up with Kapes for the supply of the new uniform sets. In addition to this, the school is also promoting several other environment-oriented green initiatives to foster better environmental consciousness among its students.
School Uniform Market: Challenges
Conflicting views on the impact of school uniforms on students' behavior need more attention for acceptance
The global school uniform market is plagued with a general lack of standardization policies in terms of the impact that school uniforms are expected to have on students' behavior and attitudes. While certain countries have been accepting of these costumes, many schools in other countries such as the US do not promote wearing school uniforms in schools. The Philippines Department of Education has eliminated the need for school uniforms from all public schools. This leads to a high loss of potential revenue.
School Uniform Market: Segmentation
The global school uniform market is segmented based on end-user, type, form, material type, and region.
Based on end-user, the global market segments are middle or senior high school, primary school, college, and others. In 2022, the highest growth was registered in the middle or senior high school group since students studying in these grades are expected to follow the school dress code, and strict implementation policies are drafted to ensure compliance. Primary school students especially in nursery and lower grades may not necessarily have to wear school uniforms. As per research, in 2018, the cost of average school uniforms in the United Kingdom was around £191 while in 2023, the cost has reached £230.
Based on type, the school uniform industry divisions are skirts, trousers, shirts, sweaters & blazers, tracksuits, and others.
Based on form, the global school uniform industry is divided into sportswear and traditional wear. In 2022, the highest revenue was generated from the traditional wear segment. These types of school uniforms are worn almost on all days except special days except days on which specially made garments such as sports uniforms are supposed to be worn. Traditional wear deals with the same type of dress for all school students. The increasing investments in public school funding along with subsidies for families with limited income may assist in higher segmental growth. Between 2010 and 2020, Germany spent nearly USD 195 billion on public education.
Based on material type, the global market divisions are cotton, polyester, and other materials.
School Uniform Market: Report Scope
Report Attributes
Report Details
Report Name
School Uniform Market
Market Size in 2022
USD 15.90 Billion
Market Forecast in 2030
USD 25.75 Billion
Growth Rate
CAGR of 6.25%
Number of Pages
217
Key Companies Covered
R. J. McCarthy Ltd., Lands' End, Schoolbelles, French Toast, Marks & Spencer, FlynnO'Hara, Walmart School Uniforms, Trutex, Dennis School Uniforms, Dresscode, Tesco School Uniform, Globe Uniforms, Classroom School Uniforms, Debenhams, M&S Schoolwear, and others.
Segments Covered
By End-Use, By Type, By Form, By Material Type, and By Region
Regions Covered
North America, Europe, Asia Pacific (APAC), Latin America, Middle East, and Africa (MEA)
Base Year
2022
Historical Year
2017 to 2021
Forecast Year
2023 - 2030
Customization Scope
Avail customized purchase options to meet your exact research needs. Request For Customization
School Uniform Market: Regional Analysis
Asia-Pacific will register a massive growth rate during the forecast period
The global school uniform market is expected to witness the highest growth in Asia-Pacific since many Asian countries have strict provisions that necessitate the wearing of school uniforms for primary and secondary school students. Countries such as India, South Korea, Japan, China, Thailand, Vietnam, and Singapore are the leading nations in terms of school uniform revenue. India and China are home to more than one-third of the world's total population and form an extensive market for dress codes to be followed in schools including the ones funded by private sector and state-run centers. The growing investments in the public education system are expected to further push regional growth trends.
Europe will be acting as a crucial revenue generator since the schools in European countries are swiftly moving toward eco-friendly options. The backdrop of growing initiatives toward inclusivity in schools and the need for a gender-neutral dress code has resulted in schools becoming more creative with their uniforms. In September 2023, School Uniform Direct and The Direct Co Group announced the launch of the world's first unisex blazer and addressed urgent sustainable needs in the school wear sector. The companies have already received partnership deals with almost 70 schools as the feedback from parents and schools has been promising.
School Uniform Market: Competitive Analysis
The global school uniform market is led by players like:
R. J. McCarthy Ltd.
Lands' End
Schoolbelles
French Toast
Marks & Spencer
FlynnO'Hara
Walmart School Uniforms
Trutex
Dennis School Uniforms
Dresscode
Tesco School Uniform
Globe Uniforms
Classroom School Uniforms
Debenhams
M&S Schoolwear
The global school uniform market is segmented as follows:
By End-Use
Middle or Senior High School
Primary School
College
Others
By Type
Skirts
Trousers
Shirts
Sweaters & Blazers
Tracksuits
Others
By Form
By Material Type
Cotton
Polyester
Other Materials
By Region
North America
Europe

France
The UK
Spain
Germany
Italy
Rest of Europe

Asia Pacific

China
Japan
India
South Korea
Southeast Asia
Rest of Asia Pacific

Latin America

Brazil
Mexico
Rest of Latin America

Middle East & Africa

GCC
South Africa
Rest of Middle East & Africa