Industry Prospective:
The global roofing underlayment market size was worth around USD 26.60 Billion in 2022 and is predicted to grow to around USD 40.06 Billion by 2030 with a compound annual growth rate (CAGR) of roughly 5.42% between 2023 and 2030.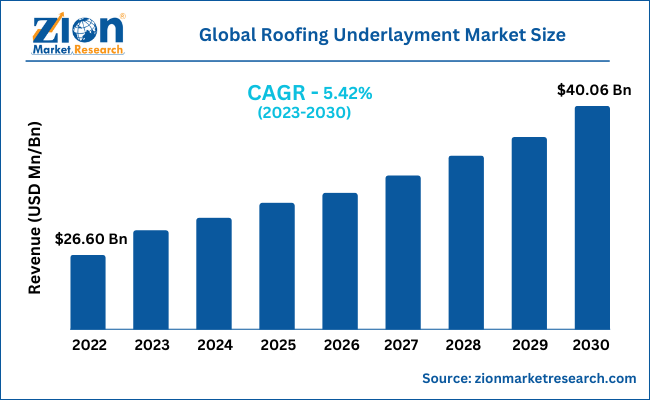 Request Free Sample
The report analyzes the global roofing underlayment market drivers, restraints/challenges, and the effect they have on the demands during the projection period. In addition, the report explores emerging opportunities in the roofing underlayment industry.
Roofing Underlayment Market: Overview
Roofing underlayments are construction materials that are laid or installed beneath shingles or any other types of roofing materials on a roof. The primary purpose of installing a roofing underlayment is to provide an additional layer of protection against environmental or other factors such as moisture penetration, rain, or snow. The material is typically made of a felt-like material which is a textile product that has a soft and fuzzy texture. The felt-like material is further reinforced with polyester or fiberglass for added protection. When used as a roof covering, it can be used over the roof deck or installed beneath the shingles. It can also be used along with other roofing materials such as metal, tile, or slate. The industry deals with the manufacturing, storage, and distribution of roofing underlayments for residential and non-residential purposes. During the forecast period, the growth outlook is expected to be positive.
Key Insights:
As per the analysis shared by our research analyst, the global roofing underlayment market is estimated to grow annually at a CAGR of around 5.42% over the forecast period (2023-2030)
In terms of revenue, the global roofing underlayment market size was valued at around USD 26.60 billion in 2022 and is projected to reach USD 40.06 billion, by 2030.
The roofing underlayment market is projected to grow at a significant rate due to the increasing home development projects
Based on product segmentation, asphalt-saturated felt, was predicted to show maximum market share in the year 2022
Based on application segmentation, residential construction was the leading application in 2022
On the basis of region, North America was the leading revenue generator in 2022
Request Free Sample
Roofing Underlayment Market: Growth Drivers
Increasing home development projects to drive market growth
The global roofing underlayment market is projected to grow owing to the increasing number of home development projects across the world. This includes the entire real estate sector in urban and rural areas along with renovation or architectural projects. With the rising number of people moving to urban cities for a better life and due to higher job opportunities, the urban real estate market in certain countries is currently soaring at a high rate. Regional governments along with private construction companies are investing large amounts of money in urban city planning and the construction of buildings to meet the housing needs of the people. In addition to this, rural areas are also registering a high rate of home development projects influenced by rising disposable income and a growing number of dual-income families. In developed regions, the rising rate of renovation activities could lead to higher demand for roof underlayment.
Roofing Underlayment Market: Restraints
Changing prices of raw materials to restrict market growth
One of the key reasons for restricted roofing underlayment industry growth is the fluctuating prices of the raw material used in the manufacturing or roofing underlayment. Some of these sources include products such as asphalt and petroleum. Both of these items are currently in a state of price volatility as the world is witnessing a shift in political power dynamics resulting in changed international trade relations. In the years to come, the price of petroleum is expected to undergo several stages of fluctuations that directly impact the production of roofing underlayment.
Roofing Underlayment Market: Opportunities
Development of innovative materials to provide growth opportunities
The global roofing underlayment market is expected to witness higher growth opportunities owing to the increasing development of new and innovative roofing underlayment materials. Some examples include bio-based or recycled materials and this could lead to higher revenue during the forecast period as companies may find ways of mitigating the problems arising due to fluctuating prices of petroleum. In addition to this, the growing demand for eco-friendly products could assist in greater chances of higher growth if companies can develop sustainable materials for roofing underlayment.
Roofing Underlayment Market: Challenges
Regulatory compliance to challenge market growth
Roofing underlayment materials are subject to intense regulatory compliance and building codes. This makes the roofing underlayment industry highly dynamic and customer or client needs may change from one region to another. Moreover, ensuring compliance with these rules can be tricky and failure to do so can land companies in legal trouble. This greatly restricts the entry of new market players as companies may find it exhausting to comply with ever-changing building codes and regulatory measures.
Roofing Underlayment Market: Segmentation
The global roofing underlayment market is segmented based on application, product, and region.
Based on application, the global market segments are commercial construction, residential construction, and non-commercial construction. In 2022, the industry witnessed the highest growth in the residential construction segment as the world is witnessing a surge in demand for effective home solutions as the global population continues to rise. In residential construction, roof underlayment has wide applications. It is used between the roof deck and the shingles where it provides an added layer of protection. Additionally, it is highly recommended in homes that are situated near valleys or other areas that have high water flow since such homes are more prone to water leakage. They are also used around roof penetration such as chimneys and vents. As per the US Bureau of Economic Analysis, the construction industry contributed USD 842.7 billion to the country's Gross Domestic Product (GDP) in 2020.
Based on product, the roofing underlayment industry divisions are non-bitumen synthetic, asphalt-saturated felt, and rubberized asphalt. The most commonly used product is the asphalt-saturated felt and hence showed maximum CAGR during the forecast period. The growth was mainly due to the decade-old dominance of the product over its counterpart. It provides an excellent layer of protection against moisture and water making it highly desirable. In recent times, non-bitumen synthetics have also gained huge popularity since they can withstand harsh weather conditions and have a longer lifespan. On average, the cost of asphalt-saturated felt for roofing underlayment ranges from $0.15 to $0.40 per square foot.
Recent Developments:
In February 2023, Petersen, manufacturer of PAC-CLAD architectural metal cladding systems, is now offering a new range of roofing underlayments that can withstand high temperature and has self-adhering properties. The product called the PAC-CLAD HT is designed to provide extensive protection against water leakage and works well to prevent damage due to ice damming. It can withstand a temperature of up to 250°F
In November 2022, CertainTeed, a US-based leading manufacturer of quality and sustainable building materials, announced the launch of RoofRunner® AIR acting as a new addition to the company's existing line of innovative roofing products. The product was launched in the Canadian market. It is a breathable synthetic roofing underlayment promoting quick roof deck drying
Roofing Underlayment Market: Report Scope
Report Attributes
Report Details
Report Name
Roofing Underlayment Market Research Report
Market Size in 2022
USD 26.60 Billion
Market Forecast in 2030
USD 40.06 Billion
Growth Rate
CAGR of 5.42%
Number of Pages
210
Key Companies Covered
GAF Materials Corporation, CertainTeed Corporation, Owens Corning, Tarco, IKO Industries Ltd., Atlas Roofing Corporation, Tamko Building Products LLC, Henry Company LLC, Johns Manville, Firestone Building Products, Carlisle SynTec Systems, Sika Sarnafil, Malarkey Roofing Products, Polyglass USA, Inc., DuPont Building Innovations, Dow Chemical Company, Grace Construction Products, Advanced Building Products, Protecto Wrap Company, Simpson Strong-Tie Company Inc., Duro-Last Roofing, Inc., Koppers Inc., Boral Limited, Saint-Gobain S.A., and Beacon Roofing Supply, Inc.
Segments Covered
By Application, By Product, and By Region
Regions Covered
North America, Europe, Asia Pacific (APAC), Latin America, Middle East, and Africa (MEA)
Base Year
2022
Historical Year
2017 to 2021
Forecast Year
2023 - 2030
Customization Scope
Avail customized purchase options to meet your exact research needs. Request For Customization
Roofing Underlayment Market: Regional Analysis
North America to witness the highest growth
The global roofing underlayment market is expected to witness the highest growth in North America. The demand is mainly driven by the extensive construction projects in the US and Canadian region. These countries are highly prone to extreme snow during the winter season. This leads to residential units adding as many extra layers of protection against extreme weather conditions as possible in their home structure. Roofing underlayment is a common product used as an added layer beneath shingles. Furthermore, these regions witness frequently occurring hurricanes and tornadoes, leading to more demand for asphalt-saturated felt as it is the most common type of roofing underlayment used under such circumstances. In Europe, the growth is a result of strict building codes and regulations thus prompting more need for these materials.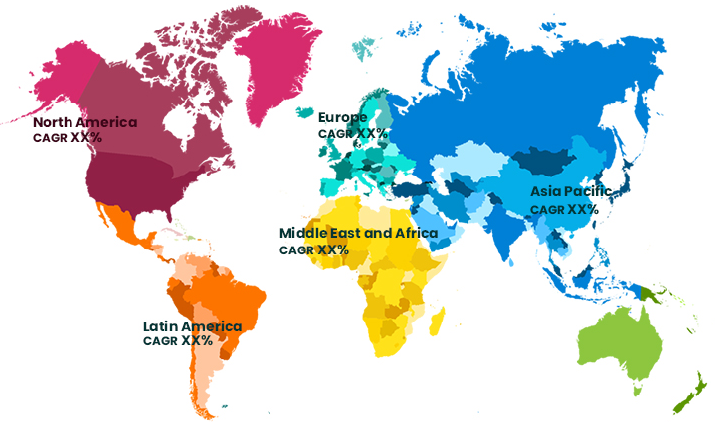 Request Free Sample
Roofing Underlayment Market: Competitive Analysis
The global roofing underlayment market is led by players like:
GAF Materials Corporation
CertainTeed Corporation
Owens Corning
Tarco
IKO Industries Ltd.
Atlas Roofing Corporation
Tamko Building Products LLC
Henry Company LLC
Johns Manville
Firestone Building Products
Carlisle SynTec Systems
Sika Sarnafil
Malarkey Roofing Products
Polyglass USA Inc.
DuPont Building Innovations
Dow Chemical Company
Grace Construction Products
Advanced Building Products
Protecto Wrap Company
Simpson Strong-Tie Company Inc.
Duro-Last Roofing Inc.
Koppers Inc.
Boral Limited
Saint-Gobain S.A.
Beacon Roofing Supply Inc.
The global roofing underlayment market is segmented as follows:
By Application
Commercial Construction
Residential Construction
Non-Commercial Construction
By Product
Non-bitumen Synthetic
Asphalt-Saturated Felt
Rubberized Asphalt
By Region
North America
Europe

France
The UK
Spain
Germany
Italy
Rest of Europe

Asia Pacific

China
Japan
India
South Korea
Southeast Asia
Rest of Asia Pacific

Latin America

Brazil
Mexico
Rest of Latin America

Middle East & Africa

GCC
South Africa
Rest of Middle East & Africa