Roof Window Market Size
The Global Roof Window Market Size is set for rapid growth over the forecast period. In terms of revenue, the global Roof Window market accounted for USD 2,612.19 Million in 2019 and is expected to reach USD 5,744.64 Million by 2026, growing at a CAGR of 11.92%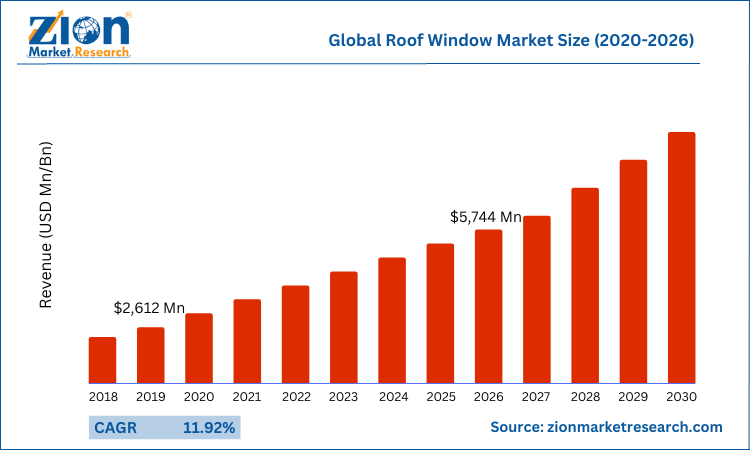 Request Free Sample
Global Roof Window Market: Overview
A roof window is integrated into a building's roof design. It is often confused with skylight but has its structural variations, as well as other similar architectural or lighting elements. A roof may have one or more roof windows of different shapes and sizes. It can be sealed, opened, tinted, double-glazed, or triple-glazed. A roof window is also a good choice if there is a need to allow both light and fresh air into the room. The roof window appears to be bigger than the skylight, making it possible to enjoy a broader view of the sky. In addition, the skylights are typically stationary; specifically, they cannot be opened or closed.
Global Roof Window Market: Growth Factors
In areas of your home where a regular vertical window is simply not possible, roof windows carry natural light. Main examples of where this may be the case are home attic conversions and home extensions. Dark corridors and spaces cut off from outside walls are some examples where natural light can be allowed by a roof window where a regular window just could not. This will affect any living area in a transformative way.
They can help to increase the living space inside a house, providing extra room for activities, storage, studying, or office work, or maybe as an additional bedroom, as roof windows enhance natural light. Each buyer knows that a precious asset is every square foot of a house.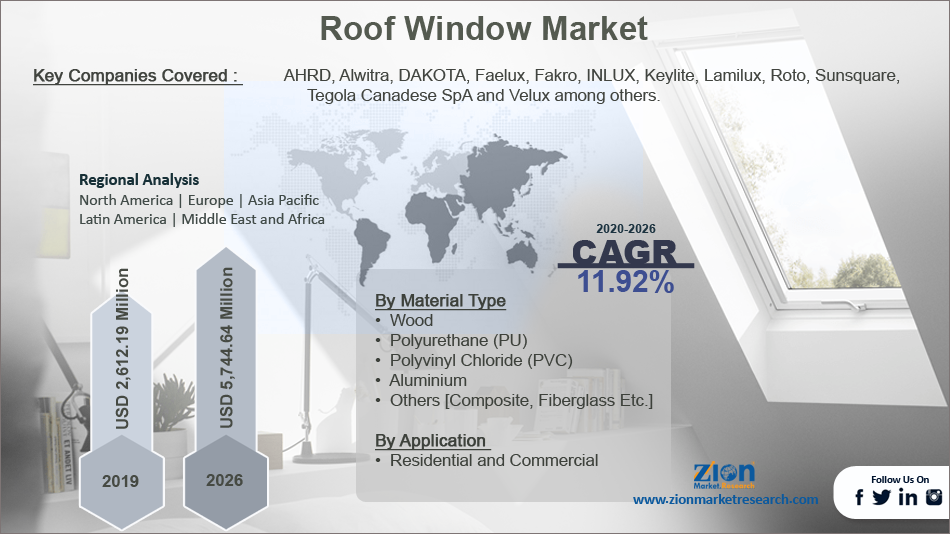 Request Free Sample
Ventilation is important and helps to minimize the levels of airborne contaminants and moisture in the home, which can cause problems with fungus and condensation. Ventilation also helps to regulate bad smells and provides with improved air quality, adding to the overall living satisfaction of the house.
It is important to have a comfortable house, and if the space is relatively cool in summer or cozy and warm during the winter, thermal comfort undoubtedly makes a massive difference to how relaxed the inhabitants of a home would feel. By trapping the warm air inside in the winter and holding it out in the summer, roof windows with energy-efficient glazing will improve the thermal comfort of a home throughout the year.
Sound isolation is extremely necessary. Unwanted noise can lead to stress and tiredness, and the enjoyment of everyday life can be interfered with. When deployed in combination with other noise-reducing techniques, installing roof windows that have glazing with superior acoustic insulating properties will keep out sound emissions such as busy streets or low-flying aircraft.
It is possible that a home with more natural light, better ventilation and acoustic insulation, and superior thermal with a feeling of an expanded living room would prove very appealing to property investors. They can be a sound investment in your house, as roof windows can assist in providing all of these things. All these benefits would highly contribute to the growth of the roof window market worldwide.
Global Roof Window Market Report Scope:
Report Attributes
Report Details
Report Name
Roof Window Market Research Report
Market Size in 2019
USD 2,612.19 Million
Market Forecast in 2026
USD 5,744.64 Million
Compound Annual Growth Rate
CAGR of 11.92%
Number of Pages
110
Forecast Units
Value (USD Billion), and Volume (Units)
Key Companies Covered
AHRD, Alwitra, DAKOTA, Faelux, Fakro, INLUX, Keylite, Lamilux, Roto, Sunsquare, Tegola Canadese SpA and Velux among others.
Segments Covered
By Material Type, By Application And By Region
Regions Covered
North America, Europe, Asia Pacific (APAC), Latin America, Middle East and Africa (MEA)
Countries Covered
North America: U.S and Canada
Europe: Germany, Italy, Russia, U.K, Spain, France, Rest of Europe
APAC: China, Australia, Japan, India, South Korea, South East Asia, Rest of Asia Pacific
Latin America: Brazil, Argentina, Chile
The Middle East And Africa: South Africa, GCC, Rest of MEA
Base Year
2021
Historical Year
2016 to 2020
Forecast Year
2022 - 2030
Customization Scope
Avail customized purchase options to meet your exact research needs. Request For Customization
Global Roof Window Market: Segmentation
Wood windows are ideal for almost every climate as long as they're properly sealed. Unlike vinyl, wood material does not break or crack, moreover, they contract and expand less during temperature changes. These features are critical to ensure that no seal failures occur in the window frame or in between the window and glass panes, allowing the outside air into the home.
PVC material is expected to grow at a considerable rate due to the presence of overcrowded and compact buildings in developed economies. In rooms with higher humidity levels, such as bathrooms or kitchens, PVC windows are often installed. Because of a greater degree of condensation, premises such as laundries are vulnerable to damp air. A quadruple sealing system that provides extra tightness in severe weather conditions and decreases micro-vibrations from the cladding profiles during heavy rain is used in many roof windows.
Aluminum windows have established a well-earned reputation for having high thermal retention levels, which ensures that the heating of the home requires less energy. This is most likely due to the ability of aluminum windows to incorporate subtle design components such as a polyamide break and internal multi-chambered frames that make all the difference.
Global Roof Window Market: Regional Analysis
By Geography, the Roof Window market includes North America, Europe, Latin America, Asia Pacific, and the Middle East and Africa. North America and Europe held the largest market share in 2019, owing to growing urbanization, economic prosperity, and increased spending on infrastructure. Moreover, the need for ceiled houses in the cold regions is very high with proper ventilation. Therefore, people in the UK, the U.S., Canada, and others are adopting roof windows for enhancing their living space and to naturally get some light from the roof.
In the UK, winters are a little uncertain. Winter 2019 was relatively mild than normal, but colder temperatures, sharp frosts, and snowfall still occurred in UK cities. With adverse weather battering residences around the UK, homeowners have been forced to carry out more and more renovations to their homes due to climate change. There are many other countries facing the same situation.
It is projected that the Asia-Pacific market will expand at a considerable pace. With the highest growth rate, China is leading the industry. The enormous population in China and India, together with the development of the construction sector, is responsible for this region's growth. In addition, government spending on infrastructure improvements in these emerging economies further drives the growth of the roof window market globally.
Global Roof Window Market: Competitive Players
Key players operating in the Global Roof Window Market include
AHRD
Alwitra
DAKOTA
Faelux
Fakro
INLUX
Keylite
Lamilux
Roto
Sunsquare
Tegola Canadese SpA
Velux among others
This report segments the global Roof Window Market into:
By Material Type
Wood
Polyurethane (PU)
Aluminium
Others [Composite, Fiberglass Etc.]
By Application
Residential and Commercial
Global Roof Window Market: Regional Segment Analysis
North America
Europe

France
The UK
Spain
Germany
Italy
Rest of Europe

Asia Pacific

China
Japan
India
South Korea
Southeast Asia
Rest of Asia Pacific

Latin America

Brazil
Mexico
Rest of Latin America

Middle East & Africa

GCC
South Africa
Rest of Middle East & Africa