Refurbished Medical Equipment Market Overview
The global Refurbished Medical Equipment market accounted for USD 10.5 Billion in 2020 and is expected to reach USD 28.7 Billion by 2028, growing at a CAGR of around 12.8% between 2021 and 2028.
Purchasing refurbished medical equipment has become a lucrative option for most of the hospitals as well as diagnostic centers. In recent times, most of the therapeutic, diagnostic, and patient monitoring medical equipment such as AEDs, ECGs, defibrillators, vital sign monitors, spirometers, ventilators, pulse oximeters, IV pumps, and respiratory devices are being acquired as refurbished equipment at a reduced cost.
In addition, the key players in the market are focusing aggressively on innovation, as well as on including advanced technologies in their existing products. Over the coming years, they are also expected to take up partnerships and mergers and acquisitions as their key strategy for business development, states the refurbished medical equipment market study.
In a key event that can contribute significantly towards refurbished medical equipment market value, in September 2018, TriMedx LLC—a clinical engineering & medical equipment lifecycle management services providing firm—announced the acquisition of Aramark's Healthcare Technologies unit for US$ 300 million. Reportedly, the purchase is anticipated to enlarge TRIMEDX's customer base that is projected to improve its clinical and financial results, as well as equipment security and compliance.
COVID-19 Impact Analysis
The global Refurbished Medical Equipment market has witnessed a significant growth during the pandemic. This is mainly attributed to the fact that the COVID-19 pandemic situation has led to the rise in demand for public health surveillance and clinical care. However, the rising difficulty in health care delivery has slightly challenged the market in 2020.
However, the market would remain bullish in upcoming year. The growth of the global Refurbished Medical Equipment market size is estimated on the basis of the COVID-19 outbreak. Various scenarios have been analyzed on the basis of inputs from various secondary sources and the current data available about the situation.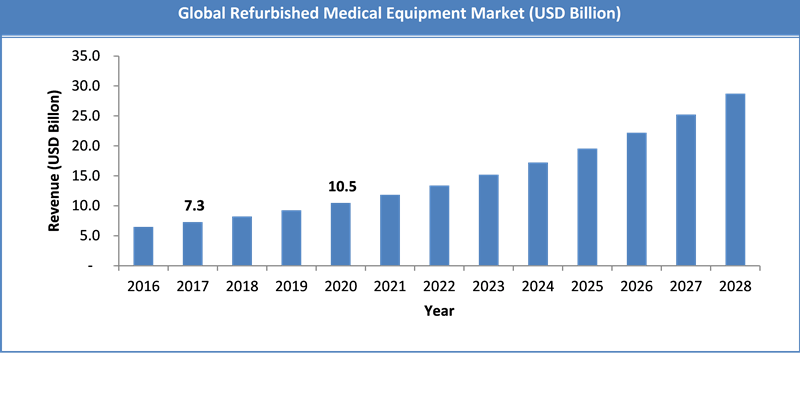 Request Free SampleGrowth Factors
Meteorically rising geriatric population along with growing cases of chronic ailments is anticipated to influence the growth graph of refurbished medical equipment market in the years ahead. Apart from this, large patient population base in emerging countries along with growing awareness about the cost-efficiency of the product among the patients in these regions is anticipated to drive the expansion of refurbished medical equipment market over the forthcoming years.
Report Scope: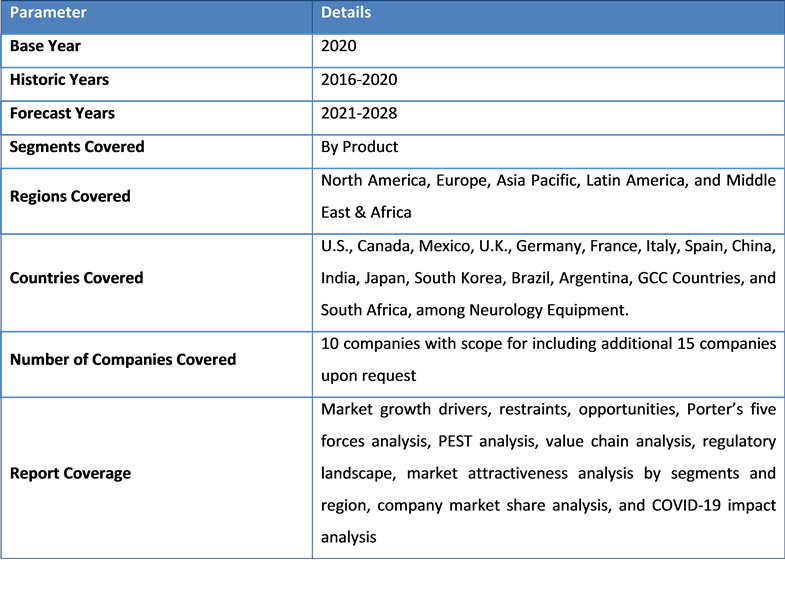 Request Free Sample
Segment Analysis Preview
The main products available in this refurbished medical equipment market are operating room equipment & surgical equipment, patient monitors, medical imaging equipment, defibrillators, cardiovascular & cardiology equipment, neurology equipment, endoscopy equipment, intensive care systems, Neonatal Intensive Care Systems, IV therapy systems, and other equipments. Among them, the demand for patient monitors is relatively higher and the trend is anticipated to remain so over the next few years.
Regional Analysis Preview
Regionally, North America has been leading the worldwide refurbished medical equipment market and is anticipated to continue on the dominant position in the years to come, states the refurbished medical equipment market study. The presence of a well-developed medical and healthcare infrastructure along with favorable compensation policies is the main factor behind the dominance of the North America refurbished medical equipment market. The high number of market players being headquartered in North America is another significant factor that is supporting this regional market. In addition, supportive government laws for use and sale of refurbished medical equipment is anticipated to chart a profitable growth map for refurbished medical equipment market in the region.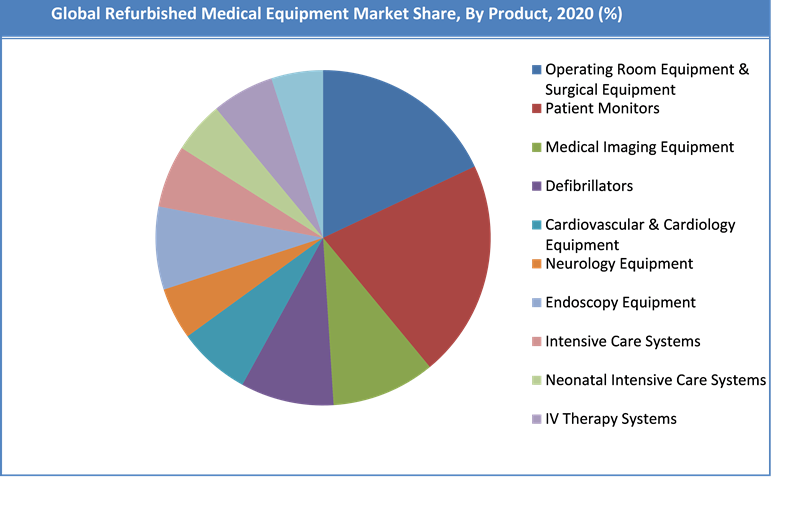 Request Free Sample
Key Market Players & Competitive Landscape
Some of the major players of the global Refurbished Medical Equipment market include Philips Healthcare, GE Healthcare, Siemens Healthineers, Agito Medical A/ S, DRE Medical, Inc., Block Imaging International, Inc., Radiology Oncology Systems, Inc., Soma Technology, Inc., Everx Pvt Ltd. and Integrity Medical Systems, Inc. among others.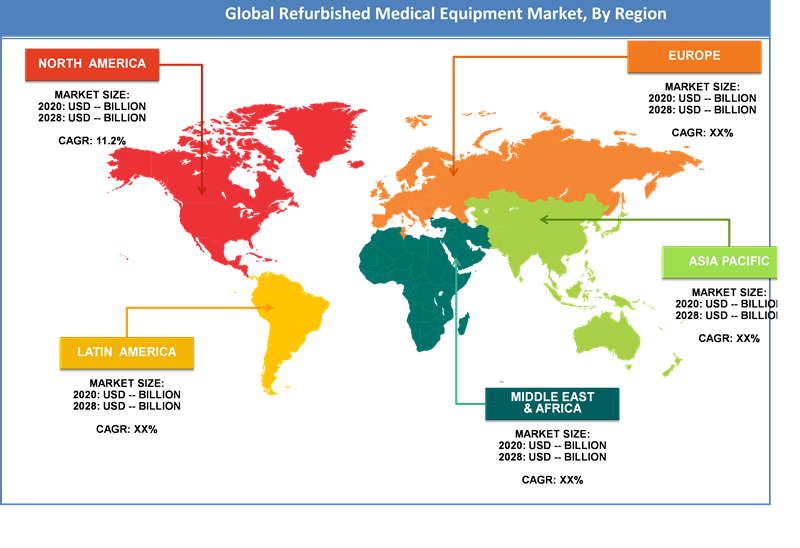 Request Free Sample
The global Refurbished Medical Equipment market is segmented as follows:
By Products
Operating Room Equipment & Surgical Equipment
Patient Monitors
Medical Imaging Equipment
Defibrillators
Cardiovascular & Cardiology Equipment
Neurology Equipment
Endoscopy Equipment
Intensive Care Systems
NEONATAL INTENSIVE CARE SYSTEMS
IV Therapy Systems
bio-PE
Other Equipments
By Region
North America
Europe

France
The UK
Spain
Germany
Italy
Rest of Europe

Asia Pacific

China
Japan
India
South Korea
Southeast Asia
Rest of Asia Pacific

Latin America

Brazil
Mexico
Rest of Latin America

Middle East & Africa

GCC
South Africa
Rest of Middle East & Africa